As a baby, I was diagnosed with celiac disease—my body is unable to process gluten, the protein found in wheat, barley, rye, and malt, that gives bread its elastic quality. If I eat it, I throw up, so I avoid gluten entirely. It's mostly easy; avoid breaded foods and, sadly, beer.
There have long been products on the market that offer—to varying levels of success—gluten-free versions of the real deal: breads, pastas, cookies, cakes, etc. But, not until recently have any of them been worth eating, in my opinion. Too many birthdays are remembered more for the crumbly, sandy, strange-tasting cakes than they are for the actual celebration. Doing without sandwiches and cookies entirely was preferable given the mediocre quality of the gluten-alternative baking mixes available at the time.
All that has changed. Just this morning I ate some of the most delicious rugelach I've ever tasted—and I have accidentally eaten gluten before, so I do know. And there are a growing number of gluten-free brands whose products are not just fine, they're actually delicious.
Why has it taken so long? Baking technology.
The Dow Chemical Company has developed special plant-based cellulose fibers with proprietary characteristics that give gluten-free baking a more authentic, elastic dough. They and the companies they do business with are focussed on the "future of functional food."
"Dow combines the power of science and technology to passionately innovate what is essential to human progress. The Company connects chemistry and innovation with the principles of sustainability to help address many of the world's most challenging problems such as the need for clean water, renewable energy generation and conservation, and increasing agricultural productivity. Dow's diversified industry-leading portfolio of specialty chemical, advanced materials, agrosciences and plastics businesses delivers a broad range of technology-based products and solutions to customers in approximately 160 countries and in high growth sectors such as electronics, water, energy, coatings and agriculture."
G/O Media may get a commission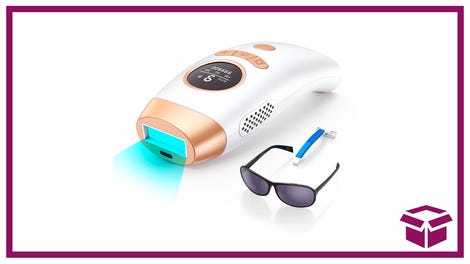 58% Off + Coupon
IPL Hair Removal Device
Good news, for the 1-in-300 of us with celiac!
[Thanks, Jane!]