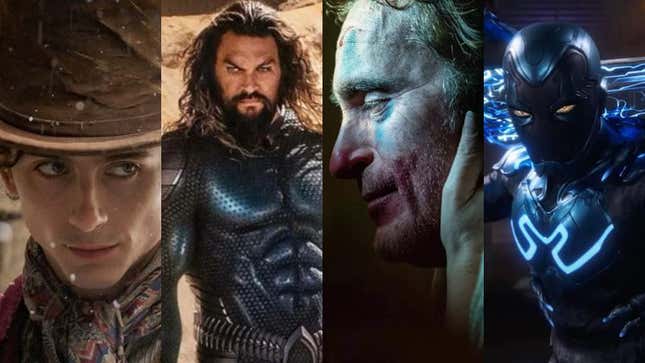 When are three shots from a single movie more exciting than a whole trailer? When those three shots are from George Miller's Furiosa, of course. That film was one of several teased in a sizzle reel at the Warner Bros. panel during CinemaCon, which also included extended looks at Wonka, Aquaman and the Lost Kingdom, The Meg 2: The Trench, Joker: Folie à Deux, Blue Beetle, The Nun 2, and more.

Spoilers of the Week: July 29th
We've already covered both Dune Part Two and Barbie, both of which showed enough footage we felt each deserved its own article. But below, you can read about the rest, which are part footage descriptions and part general reactions.
Furiosa
George Miller's Mad Max: Fury Road prequel Furiosa won't be out until May 24, 2024, but three shots from the film screened as part of a sizzle reel for the company. Shot one was of a man—probably Chris Hemsworth's character—in full Mad Max garb, complete with goggles (hence not being able to see him clearly), with his arms spread out and awaiting some kind of storm. Shot two was Anya Taylor-Joy, who plays Furiosa, using her hand to wipe black paint on her forehead. And the third shot was Taylor-Joy in full Furiosa mode, with the top half of her head completely covered in the black stuff. Again, it was a short glimpse, but it was proof the movie was coming, which is exciting.
Joker: Folie à Deux
Also not coming until late 2024, the sequel to the Oscar-winning 2019 hit only had one shot that we can recall; it showed Arthur (Joaquin Phoenix) wiping the white paint on his face. Two 2024 movies with face paint, who knew?
Wonka
This one's set for release December 15, 2023. An extended trailer was played for Wonka, which features Timothée Chalamet leading an incredible cast. It shows a young Willy Wonka who is passionate about candy, but is warned that many people want to sell chocolate in this area, but aren't allowed because of a chocolate cartel. Yes, that's the phrase used. "Chocolate cartel."
He comes up with an idea though, and after pinky-promising his friend to go through with it, he gives people some chocolate that he says is different than normal—which they don't quite understand until they start floating after they eat it. The crowd goes crazy as the police come in to see a bunch of people floating in the air.
The chocolate cartel doesn't like how well Willy is doing and vows to stop him. We see Willy befriending a giraffe which later goes running through the streets. A brief shot shows Willy and his friend stuck in a pool of chocolate. A police officer played by Keegan-Michael Key falls out of his car with a bunch of chocolate saying he's gained 150 pounds in two weeks by eating this candy.
Willy and his friend float with balloons like Up. We see his mom, played by Sally Hawkins, telling him in the past to never give up his dreams. To which Willy whispers, "Here we go, mama." The text on the screen says "How Willy became..." and then the title card: Wonka.
But that's not the end. Willy had a small person with orange skin and green hair in a glass container. This person, who has the face of Hugh Grant, says they're an Oompa-Loompa and they're about to perform the most magical song ever. Willy says he'd rather not but the Oompa-Loompa says "Too late, I already started."
Wonka looks weird, to be sure, but also kind of optimistic and wondrous. We're hoping it's exactly that.
The Meg 2: The Trench
Directed by Ben Wheatley, Meg 2: The Trench opens in August so we were hoping the trailer that screened would be released online. Alas, it has not yet. But it starts with a scene talking about the species that ruled the Earth 65 million years ago. We see a T-Rex kill some smaller animals, before a massive megalodon jumps out of the water and eats the T-Rex.
After that, we see the main story itself, in which Jason Statham's character and his team find a new ecosystem under the surface. So they put on some high-tech gear and go to investigate. Down there, a member of the team gets eaten by a very toothy creature when they discover the biggest megalodon ever. The apex predator.
Shots then shift to the surface where three sharks terrorize a vacation resort. One completely destroys a pier that people are walking on. A massive octopus starts grabbing at people. The glass in the underground lair that was so safe in the last film, smashes this time at the force of the new Meg. Eventually, we see Statham on a jet ski trying to use a spear to kill the Meg. When the Meg swims, it makes a wave, and so Statham, on a jet ski, rides the wave going after the Meg.
Meg 2: The Trench looks completely mental and we cannot wait.
The Nun 2
I've never seen the first Nun so I couldn't really tell what, exactly, was happening in the extended trailer for the new film, but it looked scary as hell.
It starts with a group of young girls who trick one of their own to stare at a creepy stained glass window with the fear that, if she looks away, the devil will come to get her. Eventually, something moves behind her so she looks away, and as she tries to escape, something attacks her.
We learn that the Nun from the first movie is back and the trailer teases "the truth behind the greatest evil in the Conjuring universe." Taissa Farmiga reprises her role from the first film but is now joined by Storm Reid. And while they're in a bunch of scenes, the trailer's final scene is those young girls again. They hear something upstairs and go to investigate. There, they find an old woman staring at the wall. They're terrified and hide in a vent, when a pair of hands pop into the vent to grab them. The film opens September 8.
Blue Beetle
The Blue Beetle section of the panel was mostly an extended version of the trailer that's now available online. The biggest new additions were a scene of one of Jaime's sisters using Blue Beetle tech as a shield to stop a bunch of men from shooting her. Jaime sees this and targets the men, and beats them up in a hallway fight scene like in Oldboy or Daredevil.
The other big addition is Jaime's grandma holding a massive high-tech weapon, and firing it like Arnold Schwarzenegger with the gatling gun in Terminator 2. Fun stuff. The film opens in August.
Aquaman and the Lost Kingdom
This one opens December 20. The latest look at Aquaman and the Lost Kingdom began with Arthur Curry (Jason Momoa) talking to his dad (Temeura Morrison) about how hard it is to raise a child. Dad says that's nothing compared to his main job, which is to rule Atlantis, and we see shots of Aquaman fighting one massive ship and battling another by grabbing its anchor and bringing it down to the sea.
Something is destroying the surface world and Arthur needs help. The Black Manta is trying to unlock an ancient evil and there's only one person who can help: Orm (Patrick Wilson), Arthur's brother, who has been imprisoned. Orm says that this changes nothing—there's obviously lots of tension there—but ends up joining the fight.
Turns out Manta has a black trident that has significant powers and he wants to kill Aquaman. This is cut with footage of the lighthouse home of his parents burning. A later scene shows Orm and Arthur in a jungle with a huge gap they can't cross. Orm says that leaders create bridges, so Arthur jumps into a large statue, which falls across the gap, making a literal bridge.
In the jungle they see a huge volcano with green smoke coming out of the top. Under the water, a huge epic battle takes place which includes all manner of creatures and ships, including one piloted by Nicole Kidman. Arthur's wife Hera, played by Amber Heard, is in a few shots. Arthur and Orm fight some kind of massive robot spider and Arthur saves his brother by moving some of its mechanical legs. Eventually, Arthur is told as the King of Atlantis, if he asks for help it will come, and the final shots are all of all manner of creatures and sea life, including whales, coming to his aid.
Think the first Aquaman, but just with more creatures, effects, and settings. That's Aquaman and the Lost Kingdom.
---
Want more io9 news? Check out when to expect the latest Marvel, Star Wars, and Star Trek releases, what's next for the DC Universe on film and TV, and everything you need to know about the future of Doctor Who.