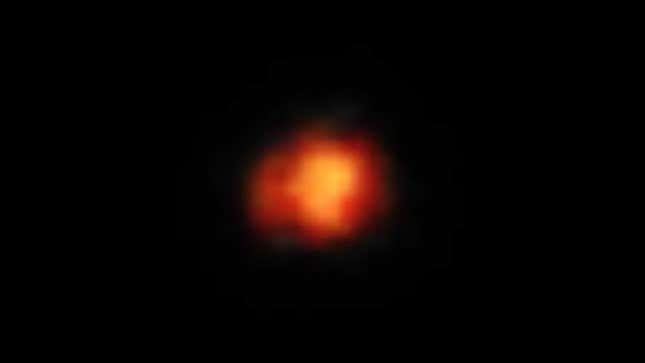 A galaxy first seen in a massive Webb Space Telescope deep field image a year ago is one of the earliest ever spotted, according to a team of astronomers that reviewed imagery of the structure.
First Full-Color Images From Webb Space Telescope
The galaxy dates to about 390 million years after the Big Bang (For reference, the universe as a whole is about 13.77 billion years old) and was named Maisie's galaxy after the daughter of the project's principal investigator, Steven Finkelstein, an astronomer at the University of Texas at Austin. The image was taken in June 2022 as part of the Cosmic Evolution Early Release Science Survey, or CEERS.
The team's recent inspection of the CEERS imagery confirmed the redshifts of several galaxies, and suggests that the abundance of large, luminous galaxies in the early universe may require astronomers to go back to the drawing board of galaxy formation models. The team's research was published today in Nature.
"The exciting thing about Maisie's galaxy is that it was one of the first distant galaxies identified by JWST, and of that set, it's the first to actually be spectroscopically confirmed," Finkelstein said in a UT Austin release.
Maisie's galaxy was first revealed last August, as an inconspicuous orange dot in a massive Webb image of deep space. Last month, the Space Telescope Science Institute published a 3D animated visualization of the CEERS deep field, which ends with a view of Maisie's galaxy. The visualization moves through space at a rate of 200 million light-years per second, a reminder of how massive space is, and just how much stuff is in it.
CEERS' goal is to image a large swath of space using Webb's Near-Infrared Camera (NIRCam), its Mid-Infrared Instrument (MIRI), and its spectrograph (NIRSpec). CEERS data helps astronomers constrain the number, nature, and shape of galaxies in the ancient universe, as well as the conditions of star formation and black hole growth.
The CEERS field that includes Maisie's galaxy is actually made up of 690 separate frames, stitched together into one sweeping mosaic image. Our site simply cannot handle the amounts of data in Webb deep field images, so you can see full-scale .tif images of the CEERS survey image here.
Though the recent work's spectroscopic analysis confirmed two luminous galaxies at redshifts greater than 11 (Maisie's galaxy clocking in at a whopping z=11.4), one candidate galaxy with a 𝑧≈16 actually has a redshift of 4.9.
"This was a kind of weird case," Finkelstein said. "Of the many tens of high redshift candidates that have been observed spectroscopically, this is the only instance of the true redshift being much less than our initial guess."
That galaxy, CEERS-93316, was emitting light in a way that made it appear bluer than normal, a color associated with very earlier galaxies. The issue was corrected in the recent paper, indicating the importance of verifying galaxy ages using spectroscopic methods.
In a sense, Finkelstein noted, the corrected number was a good thing, because the galaxy's brightness seemed improbable for its apparent age. With a lower redshift, and thus a younger age, the galaxy's luminosity makes more cosmological sense.
The Webb telescope has only been producing scientific images for a year. With more time, it may reveal galaxies even older than those precisely measured by the CEERS team.