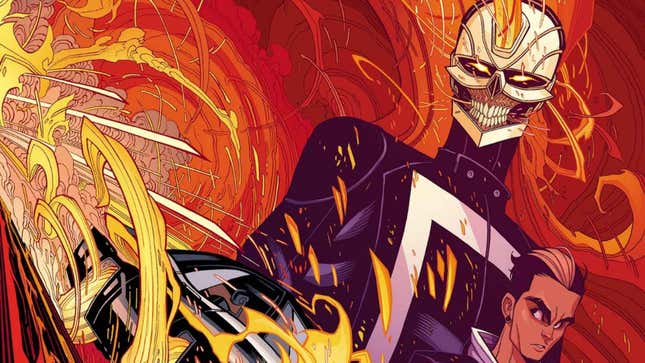 Gabriel Luna's take on Robbie Reyes as Ghost Rider in Agents of SHIELD was highly praised, and fans of both the show and the wider Marvel Cinematic Universe have continually brought up Luna (The Last of Us) as an ideal crossover candidate. The actor wasn't always in favor of that idea—but now he's more open to it.
Who Should Be the New Ghost Rider? io9 Picks
Luna said to Forbes magazine that for years his stock answer when asked if he would return was, "I loved what we did, I'm very happy with what we accomplished and I can be happy leaving it on the shelf and admiring what we did and have the audience remember it fondly, the way they do. To do the character again just gives me another opportunity to screw it up." Now it seems like the actor might be more amenable to a return. From the same interview: "It feels like the demand may be there and if the creative is there and it makes sense… I think with Marvel right now, it's so intricately woven that it would be a few years out if they started to think about it, to do the character. I'm always open."
His greatest fear has always been doing wrong by Robbie Reyes—a fantastic character that breathed new life into the Ghost Rider series, and became one of my personal favorites of the slate of rebooted characters of the past few years. Luna seems to get that. "It's important to honor what people love about certain things, what I love about it," he said. "And that kind of helps if you have a few of the blocks already laid, some of the foundation is already strong, I think it's important to start building from there."
Almost as soon as Ghost Rider debuted on Agents talks of a Luna-led spinoff began swirling. Luna had revealed in an interview with Comic Book that apparently Marvel was so all-in on Ghost Rider that it utilized the hold clause in his contract, meaning that "they paid him to either not work, or agree to quit work in order to return as the Spirit of Vengeance."
But when acquisitions happened between Fox, Hulu, and Disney, ultimately Marvel's plans changed and Ghost Rider—the TV show—was put on hold. ""It was really disappointing just in the end," said Luna "I remember at the time I tried to have some perspective on it and you can't look back."
It sounds like Luna might be ready to bring back the skull and flames. I hope the MCU lets him do it.
---
Want more io9 news? Check out when to expect the latest Marvel, Star Wars, and Star Trek releases, what's next for the DC Universe on film and TV, and everything you need to know about the future of Doctor Who.