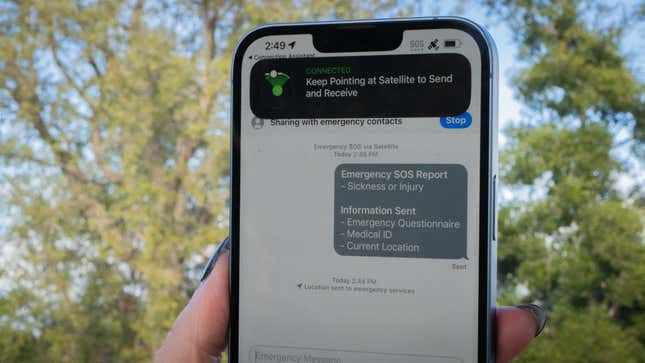 Android is lagging hard behind iOS for emergency satellite connectivity, and Google may be reaching out to Garmin to enable some kind of emergency SOS feature.
Google's Antitrust Case Is the Best Thing That Ever Happened to AI
Late on Sunday, developer Neïl Rahmouni (first spotted by The Verge) shared some interesting code snippets that point to Google getting its own brand of emergency SOS services ala Apple. To speed up development, Google might be working with Garmin for its own automatic emergency response service.
The code found in Google's own Messages app shows that the company has tried some kind of integration with the Garmin Response service. Using the code found in Messages, Rahmouni mocked up the message that would appear on phones after an emergency, it says, "Messaging by satellite ended: For questions about your emergency, call Garmin Response."
Earlier this month, the Android ecosystem developer also found code that points to satellite connectivity in Google Messages, specifically mentioning a UI for emergency services. There was also mention of a "SOS questionnaire" in the Messages app. All in all, Rahmouni speculated this service would be available in more than 150 countries based on where Garmin currently operates.
Garmin created its response center after it bought out emergency monitoring company GEOS Worldwide back in 2021. The service uses the Iridium satellite network for its own inReach satellite communicators, though the service normally requires a $ 15-a-month subscription.
That being said, Qualcomm has also talked about using the Iridium network for satellite connectivity on Android. The company teased these features during CES, promoting their "Snapdragon Satellite" which—at the time the company first showed it off—allowed messages of just 140 characters via SMS or other OTT messaging apps. Of course, Android manufacturers will need to onboard this tech onto future devices.
It's unclear whether Google would be working with Garmin for some sort of pared-down SOS service, or if users would simply be allowed to use their Garmin Response subscriptions through their Android phone. We reached out to both Google and Garmin for comment, but we did not immediately hear back.
Compare this to Apple's current SOS feature on iOS 16 which is available in the U.S., Canada, and many European countries as well as Australia and New Zealand. The Cupertino company's service is free for all modern iPhones, and it uses Globalstar satellites to contact emergency services, including a description of the supposed problem or injury, plus some other medical information users input on their phone through Medical ID.
Apple's emergency response system has been a strange roller coaster of both success and failure. Emergency services have said the iPhone 14 crash detection has gone off during wild dance sets or during hardcore skiing, and users who don't respond to alerts in the first 20 seconds have accidentally called 911. However, any accidental tips to emergency services pales in comparison to lives saved. The emergency satellite function helped rescuers find a man lost in the Alaskan wilderness and the canyons near Los Angeles. Most recently, it helped a family escape the Maui fires.