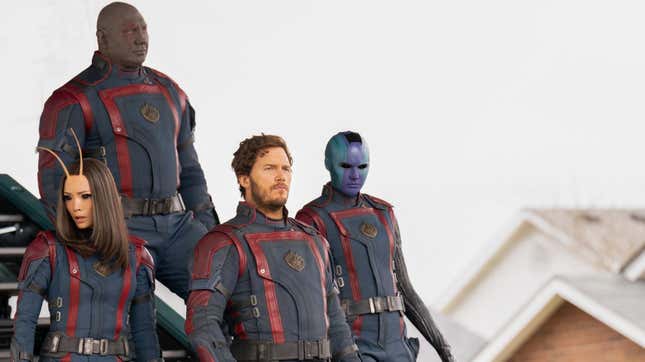 Remember when Avengers: Endgame didn't have an end-credits scene? It was a semi-shocking moment because the Marvel Cinematic Universe had been so dependent on them for so long. That time though, the film was, as evidenced by the title, an ending. There was no need to tease what was next.

Watch Chris Pratt and the Guardians of the Galaxy Cast Open Their Own Toys
The same could be said for Guardians of the Galaxy Vol. 3, which is now in theaters. Despite the film only being the second release in Marvel's Phase 5, writer-director James Gunn has made it very clear this is his last film with the Guardians and the last time this team will be together on screen. If you've seen the movie, it delivers on those promises. But Gunn, who has made incredible use of end-credit scenes in the previous Guardians films, wanted to do it again. And so, even though it certainly didn't need end-credit scenes, the movie has two—and they set the table for what's to come.

Scene one features Rocket, a much larger Groot, Adam Warlock, Cosmo, Kraglin, and Phyla, a young girl from the High Evolutionary's ship, all sitting down somewhere. They're wearing Guardians outfits, making it abundantly clear that this, right here, is the new team of Guardians. Are there more? We don't know. But after a hilarious discussion about their favorite music, this new set of Guardians gets ready to protect a town from a swarm of evil creatures. Just Guardians doing Guardian stuff. Which, of course, means that this team could certainly show up in future MCU movies. And, if you go by the comics, Warlock and Phyla in particular are just bursting at the seams with future story possibilities.
And, of course, the song that Rocket picks to play for this battle is "Come and Get Your Love" by Redbone, the song Peter Quill listened to at the very beginning of the very first Guardians. (I'm not crying, you're crying.)
So that's what's up with Rocket, Groot, and the Guardians of the Galaxy. And while the futures of Mantis, Drax, Gamora and Nebula are all kind of explained in the film (Mantis will be going off by herself, Gamora is back with the Ravagers, Drax and Nebula will oversee Knowhere), one other big-time Guardian is still left hanging: Peter.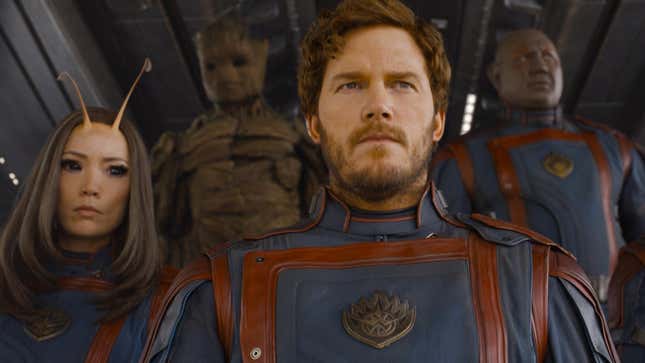 Peter, as we saw in the movie, decided to go back to Earth and reunite with his grandfather. It's a very touching moment and the perfect ending for that character. A real full-circle moment. However, the second end-credit scene gives us a tiny bit more. It shows Peter and Grandpa at the kitchen table, talking about their neighbors. Also, Grandpa's newspaper has an article in it about Kevin Bacon's alien abduction, a wink back to the Holiday Special.
And while the conversation about mowing lawns is funny, it's not as significant as what happens next. "The Legendary Star-Lord Will Return" comes on screen, letting us know that while the Guardians of the Galaxy as we've known them are done, Chris Pratt as Star-Lord is not. (Which he's actually been saying in interviews too.)
But will he be one of the Guardians? Will he go back to being a Ravager? Will he team up with Gamora again and force a new relationship? Or could he stay on Earth and be one of the Avengers? We're guessing not even Kevin Feige knows for sure. All we know is that, while James Gunn is gone, Star-Lord is still on the table.
What did you think of the Guardians of the Galaxy Vol. 3 end-credits scenes?
---
Want more io9 news? Check out when to expect the latest Marvel, Star Wars, and Star Trek releases, what's next for the DC Universe on film and TV, and everything you need to know about the future of Doctor Who.