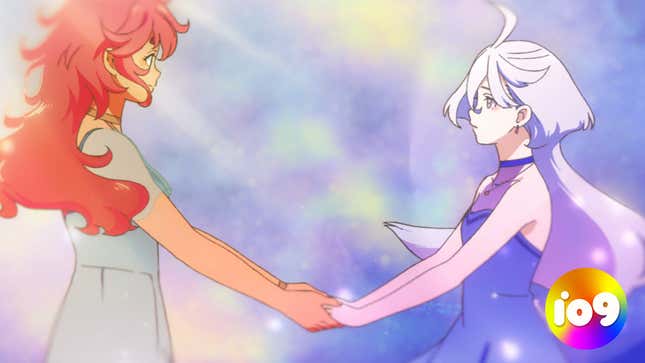 Pride month is a time for members of the LGBTQ+ community and their allies to both celebrate the progress queer people have made across the world and to take a stand and resist the bigoted movements that still seek to challenge, diminish, and eradicate them. It's also a pretty good time to get on board with the premiere lesbian mecha drama of the year, Mobile Suit Gundam: The Witch From Mercury.

Jujutsu Kaisen 0 Has Infectious Good Energy
I should state that for as much I have previously commented, and will continue to comment, that the latest entry in the iconic Gundam franchise has got Incredibly Lesbian Vibes, Witch From Mercury—now well into the endgame of its second season—has yet to go fully textually explicitly sapphic with its female deuteragonists, Suletta Mercury, pilot of the Gundam Aerial, and Miorine Rembran, the interstellar business scion she was formerly betrothed to. But like, you see the bit where I just said that the Gundam pilot was engaged to her future wife right? Right? Rarely has a show been as close to being About to Do It than The Witch From Mercury has been almost from the get-go.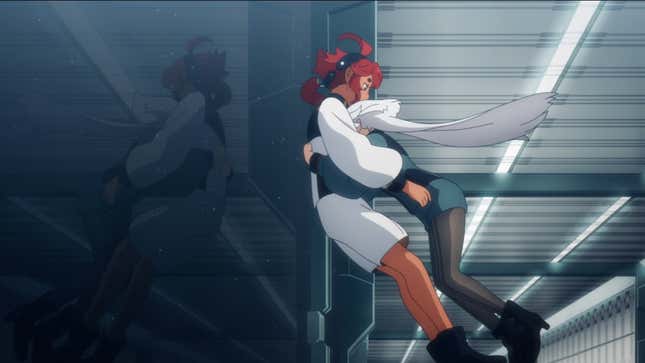 But anyway, even as its second season has leaned further and harder into the kinds of conflict-driven trauma and angst that have defined prior Gundam shows, the series remains incredibly gay, even as the aforementioned trauma has driven Miorine and Suletta's relationship—and their status as Bride and Groom—to a breaking point. Almost every other episode of G-Witch, as it's affectionally known by fans, has brought with it either some kind of horrifying act of violence to forever change the lives of our heroes and the people within their orbits, or some kind of shocking revelatory backstory reveal designed to do much the same thing. And yet, in spite of all that, and in spite of the story inevitably bringing its martial conflicts to the forefront after they largely simmered in the background of season one, the heart of the drama in G-Witch's second season has always been the will-they-won't-they story of Suletta, Miorine, and the extremely clear feelings the two have for each other.
The duo's narrative this season is full of romantic tropes just laser-focused for you to feel a distinctly homosexual angst for these two character you're downright yearning to see reunited on their own terms. For much of season two Miorine and Suletta has been separated by both distance and circumstance. At first, Miorine struggled to accept the choices Suletta made to protect her at the climax of season one; as the season has progressed, Miorine has realized not just how much she truly cared for Suletta's well-being and happiness navigating the controlling revenge plots of the latter's mother, Lady Prospera, but how much she is willing to go through and sacrifice to ensure that happiness... even if she is currently not a part of it.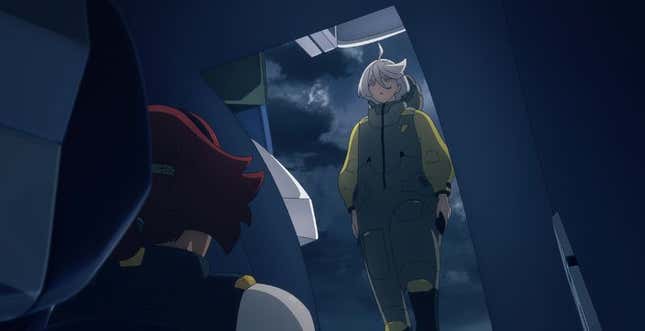 Every time Miorine and Suletta have been onscreen together this season, there's been an electric chemistry; it makes every time their worlds pull them apart hurt just that little bit more—as does every misunderstanding as Miorine tries to push Suletta away from the machinations of both Prospera and the dangerous military industrial complex she stands to inherit. It's a remarkable thing to see a Gundam show where the twists are less about the Shakespearean revenge plots or the political maneuvering, even as potent and as compelling as they are in G-Witch, and more about just how much trauma it can put these two kids through before they're allowed to be together and happy again.
It's a pretty odd thing to say that for Pride month you should catch up a show that is not yet explicitly textually queer—even as the show has screamed its intentions practically from the very first episode as heading to a point where it will be—but is also queer in its sense of the fact it is putting its queer-presenting relationship through the absolute wringer every week. And yet, I cannot help myself, because tuning in to see just what shocking or horrible thing could happen to Suletta and her friends this week—what untold war crime could G-Witch possibly fling at us that it has not yet flung these past few months across season two—has only further elevated my desire to see Suletta and Miorine triumph in the face of adversity and be together.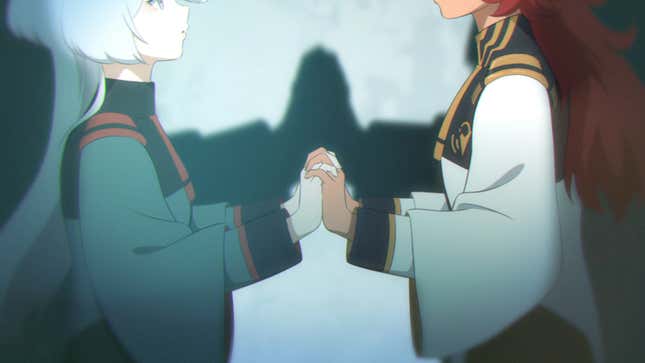 Maybe they won't be, and that's the ultimate tragedy Witch From Mercury wants to deliver as we barrel into the final few episodes of its current story (the show has yet to be renewed beyond 24 episodes, but given its unprecedented success, it would be almost as wild to not see some kind of follow up series or a continuation confirmed by season two's end as it would be to not see Suletta and Miorine get together). But I can think of no other way out for the series' current story—a tale that has been about people trying to escape cycles and generations of conflict through connection and understanding, as all good Gundam really is, romantically or otherwise—than ending with the sweet, cathartic relief of some Sapphic joy after week upon week of angst.
Mobile Suit Gundam: The Witch From Mercury seasons 1-2 are now streaming on Crunchyroll, and on Gundam.Info's YouTube channel in select countries. Watch it or you are being homophobic to me, specifically.
---
Want more io9 news? Check out when to expect the latest Marvel, Star Wars, and Star Trek releases, what's next for the DC Universe on film and TV, and everything you need to know about the future of Doctor Who.