To call Helen Mirren prolific would be an understatement. She's worked in basically every medium ever created, explored almost every single genre of storytelling imaginable, and won almost every acting award there is. However, with her new film Winchester, Mirren is actually doing something new: A scary movie. Just don't call it a horror film.
"I don't categorize this as a horror film," Mirren told io9 in Los Angeles earlier this week. "I categorize it as a ghost story. I think there's a real difference between the two. And I think ghost stories have had a long and rather noble history in filmmaking."
The film is based on the true story of Sarah Winchester, widow of William Winchester, who ran the Winchester Repeating Arms Company. After her husband's death, Sarah became the majority leader of the gun company and began making additions onto her mansion in San Jose, California in weird, unexplainable ways. The construction basically didn't stop for almost 40 years.
"No one knows why she built that house," Mirren said. "No one knows why two Shakespeare quotes are on stained glass panels there. You read those quotes and you can't quite [figure out] what she's trying to say. So the whole thing is full of mystery and, of course, that's fabulous for our story."
The film follows the popular line of thinking that Winchester believed she was cursed due to all the deaths attributed to her husband's guns. That hook—a ghost story with some political subtext—is one of the main reasons Mirren got on board with the film.
G/O Media may get a commission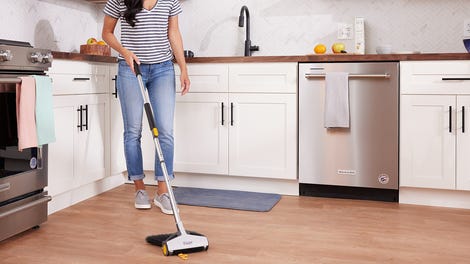 BOGO 50% Off
Flippr - BOGO 50% Off
"There was a line—I should remember this line because in a way the reason I took the movie was because this line was in the character's mouth, but it's a line relating to 'It's evil to profit from the sale of armaments and arms,'" Mirren said. "I felt that had such resonance."
But don't assume the film is somehow only targeting American politics and Second Amendment debates. "I'm not talking about domestic guns in America," Mirren added. "That's one thing. It's American culture. It seems there's actually nothing one can do about that. But really more the global sale of arms and the way countries benefit and profit from selling armaments. So yes that was a part of why I wanted to be involved. I love the fact that, sure it's a ghost story, but it has many other levels to it as well."
Another one of those layers is the capacity of the human mind. In the film, a character played by Jason Clarke is hired to evaluate the mental state of Mrs. Winchester. His character believes fear is strictly in the mind. Likewise, Mirren herself doesn't believe in ghosts. "Maybe that's just my paucity of imagination," she said. "I certainly believe in the power of imagination. That's a very powerful thing to imagine something."
For Mirren, someone imagining they see a ghost is almost as valid as, say, the money in your wallet. "Human behavior is run by imagination," she said. "I mean what is the financial system based on? A leap of the imagination. To say that money is worth anything, that this piece of paper that says you've got so many stocks is worth anything at all. The way the stock market lurches around is completely to do with the imagination. So, you know, I don't discount the power and the importance of the imagination."
Mirren just launched an online Master Class on acting and the experience of doing so made her examine her process in ways she'd never done before.
"The whole business of acting is having the ability to make a leap of imagination," She said. "But it was very weird because I've never taught a class before. I never wanted to teach, honestly, and didn't know what the hell I would say if I did teach. ... But my husband [Taylor Hackford] directed it. And when we started just all of this stuff just came pouring out. Pouring out. And I had no understanding before I started of how much I knew. I had no understanding. We took four days to shoot it. I could have gone on for eight days easily."
But first, there's Winchester. "I do hope a lot of people go to the cinema to watch Winchester together so they can all go 'Ooooh' together. It's kind of fun, that," she said. "But on the other hand, for some reason I always find myself watching ghost movies at two o'clock in the morning. ... It will also be a good film to watch alone at night in a darkened house at two o'clock in the morning."
Winchester opens February 2.