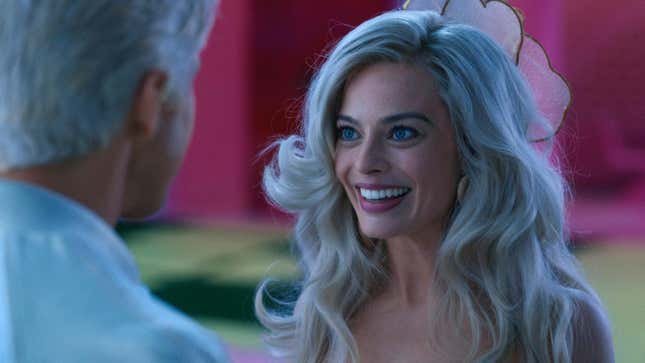 Margot Robbie's new profile in Vogue is incredible. The article mainly dives into Robbie's work on the much-anticipated Barbie, but in between some delightful behind-the-scenes anecdotes, it offers insight on how the Barbie film actually came to be.

Sonic The Hedgehog 2 Behind The Scenes Clip
First, did you know that Robbie herself went to Mattel to get the film rights? In 2018, she approached the toy company's CEO and pitched her company—LuckyChap—as the production outfit that would do right by Barbie. After she got the rights, she reached out to director Greta Gerwig, who agreed to do the film as long as she and Noah Baumbach were the ones penning the script. LuckyChap protected Gerwig and Baumbach from "two ginormous companies"—Mattel and Warner Bros.—while they wrote the script, and Robbie says that "Greta wrote an abstract poem about Barbie" that apparently "shares some similarities with the Apostles' Creed," according to Gerwig. Do I know what this means? Absolutely not. Am I extremely excited anyway? Yes. This is incredibly bonkers and I'm all in on the Barbie train.
We haven't even gotten to Ken (Ryan Gosling) yet. According to Gerwig, "Ken was invented after Barbie, to burnish Barbie's position in our eyes and in the world. That kind of creation myth is the opposite of the creation myth in Genesis." GRETA GERWIG, YOUR MIND? I cannot handle this level of absurdity and wonder. Imagine writing a poem about Barbie similar to the one of the most iconic Christian prayers and then saying that this film is based on an inversion of the Judeo-Christian creation myth? I cannot overstate how wild, how ridiculous, how absolutely feral I am going to be over this film.
The article states that "In Barbieland, Ken is basically another fashion accessory." There's apparently a line delivered by the film's narrator (Helen Mirren), where she says "Barbie has a great day every day. Ken only has a great day if Barbie looks at him."
There's also this fun bit of trivia: "Every Sunday morning, cast and crew were invited to watch a movie that served as a reference for Barbie." Selections included The Red Shoes and The Umbrellas of Cherbourg. "They called this 'movie church'."
There's so much more here—about Ken, about how the Barbies found themselves, about Robbie, and about the film—and it's so apparent that Robbie understands exactly what she's doing. Even if Barbie is a children's toy, there is so much more to what Barbie is, what the brand is, and what people think about her. This film is going to be bananas. Head to Vogue to read the whole profile.
Barbie opens in theaters July 21.
---
Want more io9 news? Check out when to expect the latest Marvel, Star Wars, and Star Trek releases, what's next for the DC Universe on film and TV, and everything you need to know about the future of Doctor Who.