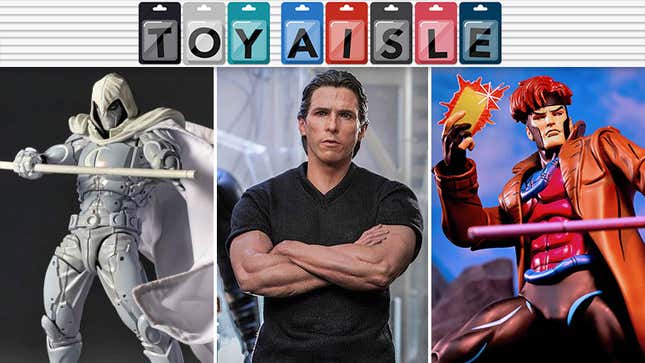 Welcome back to Toy Aisle, io9's regular round-up of the coolest toy news. This week's toys include Lego continuing to drop more Disney 100 treats, Hot Toys flexing for The Dark Knight movies, and a colossal Jurassic World dino. Check it out!

A Transformer Is Headed to the Moon
---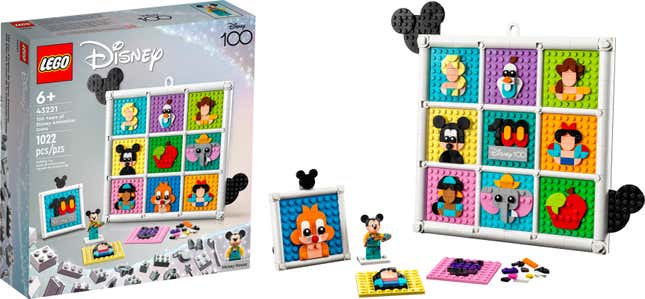 Lego Disney 100 Years of Disney Animation Icons
Reminiscent of Lego's Brick Sketches line, but on a smaller scale, this 1,022-piece Disney Animation Icons art set includes hundreds of tiny tile pieces and 12 8x8-stud plates that can be turned into portraits of famous Disney characters displayed individually, or as a larger mosaic. The set's instructions include buildable designs for 72 different characters, objects, and other recognizable Disney iconography, and an exclusive painter Mickey Mouse minifigure. It will be available starting June 1 for $60.
---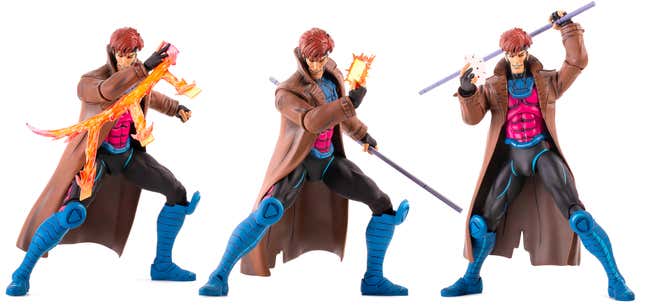 Mondo X-Men: The Animated Series Sixth-Scale Gambit Figure
Gambit instantly became a fan favorite for a new generation of Marvel fans who were introduced to the character during the first episode of X-Men: The Animated Series in 1992. Now that generation is eager to recapture the less-stressful days of their youth any way they can, which Mondo has been capitalizing on with a line of sixth-scale figures based on the X-Men's appearance in their animated series. The latest addition is a lavishly detailed 12-inch version of Remy LeBeau's Gambit. Available for pre-order now from Mondo's website for $215 (with shipping starting next week), the figure includes four swappable head sculpts (including a half-Mystique) as well as Gambit's playing cards, including energized versions with a flame effect.
---

Kaiyodo Amazing Yamaguchi Revoltech Marvel Moon Knight
Proving that, yes, all superheroes look much cooler with a flowing cape, Kaiyodo has given Moon Knight the ultra-articulated "Amazing Yamaguchi Revoltech" treatment with a new 6.7-inch figure featuring swappable faces, swappable hands, multiple staff weapons, crescent moons with a metallic paint finish, and an oversized cape with wire in the seam so it's as posable as the figure. It's available for pre-order from the Kaiyodo store for ¥12,650, or around $95 after currency conversion.
---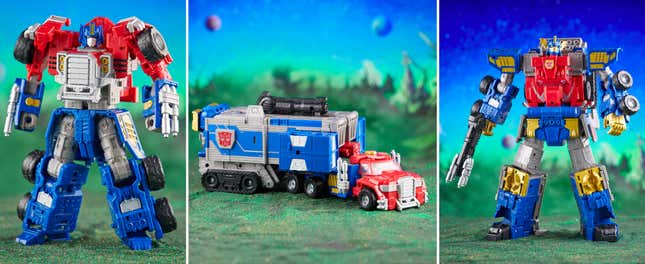 Hasbro Transformers Legacy Evolution Armada Universe Optimus Prime
From time to time, Optimus Prime has been known to slap on some extra armor and other upgrades to increase his strength and capabilities when going into battle. With Hasbro's new Transformers Legacy Evolution Armada Universe Optimus Prime, the Autobot leader is taking advantage of his sometimes there/sometimes not trailer to bulk up. Prime himself transforms from robot to truck mode in 20 steps, while his trailer turns into a battle station—something we've seen since the character debuted—in 22 steps. But this version of Prime can use the battle station to gain Super Robot armor, making him taller and more imposing. It's available for pre-order fro Hasbro Pulse for $90, with shipping expected in December.
---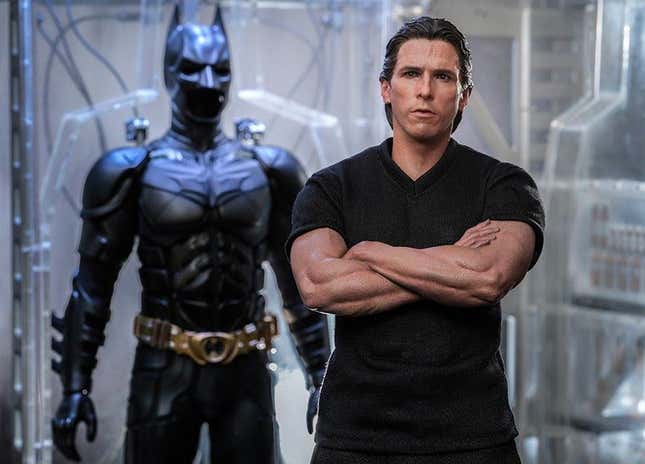 Hot Toys The Dark Knight Rises Batman Armory with Bruce Wayne Sixth-Scale Figure
Have you struggled to find an unbelievably jacked action figure version of Christian Bale as Bruce Wayne without the Batsuit on? Well then step right up, because sometime in mid to late 2024, Hot Toys will be delivering this sixth-scale recreation of both Bruce in his work from home attire, and his Batman armor for when video meetings aren't an option. The figure actually includes the full Batman Armory from the third Christopher Nolan Batfilm, including the Batsuit, loads of weapons and accessories, and LED lighting powered by a USB connection. And yes, you can even play dress up, and swap out Bruce's head for a cowled alternative.
---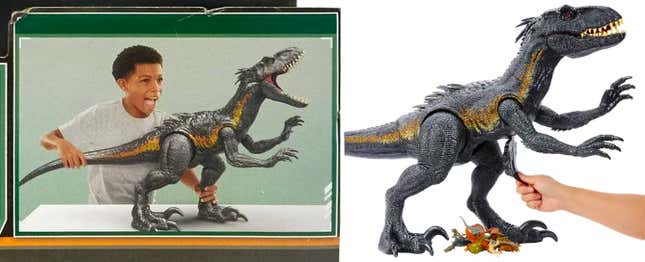 Mattel Jurassic World Super Colossal Indoraptor Action Figure
Mattel is playing the "go big or go home" card with this Jurassic World: Fallen Kingdom Indoraptor figure, and while it's nowhere near as large as the dino from the film, at three feet long it's huge for a kid's toy. It's got articulated joints in the legs, arms, hands, and tail, and the mouth opens wide enough to swallow dino mini figures completely whole (sold separately). Roughly 20 of the mini figures can slowly digest away in the Indoraptor's stomach, or be freed using a convenient trap door that releases them all. The figure is now available for pre-order from Target for $70.
---

Lego Disney The Enchanted Treehouse
Although this new 1,016-piece set features lots of play value, including a two-story treehouse, a slide, a zip line, and a waterfall, it's probably one of those sets that most collectors will be grabbing just for the figures. Instead of minifigures, the Enchanted Treehouse comes with Lego's slightly taller mini-doll figures which feature a bit more detailing, but the same claw hands. This set includes 13 of them, a who's who of Disney princess fame, including Mulan, Raya, Elsa, Moana, Tinker Bell, Alice, Wendy, Belle, Tiana, Anna, Pocahontas, Princess Jasmine, and Mirabel, and while it won't officially be available until June 1, it can be pre-ordered now on Lego's website for $160.
---
Want more io9 news? Check out when to expect the latest Marvel, Star Wars, and Star Trek releases, what's next for the DC Universe on film and TV, and everything you need to know about the future of Doctor Who.