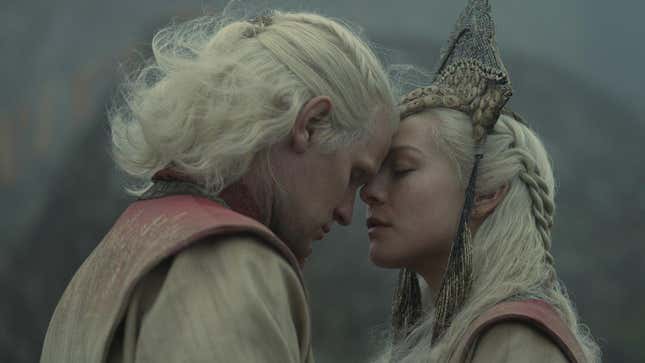 Hollywood headlines have been all about the writer's strike happening between the Writers Guild of America, representing film and television writers, and the Alliance of Motion Picture and Television Producers, representing various networks and streaming services—including Amazon's Prime Video and Warner Bros' HBO. As picket lines halt productions and raise awareness for the demands that the WGA has put before the AMPTP, some notable shows are moving forward with the scripts they have—but without the writers they hired.
Rainn Wilson's First Fandoms: Star Trek And D&D
Variety reported that HBO Max's House of the Dragon will continue shooting in the UK with the scripts the production had on hand despite the strike in the U.S. This is not a good thing. Sure, they have all their scripts, but rewrites happen on the fly all the time. Actors improv lives, directors make notes, script supervisors create new context immediately; none of this is done without writing. And none of it is done without writers. As there has been no announcement about the nature of rewrites on set, it's currently unclear how House of the Dragon will handle these issues when they come up.
As he is working on House of the Dragon, Ryan Condal, the season two showrunner, is currently a member in good standing with the WGA. The Writers' Guild of Great Britain instructed its members in the UK who are also WGA members to stop all work on projects that are under the purview of the U.S. union. Condal has not made a public statement since the strike was called.
Before we go further, a note about showrunners. Showrunners are, under WGA and AMPTP rules, technically considered multi-hyphenate workers. This means that they are both writers and producers. This means that they may be able to produce, direct, and make decisions, but if they stand in solidarity with the WGA, they should not be writing, not even for their own show. The last time a strike like this happened, many showrunners refused to work because of their allegiances with the WGA and their solidarity with their writers room.
As an example of the multi-hyphenate status of showrunners, Variety reports that Lord of the Rings: The Rings of Power has opted to proceed with its own UK-based production, but unlike House of the Dragon, showrunners J.D. Payne and Patrick McKay are not involved with production at this time. This means that Rings of Power is proceeding without writers, script editors, or showrunners on set. If a lack of writers is bad, a lack of the creative heads of the series seems far, far worse for the end result.
So what's the deal here? Both HBO and Amazon can certainly keep going with their productions as planned, but changing a single word from the script is considered "writing" and does fall under union work. This might seem stringent—it is—but these WGA rules are in place for this exact instance. Both House of the Dragon and Rings of Power are incredibly expensive, deeply impactful television series. The point of a strike is disruption. If forbidding writing work from being done on a television series causes that series to suffer, that strengthens the WGA's case and shows how deeply important writers are to the process of creating television. Without rewrites, edits, tweaks, changes, or even line adjustments, the likelihood of a cohesive season, much less a good season, drops significantly.
You only have to look through the quoted retweets on Variety's article about House of the Dragon returning to production to see the overwhelmingly negative response to this; many writers are chiming in saying that final drafts are hardly ever final, noting how changes are made up until the very last minute for a variety of reasons. As any writer will tell you, the best thing you can do after writing something is rewrite it. Good writing is rewriting. It's taking notes and comments and figuring out how to slot everything in place stronger and better and quicker.
As essential as rewriting and collaboration is to the creative process, it will be interesting to see what news comes out of the House of the Dragon and Rings of Power sets in the future, and how each series' next season will be impacted.
io9 has reached out to Ryan Condal through his support team for a comment. Warner Bros./HBO Max has also been asked for a comment on behalf of the House of the Dragon production. We will update this article if we receive a comment.
---
Want more io9 news? Check out when to expect the latest Marvel, Star Wars, and Star Trek releases, what's next for the DC Universe on film and TV, and everything you need to know about the future of Doctor Who.