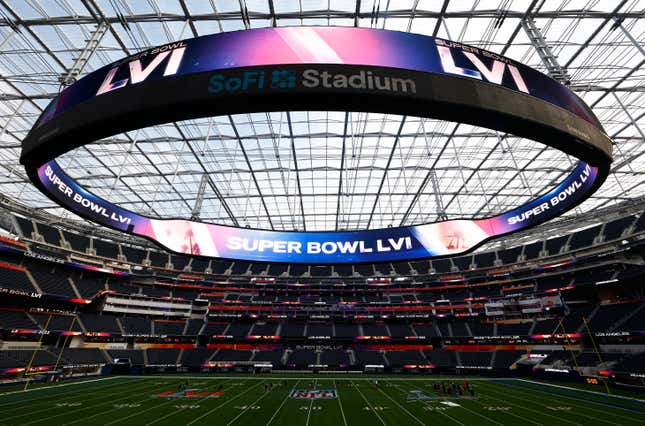 NFL season has just officially started and you may already be wondering: How do I watch the Super Bowl online?
Mr. Tweet Fumbles Super Bowl Tweet
The biggest sporting event of the year in the United States always draws in big TV audiences —in 2021, the broadcast attracted 96.4 million viewers. In 2022 the broadcast attracted 112 million viewers, which included television viewers and streamers. More consumers cut the cord and ditch their cable TV, the proportion of fans who want to watch online is booming, 2022 saw 11.2 million online streamers.
Last years game was huge, especially with the presence of underdog teams like the Bengals and Rams. Plus the Super Bowl Halftime Show with Mary J. Blige, Snoop Dogg, Dr. Dre, Kendrick Lamar, and Eminem, just won the Emmy for Outstanding Variety Special.
Oh, and if you don't care about football at all? Here's what you need to know about Puppy Bowl XVII and the Kitty Half-Time Show.

If you're planning to tune in, here's everything you need to know.

When Is Super Bowl 2022?
Super Bowl LVI —a fancier way to say the number 56— is happening on Feb. 13, 2022. The kickoff is scheduled for 3:30 PM Pacific/6:30 PM Eastern. If you're only interested in watching the halftime show, it should be on around 5 PM PT/8 PM ET. And if you like to tune in early, the coverage starts as early as 9 AM PT/12 PM ET.
Super Bowl LVII (57) will happen February 12, 2023.
Where Will Super Bowl 2022 Be Played?
The big game will be held at SoFi Stadium in Inglewood, California. That bit of luck will mean the Rams will be the first team ever to play a conference championship and a Super Bowl in their home stadium.
There was a contingency plan to host the Super Bowl at AT&T Stadium in Arlington, Texas if coronavirus concerns scuttled the show in California. But at this point, SoFi is a lock.
Who Is Playing?

The Los Angeles Rams will square off against the Cincinnati Bengals in Super Bowl LVI. Both teams were underdogs coming into playoffs, with the Bengals holding a 10-7 record for the regular season, and the Rams only slightly better at 12-5.
How Do I Stream the Super Bowl?
If you're not headed to a neighbor's house to watch the Super Bowl on NBC, and you don't have cable at home or an over-the-air antenna, you can stream the Super Bowl instead through a smart TV, set-top box, or dongle like a Chromecast with Google TV.
NBC's live broadcast is available as a part of YouTube TV, Sling TV, Hulu + Live TV, DirecTV Stream, and fuboTV's streaming packages. Some streaming TV providers, like YouTube TV and Hulu Live, will allow you to log in with the same credentials through the NBC Sports app, the NBC app, or NBCSports.com to watch the game.
Streaming apps with on-demand content will also offer the game, including Peacock, Yahoo Sports, and NFL GamePass. Note that you will need to pay for Peacock Premium to watch the Super Bowl LVI on Feb. 13. It's about $5/month or you can pay upfront $50/year. Otherwise, you'll have to wait for the recaps on the Peacock Free plan.
For audio-only coverage, you can turn your digital dial to Sirius XM and Westwood One radio stations (which are streaming on TuneIn).
What About The Halftime Show?
Let's be honest: if you're not into football, you'll probably tune in to check out the halftime musical soiree. You can always expect the biggest names in music to deliver the flashiest show on the Super Bowl stage.
This year, you'll see Mary J. Blige, Snoop Dogg, Dr. Dre, Kendrick Lamar, and Eminem performing their hits. The halftime show might even feel like a homecoming for some of the artists: a handful of the performers are California natives, including Snoop Dog, Dre, and Lamar.
For the first time ever, the halftime show will also feature two American Sign Language artists. Sean Forbes and Warren "Wawa" Snipe are also on the marquee for the event. They're two deaf rappers who will be providing sign language interpretations of the songs.
And now here's a fun fact: the last time Mary J. Blige sang at the Super Bowl was 2001 when she joined an ensemble cast including Aerosmith, NSYNC, Britney Spears, and Nelly. The video replay is a nostalgic walk down millennial memory lane.
What About the Ads?
The Super Bowl is typically known for its outlandish, hilarious, incongruent, and sometimes offensive advertising. This year's Super Bowl is expected to be no different. Ad slots sold out, which hopefully means brands are planning to put forward their most over-the-top TV spots.
If you're just in it for the ridiculous commercials, here's a spoiler on what to expect. So far we know Budweiser's callback to its trusty Clydesdales pulling carts of beer is in store, with a scene with Idris Elba being affable on a faux video conference—just like us at home! There's also a cringe-worthy ad from AT&T featuring Demi Moore and Mila Kunis who are, as it's known among the pop cultured, Ashton Kutcher's ex-wife and current wife. Paul Rudd and Seth Rogan also made a commercial for Lay's potato chips. It might be worth tuning in just to see what all the fuss is about.
What's The Spread For The Super Bowl? Who is Going to Win?
Don't ask us: We thought the Packers were a lock. But as of the publication of this article, the Rams were favorites to win, with a four-point spread.
(Updated 2/10/22 with new details)