At its Upfront presentation this morning, Hulu showed off more details of its new live streaming service, and announced that the service is now available in a public beta starting today. Interested users can sign-up here.

Hulu first announced its live TV service back in at its Upfront's in May 2016 and since then, we've seen the live TV cordcutting market become more crowded, with new offerings from DirecTV Now and YouTube TV. Even traditional cable operators, like Verizon and Comcast, are planning on getting into the online TV space. With traditional cable subscriptions falling, it makes sense that the networks and the providers are looking at other sources of income.
But what makes Hulu's approach to live TV a bit different—as we noted when we got a preview of the service back at CES in January—is that it combines live TV with the huge catalog of content that Hulu already offers. So if you subscribe to Hulu's new live offering, you get access to live feeds from ABC, NBC, CBS, Fox, ESPN, CNN, and so on, but you also get access to Hulu originals and that massive back catalog of movie and TV content.
The service, which has the tongue-twister name Hulu with Live TV, is available starting at $40 a month. That $40 a month offers access to more than 50 live channels, access to Hulu's standard $8 a month subscription service (you can pay an extra $4 and get the catalog content commercial free), and 50 hours of cloud DVR recordings. The $40 plan offers access to six user profiles and two simultaneous streams at once.
G/O Media may get a commission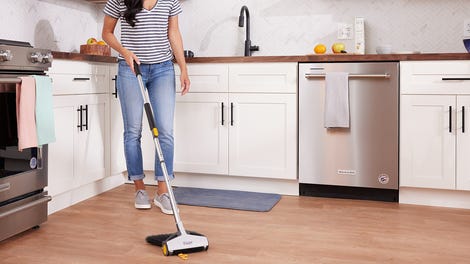 BOGO 50% Off
Flippr - BOGO 50% Off
If you want to stream from more than two devices at once, Hulu is offering an "Unlimited Screens" plan for $15 a month, which offers unlimited streams in the home, and up to three simultaneous streams outside the home. There is also an "Enhanced Cloud DVR" bundle for $15 a month that offers subscribers access to 200 hours of DVR recordings that automatically skip through recorded ads. Hulu is bundling the "Unlimited Screens" and "Enhanced Cloud DVR" bundles together for $20 a month, and offering an add-on subscription to Showtime for $9 a month. Hulu says other premium networks will be available "soon."

So what does Hulu's channel lineup look like? We don't have the complete list, but these are some of the networks that Hulu's live service supports:
ABC
CBS
NBC
Fox
CBS Sports
ESPN
Fox Sports
NBC Sports
TNT
Regional sports networks in top markets
CNN
CNBC
Fox News
Fox Business
MSNBC
Bravo
E!
Food Network
HGTV
Travel Channel
A&E
Cartoon Network/Adult Swim
Disney Channel
Freeform
FX
History
Lifetime
National Geographic
TBS
USA
Viceland
You'll notice that Viacom's networks (MTV, Comedy Central, Nickelodeon) aren't on the list. Viacom currently has a deal with DirecTV Now and is also on Sling TV, but has generally taken an anti-online TV stance—YouTube TV and PlayStation Vue are Viacom-less, too. Also missing in action are channels from Discovery Communications (TLC, Discovery, OWN, Investigation Discovery), and AMC Networks (AMC, IFC, Sundance, BBC America). So if you're hoping to watch The Walking Dead each week, Hulu's service might not be for you—at least right now. Do note that Hulu's regular non-live service does have some Viacom and AMC shows in its catalog, so you can still watch the first three seasons of Broad City or past seasons of Fear of the Walking Dead.
It's also not immediately clear what local TV channels you'll be able to watch. The major networks, including ABC and NBC, are working on making it easier for affiliates (that is, networks that aren't owned by ABC or NBC, but broadcast their content) to be part of these online TV services, but to date, most live local content tends to be restricted to the markets where the network itself owns the local station (known as owned-and-operated stations in TV biz parlance). As a result, we feel confident that like Sling, DirecTV Now, PlayStation Vue, and YouTube TV, most of the live local TV content will only be available in owned-and-operated markets, at least until those broader licensing deals get rolled out to affiliates in other parts of the country.
The beta for Hulu's live TV offering will be available on Chromecast, Xbox One, Apple TV (4th generation), iOS, and Android. It will be coming soon to Fire TV, Roku, and Samsung smart TVs "soon."
In addition to the live TV service, Hulu is also launching a brand new user interface for all of its subscribers. The demo I saw back in January was impressive, and the screenshots Hulu is offering look slick—but this is a big departure from the current interface; we'll need some time with it to before we can offer our full assessment of what works and what doesn't. You can check out a preview of the new interface below.
We'll be doing a review of the service very soon, so stay tuned. Still, I have to say, the lack of Viacom and AMC channels aside, this looks like this could be really, really solid. If executed the right way, Hulu's plan to marry live TV with an existing catalog of online content and original programming could be a cordcutter's dream.