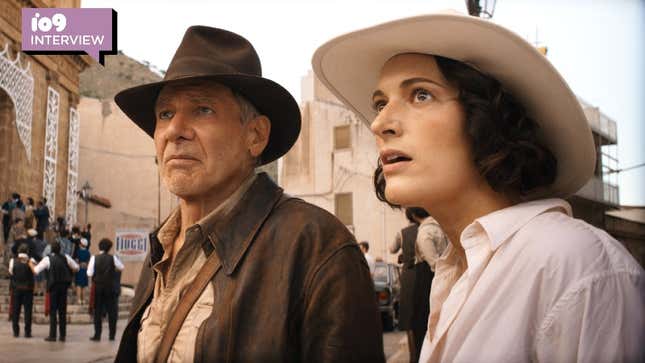 Whether you live in a magical mystical world, or just post on the internet, one rule is always the same: don't feed the trolls. In internet terminology, trolls are people who purposefully stir up shit. They say things hoping to get a reaction. And, the best way to deal with them, is to ignore them. But last year, one very unlikely person decided to go against that: the director of a very high-profile franchise film.
Finding the Right Story and Tone for Indiana Jones 5 | io9 Interview
That person is James Mangold, whose new movie, Indiana Jones and the Dial of Destiny, finally opens this week. And back in December, before anyone had seen the film or really knew much about it, wild rumors began swirling about the movie. People were trashing something they had no actual idea about and just making up fake spoilers. And so Mangold did something that almost no filmmakers do these days, especially not ones working for Disney and Lucasfilm: he took the trolls on.
You can read about those incredible exchanges here and here, as we covered it extensively. And because of that, when we sat down with Mangold to talk all things Indy, we just had to ask him what made him do the one thing you don't do and address those bullshit rumors. Here's the video of it and the quotes are below.
James Mangold on Addressing Indiana Jones 5 Rumors | io9 Interview
James Mangold on Addressing Indiana Jones 5 Rumors | io9 Interview
"Early on, there were some people who were knocking the picture before I even started shooting it," Mangold told io9. "And I just thought—probably stupidly because there's no way to have a kind of fair dialogue on those forums—that if I just pointed out, 'Why don't you let me make it before you rip it apart?' that it would actually engender some kind of human response. But the problem is it doesn't."
"And what was mystifying for me a couple of months ago was that when you're reading things about your movie that are not just wholly untrue, but are just completely made up, and the way the echo chamber of the internet works is that if one person says it and says, 'I heard a rumor,' then you can report that 'I read a report,'" Mangold continued. "And now you're a more legitimate institution and someone can go, 'I read on Gizmodo that a report of a rumor...' and suddenly this thing starts to have a life of its own. And you're battling and it's complete fiction."
"And there's an idealist in me," he said. "And I keep going, 'If I just tell people the truth, won't they believe me?' And I realize, 'No. There's a whole world that views me as part of some kind of elite conspiratorial effort to undermine something.' And I'm not. I'm just a guy who loves movies, who's trying to live through each day. And do the very best I can, knowing I can't possibly please everyone."
So Mangold thought it could win over the internet, but did not. At least when Dial of Destiny comes out this week, everyone will realize the rumors were false and Mangold was being honest all along.
---
Want more io9 news? Check out when to expect the latest Marvel, Star Wars, and Star Trek releases, what's next for the DC Universe on film and TV, and everything you need to know about the future of Doctor Who.