The iPhone 6 and iPhone 6 Plus stretch Apple's winning formula to much greater sizes than ever before, while bringing a potentially game-changing mobile payments option alongside typical upgrades like processors and cameras. They've got a slick new design, and boast the latest version of iOS as well. What do critics with advance access think of all these changes?
Behold, the meta-review.
After using both the iPhone 6 and iPhone 6 Plus for a week, I can report that Apple has successfully addressed its size deficiency, and much more. The $199 (with contract) iPhone 6 packs a 4.7-inch screen, big enough to get down to business, into the most comfortable smartphone I've ever held. And while the iPhone 6 Plus feels too big for my taste, for $100 more its 5.5-inch screen offers an option for road warriors who don't want to carry a tablet.
But after almost a week of trying the phones, it became clear that the hardware was not the best part of the package. In its quest to deliver bigger phones to a market clamoring for them, Apple has made one phone that is actually a little too small and one that's a little too big.

***

The slim new iPhones aren't a big-screen slam-dunk, but they work well, as we have come to expect from Apple. Ultimately, it's what's on the inside that keeps them just in front of their competitors.
G/O Media may get a commission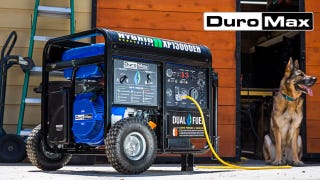 Black Friday Sale
DuroMax Generator Sale
The Verge (iPhone 6, iPhone 6 Plus)
With only a couple of small exceptions, this is the right way to build a larger phone. It's thinner, more comfortable, more friendly to the touch. But what Apple didn't do was come up with a way to take advantage of the new screen real estate, or make it easier to navigate. Other devices have clever screen-unlock mechanisms, or stylii, or split-screen multitasking, or always-on voice control. (The iPhone 6 does let you yell "hey Siri!" to give voice commands from across the room, but only when it's plugged in.) Apple is clearly saying a big phone is better, but it doesn't answer the critical question: how is it different?

The 6 Plus at least gestures in this direction. A few apps work in landscape, with handy two-pane modes, and even the homescreen rotates on its side. On the "smaller" model, though, the only concession to gargantuanism is Reachability, in which you double-tap (but don't click) the home button and the whole screen just slides downward. It does the job, I suppose, but it just looks like you broke something when there's only half an app on the screen and the rest of the display is just empty.

***

Watching video on the 6 Plus is tremendous — the display is almost as big as the iPad mini showing 16:9 videos since the mini has to letterbox those videos to fit its 4:3 screen. I watched a lot of football using the Sunday Ticket app last weekend; I never once wanted to find a TV. I could spend days banging through YouTube and Vevo on this thing. If you're a traveler who carries an iPad just for movies on the road, the 6 Plus is going to be your best friend.
For current owners of Apple phones who aren't tied up with a carrier contract, the iPhone 6 is among the most irresistible upgrades the company has ever offered. And the jumbo-sized iPhone 6, though definitely not for everybody, is a winning entry in a category that's previously been an Apple-free zone.

***

From the start, Apple has never attempted to make its phones do everything; it's just tried to make them do the things they do as well as possible. It's not an approach designed to please impatient types. But by keeping people waiting for much-requested features, the company bought the time to do them right in the iPhone 6 and 6 Plus. iPhone fans, your life is about to get better—and the smartphone wars are going to get more interesting for everybody involved.
CNET (iPhone 6, iPhone 6 Plus)
The iPhone 6, if you think of it as the overdue screen upgrade and feature boost that last year's iPhone 5S didn't get, makes it an excellent upgrade for any iPhone 5 owner. And it's finally the sort of phone that an Android owner might once again leap over to buy. But, on the whole, the 6 is a product that feels like a collection of overdue Android features, given an excellent polish by Apple hardware and software design. It's a really, really good phone. It's not revolutionary. But stay tuned, because Apple Pay, which could be Apple's most important advancement in years, hasn't launched yet...and these phones are your first ticket into it.

***

The iPhone 6 Plus is not a phone for everybody. Its size is its biggest drawback and, indeed, that will likely be the deciding factor for many on whether to go with the 6 or 6 Plus. If you can live with a device of these dimensions, the additional $100, £80, or AU$130 is well worth it for the upgraded battery life alone. It's doubly worth it if you're intrigued by better performance of the camera — or if your eyesight could benefit from extra room for larger fonts.
TechCrunch (iPhone 6, iPhone 6 Plus)
The iPhone 6 is the best smartphone available. It offers improvements in almost every way that matters, and it delivers those in a striking new design that balances consumer demand for larger screens with a thin, light and durable case. It's Apple's most attractive phone, visually, and the 4.7-inch size is going to be more generally appealing than the iPhone 6 Plus' larger proportions.

***

...overall the sense you get of the iPhone 6 Plus is one of extreme high quality, which is not something that can be said for the rest of the 'phablet' field. Apple has managed to make the very first well-designed smartphone of epic scale, regardless of your thoughts on the merit of the category as a whole.
For the first time, iPhone fans can enjoy something Android users have taken for granted: choice. Until this year, buying a high-end iPhone wasn't a tough decision. You either bought it or you didn't. Now there are two to choose from, and while they look identical, each has its own set of trade-offs that you need to weigh: The 4.7-inch iPhone 6 features a respectable display size and a comfortable in-hand fit; it's also my personal favorite after using both for several days. The 5.5-inch iPhone 6 Plus, on the flipside, isn't as easy to hold in one hand, but you'll want it if you're hoping to get an iPad-like phone with great battery life and a lot more screen real estate.

***

It may sound like the Plus isn't ideal, and indeed, it's not for everyone. But for many, the additional screen real estate is worth sacrificing some one-handed comfort. Not only do you get more rows of icons on each screen (the 5s is 6 x 4, while the 6 is 7 x 4 and the 6 Plus is 7 x 4 with slightly larger icons and more space in between), but you're also going to be able to see more emails, tweets, Google search results, Engadget posts, calendar appointments and, well... more of everything. More screen space equates to more room for consuming, creating and manipulating content, and since it's still small enough to fit in most jeans pockets (provided they're not too tight), it's still more portable than any iPad.
Mashable (iPhone 6, iPhone 6 Plus)
There are other smartphones that do some of the things an iPhone 6 can do. Others, like the Samsung Galaxy S5 do more. It and the Amazon Fire Phone actually watch you and react to your gaze. Even so, none put it all together in quite the same way. I do miss the edges of the old iPhone design, but Apple's iPhone 6 is, for my $200, the most elegant and effective smartphone on the market.

***

If you want a phablet, the iPhone 6 Plus is a very good one. That big screen is especially well suited to movie watching and game playing, but also packs in a lot more info from web pages and emails than you'll get from the iPhone 6, 5S and other, smaller smartphones.
Recode (iPhone 6, iPhone 6 Plus)
The iPhone 6 is a great upgrade for current iPhone owners, or for anyone, really. It manages to provide a much larger display in a phone that's still small enough to handle easily. It's my recommendation for the best smartphone you can buy.


***

There are a couple of reasons why the Apple iPhone 6 Plus might also be too big for me to purchase. But I have to admit it: I'm tempted. I really like this phone. And to people who actually prefer huge smartphones: You are going to like this phone, too.

That's mostly because it's not just a smartphone; it's a statement phone. What Apple is doing isn't even especially innovative — "Us, too!" the company is shouting, as it chases after that flatbed truck filled with phablets — and yet, they've made this big phone feel fresh and desirable.
Though I must say, while the iPhone 5S stood out in a crowd of Android smartphones with its chamfered edges and Leica-esque controls, you might not know the iPhone 6 next to the latest Galaxy S5 or the HTC One. And while the design is still impressive, some details feel a bit off. The bold antenna lines that run around the back of the devices and the protruding camera lens make the phones seem slightly less disciplined compared with the company's previous work.

***

While consumers are already clamoring for the larger of the two phones, I found the iPhone 6 Plus too large and unwieldy to use as my daily driver. It does offer better battery life and an improved camera stabilizer compared with the iPhone 6, but its size proved to be more than I wanted to grapple with on a regular basis. Think of it this way: The iPhone 6 Plus is only slightly smaller than an iPad Mini, which means one-handed use is messy even with Reachability, and holding it up to a normal-size head looks slightly absurd.
I'll wager that for most iPhone 5 users, the iPhone 6 will be a solid upgrade, and after a few days of adjustment, they'll never miss their old iPhones. As for the iPhone 6 Plus, it's a device that will undoubtedly find its adherents. They might be people who use their iPhones constantly and also need as much battery power as possible, or people with large hands, or people for whom it will be the only computing device they'll use every day. Samsung and other competitors have showed that there's an audience for extra-large phones—and that's now an audience that can buy an iPhone. That's the whole point.
Pocket-Lint (iPhone 6, iPhone 6 Plus)
Overall, we're mightily impressed with the iPhone 6's design and build. It's very much a phone we'd recommend you go and touch, because it's likely to make a number of manufacturers take a second look at their own premium portfolio. Importantly, however, it feels like a big upgrade over the iPhone 5S, something that iPhone owners are going to want to upgrade to.

***

Ultimately, if you're the sort of person who likes to crash through email while hanging onto the train with one hand, or check Facebook while grappling with a small child, then maybe the 6 Plus will be too big for you. If you're the sort of person who likes to kick back and watch movies on your phone a lot, then it might be just the ticket.

***

Having the benefit of using both the iPhone 6 and iPhone 6 Plus over the last week we've kept coming back to the iPhone 6 Plus, only to return to the iPhone 6 every time. It's as if our heart drawing us to something new and exciting, but our head is going with the more practical and more efficient, familiar, device.
iPhone 6 is probably the easiest and most satisfying upgrade an iPhone owner will ever have. It looks like an iPhone, it feels like an iPhone, and it comes with a new design and new features.

***

After handling the iPhone 6 Plus, I was sure it was a device that I wouldn't use long term. However, the more I used it, the more I found myself wanting to use it.

The 6 Plus was awkward for me to use at first—it was kind of like using a smaller version of the iPad mini, but it was a phone. I had a hard time wrapping my head around the idea of using it on an ongoing basis, but the larger screen eventually won me over.
Stuff (iPhone 6, iPhone 6 Plus)
In order to really judge the iPhone 6 you first have to consider what it's not.

It's not a mega-screened wannabe phablet. It's not a 2K-display-packing pixel king. It's not the most powerful phone ever, it's not the most megapixelly phone ever, it's not even the longest-lastingest phone ever. The best Androids still beat it on all these counts.

But that's just specs. What it is, is the best iPhone ever.

***

The iPhone 6 Plus will undoubtedly be too big for some hands. It's far bigger physically than any previous iPhone but also bigger than any comparable Android. The LG G3, which has the same size screen, is dwarfed by it. Even the Samsung Galaxy Note 4, with its 5.7in display, is shorter.

That said, the combination of its super-thin body and smooth metal build make it easier to hold and use than you might expect. Plus, it offers a few advantages over the iPhone 6, namely that bigger, higher-res screen and increased battery life.
The iPhone 6 Plus won't be short of fans, and indeed I love its multimedia abilities and how productive I can be with it, but unless you're an avid gamer, a determined mobile video pro, or insist on as much time away from the AC adapter as possible, the iPhone 6 feels like a more encompassing option.
The iPhone 6 and iPhone 6 Plus are absolutely terrific phones. They're fast and powerful and well designed. There's not a single component that hasn't been improved. These phones are a delight to behold and to be held.
T3 (iPhone 6, iPhone 6 Plus)
The king is dead, long live the king: the new iPhone 6 is everything we've come to expect from the annual Apple smartphone upgrade – new look, retuned OS, refined camera. The difference is that this year, that new look is the most stylish in years and that OS's functionality has been buffed within an inch of its life. The genuinely longer battery life that comes as a bonus with the bigger chassis is nicely unexpected.

But while the boldness this year has definitely been used up on the phone's new silhouette and the handset tag team's sizes, it seems at first that Apple has played it relatively safe elsewhere, tinkering underneath instead of throwing the baby out with the bath water.

***

The iPhone 6 Plus is a big departure for Apple – a BIG departure – and one initially we weren't onboard with, but its software stabilisers have helped us to stop worrying and learn to love the phablet. The full-HD screen (finally) is stunning, with so much display to get lost in, while the build tries its hardest to be as size-flattering as possible. The tweaks in iOS 8 are focused and shave noticeable seconds off tasks, while landscape mode is incredibly natural for typing and organising, and a design choice we wish had made it to the standard iPhone 6 just for its functionality.
The Guardian (iPhone 6, iPhone 6 Plus)
Spending a day or two using the iPhone 6 makes its predecessors feel overweight. The most noticeable thing, besides the thinness, is how smoothly the curved screen rolls over the edges - so swiping from the left edge to the right, or from the right edge to go left (which we do at many navigation points, including in Apple Mail) is a tactile pleasure. On the 5S and the 5C, that gesture finds the chamfered or plastic edge - but at least it isn't uncomfortable. On the 6 and 6 Plus, it's lissom.

***

Too big. This thing's too big. Waaay too big. It's... actually, that screen is pretty nice, isn't it? Wow, you really can get a lot of content on there, can't you? Hey, my hand's getting used to the size. It's quite comfortable, isn't it?

And that's how it goes with the iPhone 6 Plus. I expected to find it far too big, and at first my expectations were met. But give it a few minutes, perhaps a couple of days, and you'll find yourself strangely attracted to its huge-seeming screen.
The Telegraph (iPhone 6, iPhone 6 Plus)
There are countless things neither the iPhone 6 nor the 6 Plus don't do: there's no 4K video, there's no higher pixel count than rival models and there's no HD audio, to name but a few. But that's to miss the point. What's made the iPhone so successful is its combination of user-friendly simplicity with sufficiently advanced functions and a beautiful, pleasing design. The iPhone 6 builds on that, and set next to the iPhone 5s it instantly makes its predecessor's design look out of date. The 6 Plus may be bigger, but if a larger screen is what you want, it's peerless.
The Independent (iPhone 6, iPhone 6 Plus)
Sometimes Apple is accused of doing too little, that a new phone is just a gentle, incremental improvement on a previous one. Not this time. The glam new design, hold-it-to-believe-it thin profile, superlative feel and improved performance of the iPhone 6 make it a no-brainer upgrade even to those with the most recent model. Massively improved battery life, a better camera, bigger and still beautiful screen and faster performance, not to mention the tantalising prospect of Apple Pay and VoLTE to come, all help.

In the world of smartphones, this is the biggest leap forward yet. It offers a staggeringly better version of an already winning phone. Honestly? I'd give it six stars if I could.

***

For my digits the iPhone 6 is the ideal size. But for bigger mitts or greedier eyes, this [iPhone 6 Plus] will be the optimum.
These are the phones Apple devotees have been waiting for: iPhones that measure up to what's fast becoming the new normal — the large, modern smartphone display. Count me among those glad they're here.
People have preordered on faith, since they haven't seen these super-sized iPhones up close or experienced what they feel like in pockets and handbags. I have and let me be reassuring — you won't regret your decision, though going big may require a small adjustment, and my experience wasn't totally trouble-free.