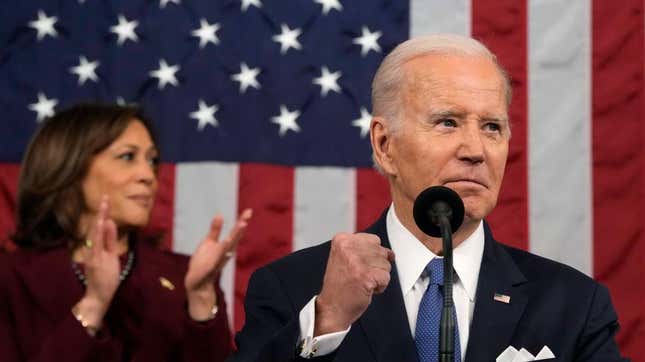 President Joe Biden took direct aim at tech companies during his second State of the Union address Tuesday evening. Over the course of an hour, the president railed against Big Tech's data collection practices, its use of targeting ads on young users and anti-competitive business practices. For all of those issues, Biden attempted to muster up bipartisan support from lawmakers in Congress to work across the aisle and pass legislation aimed at reining in tech firms.

"Capitalism without competition is not capitalism," he said. "It is exploitation."
The president used his podium to try and revive a variety of tech-focused legislative proposals, ranging from "surveillance advertising" to antitrust reform, each of which poll well among voters but have largely fizzled out in Congress.
"Its time to pass bipartisan legislation to stop Big Tech from collecting personal data on kids and teenagers online, ban targeted advertising to children, and impose stricter limits on the personal data these companies collect on all of us," Biden said.
Biden gave the public a glimpse into some of his remarks earlier this year in op-ed for The Wall Street Journal, title, "Republicans and Democrats, Unite Against Big Tech Abuses." At the time, he reiterated his concerns over the way companies collect sensitive data and how algorithms may "deepen extremism and polarization in our country." The president said he was particularly concerned with social media's potential effect on children's well being and accused tech firms of running an "experiment" on kids for profit.

"To keep Americans on their platforms, Big Tech companies often use users' personal data to direct them toward extreme and polarizing content that is likely to keep them logged on and clicking," Biden wrote. "All too often, tragic violence has been linked to toxic online echo chambers."
In the op-ed, Biden echoed called on both Democratic and Republican lawmakers to pass federal privacy legislation setting clear limits on how companies can collect location, health, biometric, and other sensitive data. The president also made clear his interest in reforming Section 230 of The Communications Decency Act. The specific nature of those changes, however, still remains unclear. On the competition front, Biden has advocated in favor of "fairer rules of the road," that prevent larger tech firms from stamping out competition. Though Biden rarely evokes the word "antitrust" by name, his administration is filled with top antitrust advocates critical of Big Tech, including FTC chair Lina Khan and DOJ Assistant Attorney General Jonathan Kanter.
"When tech platforms get big enough, many find ways to promote their own products while excluding or disadvantaging competitors—or charge competitors a fortune to sell on their platform," Biden wrote in his op-ed.