Jose Padilha responds to all the Robocop scuttlebutt. Clark Gregg considers whether Agent Coulson might still have a future in the Marvel universe. Plus a sneak peek at Saturday's Doctor Who, and Game of Thrones hints, direct from George R.R. Martin!
Is AI Moving Too Fast? | Future Tech
Spoilers from here on out!
Top image from Game of Thrones.
Iron Man 3
Remember those set photos from a couple months back that seemed to show the villainous Iron Patriot, but was then actually supposedly just a new version of the War Machine armor? Well, the original story might just be true after all, as Marvel Studios has reportedly filed trademarks on the Iron Patriot for various tie-in merchandise. Now, these things can be filed speculatively, and I'd advise against reading too much into the studio's behind-the-scenes legal wrangling, but still... if you're looking for evidence that Iron Patriot will appear in the movie, this is a pretty decent clue. [Bleeding Cool]
Thor: The Dark World
Here's the latest batch of set photos from England's Bourne Wood. [Comic Book Movie]
G/O Media may get a commission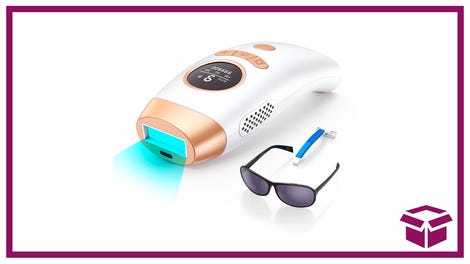 58% Off + Coupon
IPL Hair Removal Device
---
The Avengers 2
Clark Gregg discusses his future in the Marvel cinematic universe — mentioning the possibility of now getting to use his talents behind the camera — and he certainly seems up for resurrecting Agent Coulson as Vision:
"I don't know if we'll see Agent Coulson again, but I certainly do his voice in their animated series, The Ultimate Spider-Man, and you never know, there may be a flashback or something sometime. I really hit it off with those guys [at Marvel], and I've talked to them lately about some ways I can continue to work with them, perhaps as a writer or director... You know the Vision is synthetic with a soul, sort of, and he's an amazing character who I loved when I used to read those comics. I love the idea of Coulson as that guy, but I don't know if that's in the cards."
---
The Wolverine
Here are some set photos taken at Fukuyama Station in Hiroshima, Japan, featuring Hugh Jackman as Wolverine and Tao Okamoto as Mariko Yashida, the half-sister of the villainous Silver Samurai. Other recently filmed scenes reportedly included a funeral sequence at a Buddhist temple. [Comic Book Movie]
Elsewhere, the latest rumor — and this appears to be based on Japanese news reports, so this is pretty far beyond my ability to verify — is that a sequence currently being filmed will feature a bus either blowing up or actually crashing into Wolverine. Which, knowing Wolverine, might well cause the thing to blow up anyway. [@nailbiter111]
---
Robocop
Director Jose Padilha has responded to the recent reports from his close friend, City of God director Fernando Mereilles, that MGM is blocking him at every turn. His statement is roughly translated from the original Portuguese, so I'd advise against reading much of anything into the specific word choice, but yeah... I'd say he's being diplomatic here:
"I have a script I'm happy with and I got the cast I have picked. The director of photography is Lula Carvalho, my editor is Daniel Rezende (City of God, Elite Squad, The Tree of Life). I was even consulted for the selection of the producers... We deal with those difficulties with coolness and familiarity."
Elsewhere, if you want a very spoiler-y and at least theoretically legit script review, you'll want to check this out. [Latino Review]
---
The Hobbit: An Unexpected Journey
Here's a new promo photo of Sherlock star Martin Freeman as Bilbo Baggins in the first of Peter Jackson's three-part Hobbit adaptation. [EW]
---
The World's End
Paddy Considine, who previously worked with Edgar Wright, Simon Pegg, and Nick Frost when he played the older, more fearsome Andy in Hot Fuzz, will reportedly play "a former ladies man and musician who has grown up to be a divorced architect" in their upcoming film about five old friends going on an epic pub crawl in the midst of some sort of apocalypse. [Variety]
---
Kick-Ass 2
Jim Carrey is now confirmed to be playing the small but pivotal part of the Colonel, the superhero who galvanizes all the other would-be heroes to take on the forces of evil. Comics creator Mark Milllar discusses the casting and hints at what qualities Carrey will bring to the role:
Matthew Vaughn, Jeff Wadlow and I did a conference call with Jim a couple of weeks back and we've been itching to talk about this ever since because the energy Jim's going to bring to Colonel Stars has me buzzing as much as Nic Cage with Big Daddy. You have to remember that Big Daddy's role before Cage came on was a much more straightforward bad-ass. It was Nic who gave him that Adam West delivery and brought this incredible warmth to the character, especially with regard to Mindy.

Nic is really good friends with Jim Carrey and it's well known to everyone that Jim loved the first movie. In fact, I think he had lunch with Vaughn the day before that Conan O'Brien kick-Ass/ Superman duet you can see in the link. So we've been talking very informally about this for a little over two years now. We didn't quite know what Jim was going to be doing in the sequel, but the entire team loves him to bits and I've been a fan since I first saw him. I remember reading an interview with Spielberg, a great one back in Empire for a Jaws anniversary, where he was saying that Jim would be his choice for Chief Brodie were he shooting Jaws now. He said he could see the brilliant dramatic range Jim had as well as the comedy people knew him for at that time. For all these reasons, combined with the conversation we had with him on the phone, I'm so genuinely excited about this. I can't wait to see what he does once the cameras are on.
And here's a bunch of photos writer-director Jeff Wadlow released for the start of pre-production, one of which includes Red Mist actor Christopher Mintz-Plasse being dwarfed by the still-unidentified actress who will be playing the character's bodyguard, Mother Russia. There's some additional tidbits at the link. [Coming Soon]
---
Doctor Who
Here's a sneak peek at this Saturday's episode, "Dinosaurs On A Spaceship", which shows the Doctor's encounter with Queen Nefertiti of Egypt. [Blogtor Who]

---
Fringe
Showrunner Joel Wyman promises there will be deaths — quite possibly major ones — in the final season:
"There will be death in the final season. Whenever there's a war, there are going to be casualties. I think they're going to be unexpected."
[TV Guide]
---
Game of Thrones
George R.R. Martin reveals he has already turned in the script for his episode this season, which will be the seventh episode and titled "Autumn Storms." He also explains why the show hasn't really incorporated the prophecy element from the books:
"It would be sort of stupid to have a whole prophecy of something that never pays off down the road because we have to cut that thread for budgetary reasons."
He's also paraphrased as saying that "the show will, at some point, have to deal with events concerning Rhaegar, Lyanna and Aerys Targaryen, the Mad King." There are plenty more details at the link. [Huffington Post]
A couple minor roles have been cast, at least according to the actors' own agencies. Michael Shelford is playing a character simply known as "Lord Torturer" — because this wouldn't be Game of Thrones without quite some of those running around — and Lisa Walsh is going to be one of Craster's wives. [SpoilerTV]
---
True Blood
Departing showrunner Alan Ball explains why the show punted this season on Sookie and Alcide's relationship:
"The decision to not do it this season [came about because] every single season, it's been all about Sookie falling in love with this person or that person. It seemed like she had enough on her plate this season to not just [say], 'Okay, now Sookie's gonna fall in love with Alcide! That doesn't man that that door is closed," he insists. Or at least it isn't locked. "All of these supernatural guys in town carry a big torch for Sookie – even Eric, who doesn't want to admit it."
[TV Line]
---
The Walking Dead
Here's a new poster for season three, which begins October 14. [Live Feed]
---
Once Upon a Time
Here's a short description for the second season premiere, "Broken", which is set to air September 30:
In the aftermath of Gold's actions at the wishing well, the people of Storybrooke must come to grips with the knowledge of what they once were... and are again.
[KSiteTV]
Here's a set photo of what appear to be new guest star Colin O'Donoghue, who is not wearing a hook — and odd thing to bother pointing out, I admit, except for the fact that his character is thought to be Captain Hook. [Van City Filming]
---
Grimm
Weeds actress Kate del Castillo will appear in this season's Halloween episode, entitled "La Llorona." Her character is Valentina Marquez, who is described as "a mysterious dectective from Albuquerque who comes to Portland to help Nick and Hank capture a serial child abductor [and who] has spent the past five years tracking the perp and identifying patterns in related abductions." [Live Feed]
---
Revolution
Justified actors David Meunier and David Andrews, who respectively play Johnny Crowder and Sheriff Napier on TV's most badass drama, have reportedly been cast in minor roles on NBC"s upcoming post-energy action series. Meunier will play the recurring part of Strasser, described as "a tough and psychotic militiaman who works for General Monroe", while Andrews will play O'Halloran, "a kind family man and former cop." [EW]
Grey's Anatomy actress Kim Raver has also been cast in what's being described as a pivotal recurring role. [TV Guide]
---
Supernatural
The show is reportedly casting a major recurring role, a woman in her 30s named Naomi who is described as "an efficient bureaucrat in a business suit, but she's more emotional than she looks." The character would debut in the seventh episode of season eight, "A Little Slice Of Kevin." Another guest role for this episode is Delta Mondata, "a young and flirtatious witch-for-hire." [SpoilerTV]
Here's a promo for season eight.

---
American Horror Story: Asylum
One more first season cast member is returning to the show, as creator Ryan Murphy has tweeted that Frances Conroy — who played half of the housekeeper Moira — has rejoined the cast. Murphy cryptically revealed, "Devils and angels this year... Frannie plays the ultimate angel." [TV Line]
Here's the latest teaser, which is rather wonderfully called "Hellevator." [Shock Till You Drop]

---
Arrow
Here's an interview with Katie Cassidy, who plays Dinah "Laurel" Lance — and, sooner or later, Black Canary, possibly — on The CW's Green Arrow show.

---
Additional reporting by Amanda Yesilbas and Charlie Jane Anders.