High-End camping gear maker Nemo promises to make sleeping outside more comfortable than ever. Cannondale is releasing a road bike fitted with a lightweight version of its "Lefty" front suspension and a second wolf has left Oregon for the sunny climes of California. Here's what's new outside.

More goes on outdoors than we can cover. So, here's a roundup of all that's important, interesting and new this week. Got a news tip or story idea? Let us know.

Cannondale Slate: A road bike with drops and single-sided front suspension? That's new. Cannondale is targeting the Slate at non-traditional riders who want to tackle gravel and dirt roads, or just live in a city like Los Angeles or New York where the paved roads are so bad that they may as well be gravel or dirt. In addition to the 30mm of front suspension travel, the Slate is fitted with smaller diameter 650B wheels wearing higher profile 42C tires. That setup gives a similar rolling radius to 700C, just with much better ride quality and a larger contact patch.

G/O Media may get a commission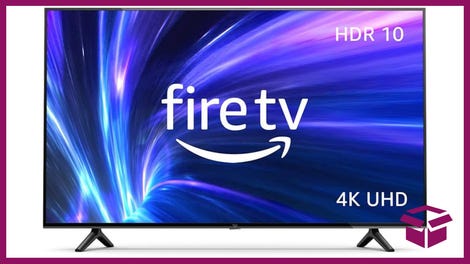 42% Off
Amazon Fire TV 50" 4K Smart TV
I currently ride a Cannondale Trigger 2 Carbon fitted with a Lefty and can report it's just as strong as a traditional fork and really requires no mental adjustment. The benefits are easier front tire changes, decreased parts count and, well, look at it. [The Radavist]

Surefire 2211X WristLight: The wrist-worn lights Surefire released last year were seriously neat, giving wearers immediate access to a light without reaching for their pocket. They also made two-handed handgun grips in dark environments a fast, seamless affair. But, they were incredibly expensive. This 2211X is powered by a single CR123 battery, puts out up to 300 Lumens and costs just $170. That's much, much more reasonable and brings the light into the realm of regular use. We'll be testing one shortly. [Surefire]
California's New Wolf: In 2011, a wolf dubbed OR-7 became the first to enter California since 1924. Well, this isn't OR-7 and he has been spotted in Siskiyou County. "I think it's almost inevitable that wolves will come into the Cascades and Sierra Nevada," stated Robert Wayne, a professor at UCLA's Department of Ecology and Evolutionary Biology. They're now a protected species in the state, so should flourish as they begin to move here in numbers. [SacBee]
Nemo Concerto Sleeping Bag: Regular IndefinitelyWild readers will of course know that sleeping bags have ditched their bottom halves in favor of insulated sleeping pads. This new Concerto adds comfort back in with a quilted mattress pad and an integrated pad that can remain in the sleeve even while packed. Also equipped with an integrated internal blanket, you can vary the level of insulation so you'll sleep comfortable from 20 degrees (F) to 80 degrees, all in a rectangular shape with tons of space. More on this and more Nemo product news soon.
What We Did This Weekend: Corey climbed Grand Teton. Chris is finally on the way back from mountain guide school, so expect more from him soon. I'd somehow slipped through the cracks and hadn't done Hunter's Ed before, but am hunting a black bear using a bow in Washington this week and that state needed more than just a pre-existing license, so I spent 10 hours in a classroom learning how to not shoot myself in the face. It was actually pretty fun and the test was the first standardized one I've taken since the SAT or ASVAB. You'll be happy to hear that not only was I the first in clash to finish, but scored a 99% too. Once a nerd, always a nerd.
Watch This:

IndefinitelyWild is a new publication about adventure travel in the outdoors, the vehicles and gear that get us there and the people we meet along the way. Follow us on Facebook, Twitter, and Instagram.