Though many Republican political figures once supported legislation to limit greenhouse gas emissions, they're not doing it anymore. Still, it seems that many of these conservatives privately agree that climate change is a real problem. They just won't admit it publicly.
Although it's hard to remember today amid the cacophony emerging from our nation's capital, there was a time, just a few years ago, when Democrats and Republicans could find common ground on this debate. "Global warming presents a test of foresight, of political courage, and of the unselfish concern that one generation owes to the next," Senator John McCain (R-AZ) said in a May 12th, 2008 speech while running for president. "We need to think straight about the dangers ahead and to meet the problem with all the resources of human ingenuity at our disposal."
Likewise, at the state level, prominent GOP governors were addressing the issue. Massachusetts Governor Mitt Romney proposed aggressive anti-emissions policies. So did Utah Governor Jon Huntsman, who said in a 2008 gubernatorial debate, "Until we put a value on carbon, we're never going to be able to get serious about dealing with climate change." Similar views were expressed by Minnesota Governor Tim Pawlenty.
Less than four years later, during the Republican primaries, Pawlenty declared his views were a mistake. "I'm sorry. It was ham-fisted and it's going to be harmful to the economy." Huntsman told Time magazine, "Our economy's in a different place. The bottom fell out of the economy, and until it comes back, this isn't the moment to pursue cap and trade."
And Romney? "A lot of people have talked about cap and trade," he said during a New Hampshire town hall meeting. "We cannot, as America, enter into agreements that cause our energy to become more expensive if we let the big emitters of the future like China and Brazil off the hook."
G/O Media may get a commission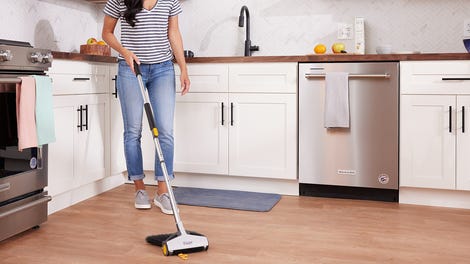 BOGO 50% Off
Flippr - BOGO 50% Off
"Everyone agreed the sun rose in the east and set in the west," Navin Nayak, the senior vice president of the League of Conservation Voters told NPR. "Suddenly we emerge four years later, with a field of Republicans that are trying to tell us that the sun rises in the west, and we're not sure if it sets."
So what happened?
It's Teatime
Anthony Adragna recently published an article on Bloomberg after spending several months interviewing former congressmen, several dozen former senior congressional aides, nongovernmental organizations and lobbyists. He found that:
Most say the reluctance to publicly support efforts to address climate change has grown discernibly since the 2010 congressional elections, when Tea Party-backed candidates helped the Republican Party win control of the House, in part by targeting vulnerable Democrats for their support of legislation establishing a national emissions cap-and-trade system.

Sources cited a variety of reasons for the gap between public statements and private opinions among Republicans: the devastating impacts of the economic crisis, the low priority Americans place on addressing climate change and what Republicans say is overheated rhetoric from Democrats. Also playing a role in the reluctance to speak out is skepticism among Republican voters about federal government intervention and the increasing role of special interest money in elections.

Most said they did not think Republicans will feel free to speak about climate change until the Tea Party loses some of its power to influence elections, a severe weather event forces serious discussion of the issue or the rhetoric on climate is dialed back among both Democrats and Republicans.
When explaining their reluctance to address the issue, GOP politicians often cite the experience of Rep. Bob Inglis (R-S.C.), who lost a primary challenge in 2010 after saying climate change is real and calling for a carbon tax. Moreover, as the Washington Post reports, the woes of the Democratic Party have been instructive:
Some of the Democrats who voted for a large 2009 cap-and-trade bill lost their seats in the 2010 midterm election. Though that election turned more on the state of the economy and on health-care reform than it did on climate change, the voter rebuke recalled the previous Democratic effort to raise the price of energy: the infamous BTU tax debate, which contributed to the 1994 Republican midterm wave.
While some Republicans fault the Tea Party for making it more difficult to speak out on climate change, they also say that the environmental movement shares the blame, arguing that it has become more partisan in recent decades. "Republicans don't gain votes or positive recognition from environmentalists but [they] do alienate their base when they vote green," one former Republican Senate aide told Bloomberg. "So it's not surprising that most Republicans don't spend a lot of time talking about climate change."
David Goldston, speaking on behalf of the Natural Resources Defense Council Action Fund, countered that there is "real concern" within the environmental community about the appearance of only supporting one party, but he said the rise of Tea Party groups opposed to basic environmental principles makes it harder to support GOP candidates.
Moreover, despite polls showing increased public concern over climate change, in several states it's not necessarily a top voting issue. In fact, some studies suggest that voters can be fickle on climate change, with their views shifting along with the current weather.
And even then, voters and their representatives — both Democrats and Republicans — don't always want to make climate change an issue. As The Hill recently reported:
Voters don't hear the words "climate change" when Democrats in competitive races in California explain what's causing the worst drought in the state's history.

President Obama has repeatedly blamed global warming for episodes of severe weather, including wildfires and droughts in the Golden State, but Democrats seeking to unseat Republicans in the hard-hit Central Valley region are balking at that argument.

The drought is an issue in three of the five closest House races in California, but Democrats are opting against drawing a direct link between the drought and climate change.

"The way folks talk about the drought out here is: 'We have a problem, let's fix the problem,'" said Amanda Renteria, a Democrat challenging Rep. David Valadao (R).

"Climate change doesn't really belong in the question, or answer," said Renteria, one of her party's best hopes of gaining a House seat this fall.
The Obama Factor
Several Republicans also say that they've lost faith in President Obama's willingness to work together toward common solutions to climate change.
"I do believe there is some resistance to come out publicly and say what's happening here," Rep. Mike Castle (R-Del.), who served in Congress from 1993 through 2011 and is now a partner at the law firm DLA Piper, told Bloomberg. "One thing that would be helpful would be having a president who could articulate the issue well and who the Republicans have some confidence in."
Republicans have been highly critical of executive actions taken by Obama to address climate change, namely the Environmental Protection Agency's proposed carbon dioxide standards for power plants. Several who previously have spoken about climate change — Sens. John McCain (Ariz.), Lindsey Graham (S.C.) and Lisa Murkowski (Alaska) — faulted Obama for circumventing Congress and have accused the president of ignoring the will of the American people.
If anything, the proposed EPA standards have handed Republicans a valuable wedge issue in the midterm elections. It strikes a chord among conservatives who rant against big government and executive power, and in key states like Colorado, Kentucky, and Michigan, where critics contend the regulations will kill the coal industry and drive up consumer energy prices.
Still, as Bloomberg notes:
Over the last several months, a flurry of former Republican officials have called for quick action to address the effects of climate change.

Four former administrators of the EPA, all of whom served Republican presidents, told a Senate subcommittee in late June that Republican senators should abandon efforts to block regulations on greenhouse gases and should support action on climate change.

Separately, high-level Republicans such as former Sen. Olympia Snowe (R-Maine); Henry Paulson, treasury secretary during the administration of President George W. Bush; and George Shultz, secretary of state during the administration of President Ronald Reagan, warned that climate change could cause hundreds of billions of dollars in economic losses by the end of this century without significant action.
But will there be action? Congressional Republicans are saying not until 2017, when there's a new president in office. That hardly sounds like a grand strategy for confronting a crucial threat that, according to an earlier incarnation of Senator McCain, "presents a test of foresight, of political courage, and of the unselfish concern that one generation owes to the next."