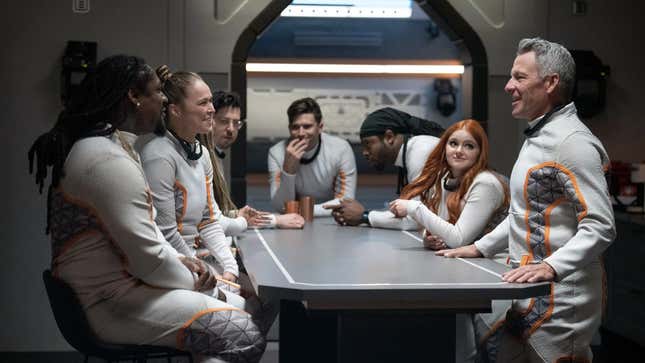 Twelve misfit celebrities are about to venture out to another planet, as they live, work, and compete against each other in a simulated Martian environment for a new reality show.
China's Plan to Land Astronauts on the Moon
Fox recently announced the cast for its new show Stars on Mars and it is an odd mix of actors, comedians, athletes, and TV personalities. The show is set to premiere on June 5, hosted by Star Trek's William Shatner who will act as mission control and guide the group through a series of challenges.
The 12-person crew includes former road-racing cyclist Lance Armstrong, who famously won Tour de France seven times in a row, actress Ariel Winter from the show Modern Family, UFC champion Ronda Rousey, olympic figure skater Adam Rippon, reality star Porsha Williams Guobadia from The Real Housewives of Atlanta, and Christopher Mintz-Plasse, also known as "McLovin" from the movie Superbad. 
The other cast members include NFL Super Bowl champ Marshawn Lynch, Vanderpump Rules star Tom Schwartz, football cornerback Richard Sherman, singer and songwriter Tinashe, and actress Tallulah Willis. 
The celebrity contestants will compete on a Martian simulation, living and working as astronauts on a Mars colony while still very much being on Earth. The Mars-like environment is part of what NASA would refer to as an analog mission, testing out the Martian conditions for humans without having to leave the planet.
The space agency has its own Mars mock-up at the NASA Johnson Space Center in Houston. Mars Dune Alpha is a simulation designed to host volunteers who will live in the simulated Martian habitat for a year as part of ongoing research into the possibility of humans living on Mars.
Getting humans to land on Mars, let alone live there, is still a distant goal, but one that NASA has been working on by actively exploring the Red Planet, as well as trying to establish a habitat on the Moon through the ongoing Artemis program.
For now, this group of celebrities will be among the first to get a taste of what it's like to live on Mars (well, sort of). "During their stay, they will be faced with authentic conditions that simulate life on Mars, and they must use their brains and brawn—or maybe just their stellar social skills–to outlast the competition and claim the title of "'brightest star in the galaxy'," Fox wrote in a press statement.
For more spaceflight in your life, follow us on Twitter and bookmark Gizmodo's dedicated Spaceflight page.