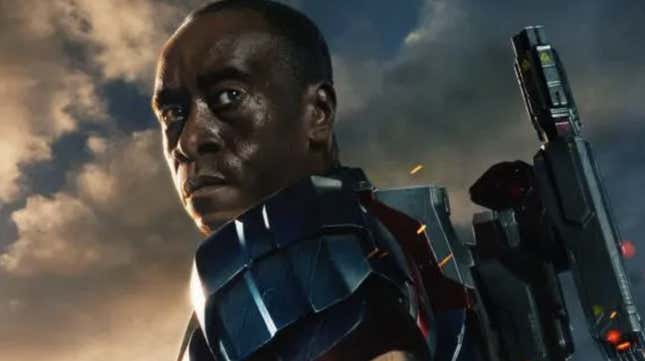 Marvel Studios really moved quickly to find an actor to step into the role of Colonel James Rhodes after Terrence Howard was recast. Before his debut in Iron-Man 2, Don Cheadle explained in a video interview with GQ, his journey to becoming Rhodey involved a fateful call at a most unexpected place.
Transformers' Cristo Fernandez on Dragon Ball | First Fandoms
"I was at my kid's laser tag birthday party," Cheadle shared. "They called me and said, 'This is what's happening and we're giving you the offer. If you don't say yes then we're going to the next person. This is going to happen very fast. Why don't you take an hour and decide if you want to do it.' It was a six-movie deal! In an hour I have to decide?" Talk about a powerful birthday wish—makes us wonder if his kid manifested this for him.
Cheadle got Marvel to give him an extra hour after explaining he was in the middle of a birthday party, which they graciously agreed to. He mulled it over while wearing laser armor and pew-pewing, an action-hero scenario that makes the whole thing seem meant to be. "I was talking to my wife and we thought about it, and talked to my agent and tried to get as much information as we could," he said, noting there wasn't much info whatsoever at that point: "It's going to be these Avengers and this is what it is, so you have to say yes or no." Cheadle also asked about the character's trajectory, to which they responded, "We don't know any of that, but this is what it is, so you've got an hour."
Now, of course, we know a lot more about Rhodey's journey, with more to come in Armor Wars—originally planned as a Disney+ Marvel series, but now slated to be a feature film.
Watch more of the interview below:
---
Want more io9 news? Check out when to expect the latest Marvel, Star Wars, and Star Trek releases, what's next for the DC Universe on film and TV, and everything you need to know about the future of Doctor Who.