Did you know that Mel Brooks co-wrote an Archy and Mehitabel musical? I didn't, until after I wrote about the Don Marquis books about the cockroach and cat the other day. Eartha Kitt — Eartha Kitt! — starred in the original stage version. And later, they did an animated movie version.
1957's Shinbone Alley featured a book by Joe Darion and Mel Brooks, with music by George Kleinsinger, and according to Musicals Tonight:
The original stars were Eartha Kitt as Mehitabel the Cat; Eddie Bracken as Archy; George S. Irving as Big Bill the Tom Cat, Jacques D'Amboise and Allegra Kent. Songs: "Toujours Gai," "Lady Bug," "Mee-ow," and "Pretty Kitty."
There's also a song called "The Moth Song," which I'm guessing is about why moths want to burn themselves to death.
There's a complete synopsis of the stage musical here. The decision to turn it into a romance between Archy and Mehitabel seems highly questionable, as The Magnetic Fields' Stephin Merritt points out in this interview. Says Merritt, "I don't think the romantic angle adds anything to the story. And what monstrous thing would be their progeny?"
G/O Media may get a commission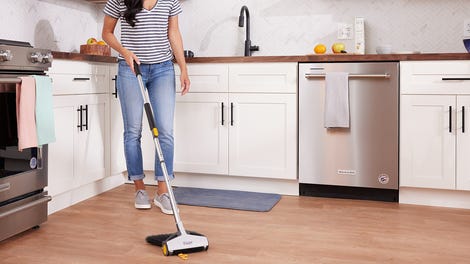 BOGO 50% Off
Flippr - BOGO 50% Off
Actually, before Shinbone Alley was a stage play, it was a 1954 concept album, with Carol Channing in the role of Mehitabel — and Channing said in her memoirs that she was nine months pregnant when she recorded it.
The stage play only ran for 49 performances before it was closed, but later the musical was condensed into a TV special, as part of the Play of the Week series. And then in 1971, it was turned into an animated film, with Channing reprising the role of Mehitable (and Eddie Bracken, who played Archy in every version, back once again.)
The New York Times was not thrilled with the animated movie:
Except for one flaw, I might have forgiven the movie almost everything, including its rather ordinary, Tom & Jerry animation style, which occasionally peaks into designs in the now boring fashion of Max, and its musical score, which is, at best, reminiscent of Kurt Weill, not at his peak. "Shinbone Alley," after all, should send one back for a re-read of the original vers libre pieces that archy, more than 50 years ago, began to plunk out on the boss's typewriter (whose capital letters and punctuation marks were beyond his cockroach capacities).

However, one thing about the movie must be unforgivable, at least to Marquis fans: the physical transformation of its heroine into a sleek, apparently sexy, cartoon pussycat, an unhappy feline sort of mix-up between Auntie Mame and Dolly Levi, with a voice provided by Carol Channing. Gone, lost in an earlier transmigration, is the indomitable old mehitabel who, as first drawn by George Herriman, looked like a refugee from Mr. Herriman's Krazy Kat world, a beat-up, emaciated lady with a gimpy hind leg and patchy, perpetually frozen fur that she tries to warm by dancing and singing the night away on the cobbles.
The whole animated film is on YouTube in many different versions, including this one: