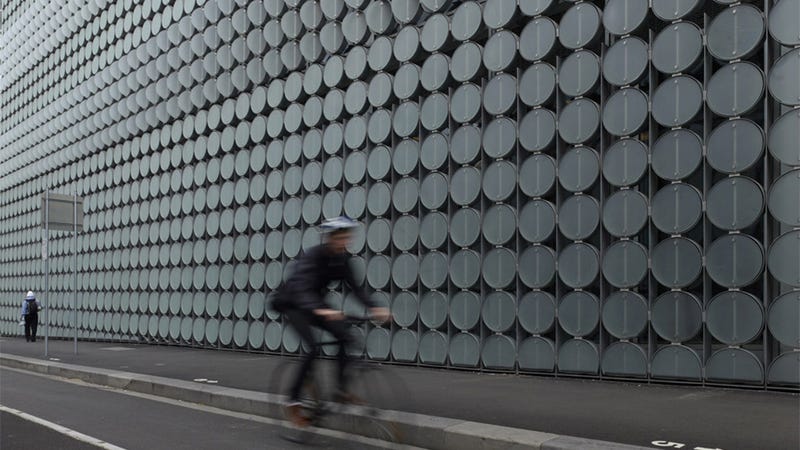 With the unveiling of Samsung's first smartwatch and the storm of controversy over a car-melting skyscraper, it was an eventful week for design—and it was rife with beautiful images. As you're waiting to make a graceful exit from work, check out some of the most compelling imagery from this shorter-than-most week.
---
This is what a Virgin Galactic supersonic flight with the SpaceShipTwo looks like, up close and personal. It's not quite space, but it's still damn gorgeous to watch.
---
Since 2006, there have been 60,000 people killed in drug-related violence in Mexico. That's actually a conservative estimate. Some think it's closer to 70,000. And that may not include the missing, up to 10,000 more Mexicans who have simply vanished. In fact, if the new Memorial of the Victims of the Violence in Mexico listed the names of those killed in its drug war, there would be at least as many names there as are found on the Vietnam Veterans Memorial in Washington D.C.
---
For those who live and breathe by two-wheeled transportation, bicycles are more than just a way to get from here to there. The immediate, wind-on-your-face freedom of pedaling fast is a feeling that just can't be matched by wandering around, road-tripping, or pretty much any kind of public transport.
---
This spring, when City Council voted to demolish the mall at South Street Seaport, they announced that current tenants would be allowed to stay until the summer's end. But many anchor stores chose to move out earlier—and two designers from Brooklyn were determined to take advantage of the abandoned store space.
---
The giant mammal bones on display at New York City's American Museum of Natural History are impressive approximations of creatures that once walked the earth (and in some cases, those that still do). But equally if not more amazing? How those displays were actually assembled.
---
One of Britain's greatest industrial designers, David Mellor is probably best known for his sculptural cutlery, which was the first stainless steel flatware to be mass-produced in the UK. But even those who've added his spoons to their wedding registry might not know about the system of street furniture he designed, which became iconic on British sidewalks.
---
Samsung just took the lid off its long-rumored Smartwatch. Here's everything the Android-powered arm computer—officially known as Galaxy Gear—has to offer.
---
It seemed like a good idea at the time, right? We'd build vast, multi-lane roads slicing through the center of our cities, bulldozing our most historic architecture and displacing tens of thousands of residents at a time, all in the name of progress. 50 years later these genius improvements have severed our neighborhoods, ruined our air, and may not even have helped that much in the way of traffic. So why have a freeway exposed like a gaping, oozing urban wound when you can put a park on it?
---
Technically speaking, the smart facade—or building envelope that adapts to environmental conditions—dates back to the first window. But the contemporary idea of the smart facade has only been around for a few short decades, helped along by recent advances in chemical and material science. And over the past three years, we've seen the category boom.
---
Most folks pick up the pace or seek cover when the skies open up and it starts to pour, but that's precisely when Gustavo Sousa takes to the streets to collect some creative inspiration.
---