This time Sony doesn't want to be left behind on the display front, and they are going to ship a real ultra-thin 11-inch OLED television in 2007. Not another prototype: a real TV. A small one that will cost a few times more than a comparable LCD, but a telly nonetheless.
They won't say how much but what it really matters is how many: Sony and partner Toyota Industries will only make 1,000 units every month, so don't count on seeing them at Best Buy. If Samsung or Matsushita don't give us another surprise, however, Sony will be the first to market an OLED TV of this size.
Given the state of OLED, the news is surprising but not really: after years of Trinitron domination, Sony completely lost the flat-screen bandwagon until they jumped back in with Bravia, all thanks to Samsung's LCD technology and their joint venture. This time they are joining forces with Toyota, and while Sony Executive Deputy President Katsumi Ihara said that "it won't be easy for OLED TVs to replace LCD TVs," the move demonstrates that they want to get there before anyone else, just in case. I am all for it Ihara-san, but please: no built-in Blu-ray drives this time. And if it doesn't work, we will always have FED. And Paris.
G/O Media may get a commission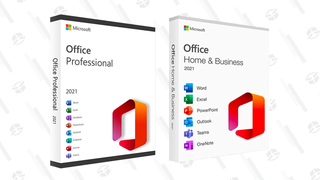 89% off
Microsoft Office Professional 2021 Lifetime License
Sony says to sell ultra-thin OLED TVs this year [Reuters UK]