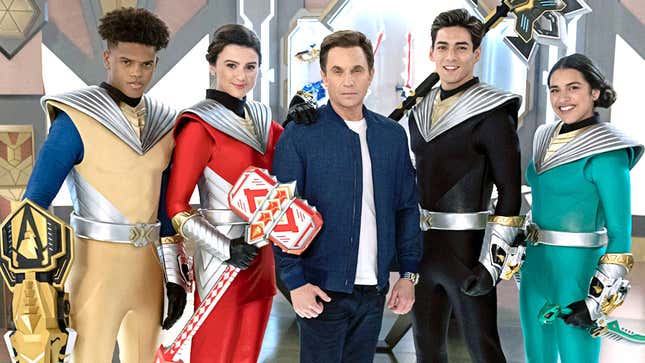 When Cosmic Fury—seemingly the last iteration of Power Rangers as fans have known it for the last 30 years as Hasbro looks to a new movie-and-TV take on the transforming teens—comes to Netflix last month, it's bringing a legend with it: the original Blue Ranger, Billy Cranston, is back in spandex.

Hasbro confirmed the news along with the long-awaited release date for Cosmic Fury, a continuation of the team and story established in Power Rangers: Dino Fury. Although most Power Rangers seasons are loosely inspired by the Super Sentai shows they leverage action footage from—Dino Fury used suits and mecha sequences from the 2019 series Kishiryu Sentai Ryusoulger—Cosmic marks the first time in earnest that the franchise is creating its own material in whole cloth, with original suits, a team mixup that includes the franchise's first permanent female Red Ranger, and an original continuation of Dino Fury's story.
That allows the series then to also see David Yost return to his role as Billy Cranston as a major supporting character. Yost will play Billy across all 10 episodes of Cosmic Fury, as the original Mighty Morphin' Blue Ranger helps the Dino Fury team find new power and new zords as they deal with the return of the greatest threat the Power Rangers universe has ever seen: the legendary Lord Zedd, who menaced Billy and his friends all those years ago.
"We felt it would be a meaningful landmark for fans to have David return to the show in a significant role, playing a mentor," Cosmic Fury executive producer Simon Bennett said to Entertainment Weekly in a new interview. "And on a personal level, it was a thrill to be working with the O.G. Blue Ranger. David's calm and positive spirit kept us all grounded and reminded us of the Ranger legacy we were striving to do justice to."
Plans for Yost to return—who infamously left Power Rangers after facing harassment on set as an openly gay man—for Cosmic Fury were already in place before Yost, alongside original Mighty Morhpin' Black Ranger Walter Emanuel Jones, returned for the 30th anniversary special Once and Always earlier this year. "And we were asked to keep it that way—apart from a couple of tiny easter eggs," Bennett said of the seperation between Once and Always and Cosmic Fury. "I won't give these away, but I'm keen to see if fans pick up on them."

Power Rangers: Cosmic Fury will begin streaming on Netflix September 29.
---
Want more io9 news? Check out when to expect the latest Marvel, Star Wars, and Star Trek releases, what's next for the DC Universe on film and TV, and everything you need to know about the future of Doctor Who.