You can add political apathy to the list of things millennials have killed, particularly when it comes to climate change. On Monday, young people flooded Capitol Hill for the second time in less than a month to send a message to Democrats that they want a Green New Deal and a select committee to make it happen in the next Congress.

More than 1,100 people, some as young as 7 years old, signed up for Monday's protests. Activists again took over California Congresswoman Nancy Pelosi's office—Pelosi is the presumptive House Speaker for the next Congress—as well as other Democratic congressional leaders. Speeches, songs, and cheers echoed up and down the hallways of Capitol Hill as members delivered letters to their representatives urging them to address the most pressing problem facing their generation. Activists also unfurled a 40-foot banner in front of Pelosi's office reading "Green New Deal," putting their ask front and center in big block letters. Capitol police showed up and began arresting protesters shortly thereafter.
The protests have already delivered results. Representative Jim McGovern, the incoming chair of the House Rules Committee, addressed protesters outside his office telling them he supports the Green New Deal, adding to the more than 20 current or incoming members of Congress who have voiced their support thus far.
The Green New Deal is a set of policy proposals driven by the science in the latest Intergovernmental Panel on Climate Change report that shows the world needs to slash emissions 45 percent by 2030 and get to net zero by mid-century or risk warming more than 1.5 degrees Celsius. If that happens, small islands will be swallowed by the sea and millions will be conscripted to a life of poverty amid worsening weather.
The protests were organized by the Sunrise Movement, a group of youth activists who have pushed to get fossil fuel money out of politics and advocated for the Green New Deal. In November, New York Representative-elect Alexandria Ocasio-Cortez, who is leading the Green New Deal effort in the new Congress that starts in January, joined them in Pelosi's office to push for a House select committee to help create a Green New Deal.
G/O Media may get a commission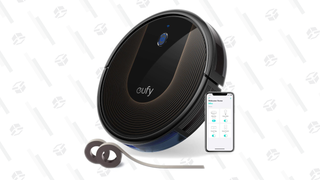 48% Off
Eufy BoostIQ RoboVac
"The reason we're planning this [action] right now is the Congress sets the agenda for 2019 before they go home for holiday recess," Stephen O'Hanlon, the interim communications director for the Sunrise Movement, told Earther. "We have a handful of days to get the select committee on a Green New Deal on the agenda for 2019. We've been growing momentum for weeks."

The continued pressure coupled with the increasingly clear science of how fast we have to wind down carbon emissions to stave off further environmental catastrophe has added urgency to crafting a Green New Deal. While support has swelled for a Green New Deal, some entrenched members on key committees have fought against the select committee or not endorsed the Green New Deal, which is odd for a party that has members who by and large accept climate science.
"We need the real solution to the climate crisis as mandated by science and justice," Varshini Prakash, the Sunrise Movement's co-founder, said in a speech in Pelosi's office on Monday.
The Green New Deal itself is aspirational with tenets like getting to 100 percent renewable energy and a just transition for people who work in fossil fuel-based industries like coal mining and transportation. But the policies of how to achieve those goals need to be hammered out, and Ocasio-Cortez and the Sunrise Movement argue that the best way to do that is a select committee and that doing so will give Democrats a clear roadmap for how to proceed if they take back the White House in 2020 or beyond.
A recent NPR poll shows that climate change is now the second-biggest priority Democrats want to see addressed by the new Congress. Polling by Data for Progress also shows most Americans back the Green New Deal and its various components. Now groups like the Sunrise Movement appeared ready to keep reminding members of Congress about it.