Conservatives are defending President Trump's decision to taunt the leader of North Korea on Twitter as a stroke of genius intended to scare the dictator away from launching nuclear weapons against the US. But if the sales of a radiation drug treatment are any indication, it seems that Trump's tweet also scared the bejesus out of ordinary Americans.
Potassium iodide is a fixture on the World Health Organization's list of essential medicines. It's approved by the FDA for over the counter use, and it has many applications. In the event of a nuclear accident, or two mad men lobbing nukes at each other, radioactive iodine fills the air around the site of the incident. Potassium iodide helps prevent future health issues caused by nuclear fallout, like thyroid cancer, by saturating the body with stable iodide and preventing uptake of the radioactive iodine in the thyroid. No, it's not a magical drug that protects you from nuclear fallout, but it helps.
NPR recently reached out to distributors of the drug to see how sales have been going since Trump tweeted, "North Korean Leader Kim Jong Un just stated that the 'Nuclear Button is on his desk at all times.' Will someone from his depleted and food starved regime please inform him that I too have a Nuclear Button, but it is a much bigger & more powerful one than his, and my Button works!" As it turns out, business is booming.
Troy Jones, proprietor of nukepills.com, told the reporters that he sold a month's supply, about 140,000 doses of potassium iodide, in 48 hours following Trump's tweet. Jones's sales to government agencies, hospitals and universities, weren't included in that figure.
Spokespeople for two other major distributors also confirmed they've seen increased sales. Alan Morris, president of the pharmaceutical firm Anbex Inc., told NPR, "We are a wonderful barometer of the level of anxiety in the country."
G/O Media may get a commission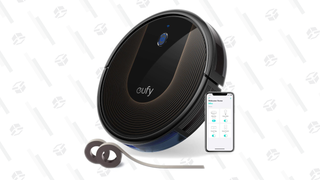 48% Off
Eufy BoostIQ RoboVac
Morris assessment has a delightfully macabre matter-of-factness about it, but there's evidence that he's correct. Numerous studies and surveys have concluded that Americans are experiencing increased levels of anxiety and stress over the last year, prompting mental health professionals to coin the term President Trump Stress Disorder. The American Psychological Association found that significant stress levels following Trump's election occurred on both sides of the aisle. According to the study, American's stress levels have trended downward for a decade, but a spike occurred in January following Trump's inauguration. The "future of our nation" was rated as a significant source of stress by 66 percent of adults.
MAGA types will likely just chalk that up to liberal snowflakes being snowflakes, but the repercussions can extend beyond personal problems into economic issues. A study published in The Journal of Clinical Psychiatry in 1999 estimated the direct economic and workplace loss costs of anxiety in the US come in at around $63 billion. Adjusted for inflation that would be about $93 billion today.
Jones told NPR that it's "moms and dads" that are making the drug purchases, saying, "They're worried and they find that these products exist." The CDC recommends that adults over the age of 40 not take potassium iodide, and its best for children or women who are pregnant. But when it comes down to it, the odds are that Americans are just looking for a way to feel like they have some sort of control as there appears to be no one at the wheel steering a potentially catastrophic geopolitical crisis.
[NPR]