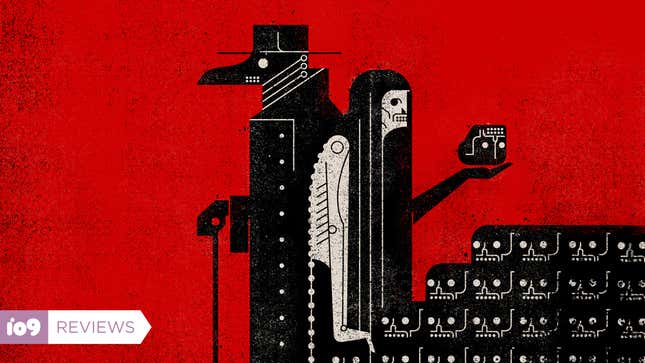 More than a twisted fairy tale, The Salt Grows Heavy takes inspiration from a variety of mermaid lore and legends, laying the mythos out on a surgical table and taking it apart bit by bit. This short, sharp novella flays its characters open—often literally—in order to perform a surgical, queer satire of happy endings. Cassandra Khaw's writing is masterful, and her horror is gruesome and gleeful, rendered in prose so grisly, you have to pick it out from between your teeth.
Spoilers of the Week | June 3rd
An unnamed Plague Doctor escorts a mermaid through the country as she attempts to return to the ocean. The mermaid had long been a concubine of the local prince; her children are far more feral, and have either already escaped to the sea or wreaked havoc on their father's kingdom. As the Plague Doctor and the mermaid travel, they run into a village of murderous, servant-children led by three saints who boast of immortality.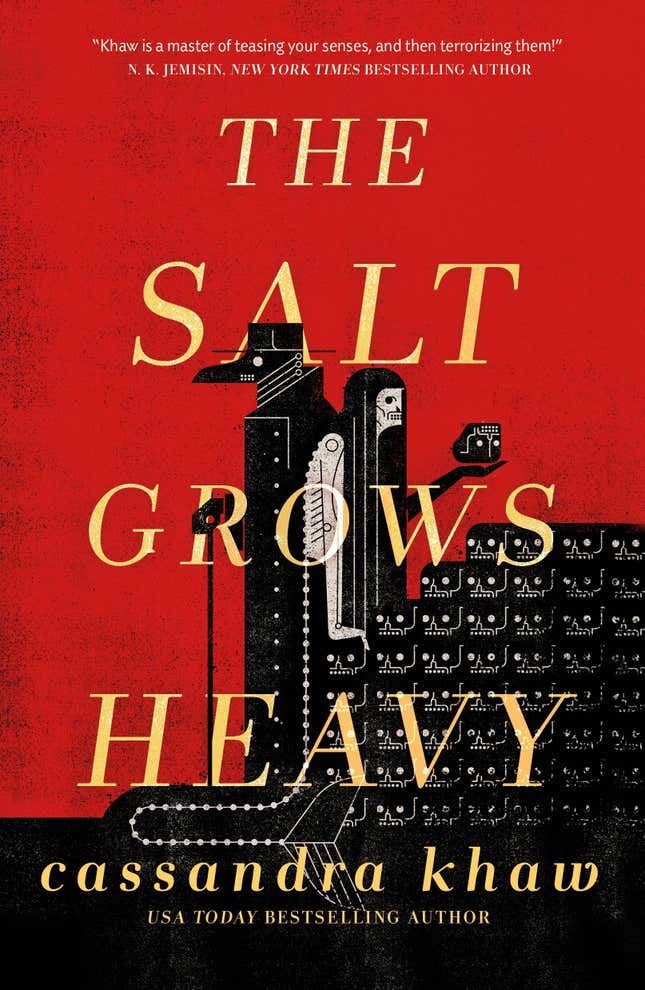 Echoes of a dozen fairy tales reverberate through the book. Small asides from the mermaid, our first-person narrator, provide a mirror for the story. These moments are hard truths delivered in between gruesome playfulness. Throughout the entire book, there are illustrations of the kind of common, cruel indifferences that often mark out older fairy tales. There is still empathy, we still ache for the Plague Doctor and the mermaid, but the book does not pretend that pain is a mystery, creating a tapestry out of trauma.

Within The Salt Grows Heavy is an exploration of the body—who owns your body, who sees it, what can it create? There's a kind of anger at bodies, a frustration with the fact that the body can heal from harm, that time sometimes doesn't matter when it comes to healing, and the way that simply having a body gives people a uniting language with which to communicate. The mermaid embodies a kind of diaspora narrative, willing to destroy everything around her if she can hold onto something that feels stable, if she can have hope.
There is a distinct, unrelenting horror in the writing of this book. One of the great lines, delivered by the mermaid after literally eating parts of men that have been cut up and discarded, is "There is nothing wrong with being a monster." Exquisitely dictating disgust, The Salt Grown Heavy composes an opera of gore and viscera, combining desire and repulsion to create a body of work.
This book is full of horrors that feel like a fever dream, written out as a kind of stream of terrorized consciousness. But the ending is hopeful, a kind of soft twist that feels like a wink at addenda to fairy tales, telling you that maybe it's not all bad, maybe there's hope, maybe after 500 years of good deeds even monsters get souls. It's a kind ending. It's one we want to imagine we all deserve.
Lastly, a note: I have a habit of annotating my books—besides the fact that I often need to write about the books after I read them, I enjoy writing down thoughts, reactions, and moments that surprised me while reading. I have rarely marked up a book as frequently or with so many exclamation marks as I have while reading The Salt Grows Heavy. Khaw's line writing is masterful, experimental, and evocative, with meaning inferred in between scalpels to the meat of the story.
The Salt Grows Heavy is horror, yes, but it's more like a fable—a story told around campfires about monster hunters and monster fuckers, with your friends yelling from the treeline, trying to scare you. It's a book that is feckless with its cruelty, but careful with its intimacy. With a language that seems unique to its pages, The Salt Grows Heavy is the kind of book that sticks to the roof of your mouth, and prowls the darker corners of your mind long after you finish it, like a wolf, like a shark, like a monster.
The Salt Grows Heavy by Cassandra Khaw is available now wherever books are sold.
---
Want more io9 news? Check out when to expect the latest Marvel, Star Wars, and Star Trek releases, what's next for the DC Universe on film and TV, and everything you need to know about the future of Doctor Who.