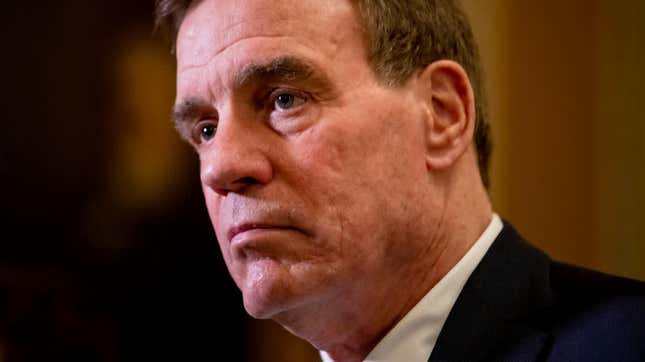 As the novel coronavirus continues to spread—thanks in part to the disastrously inadequate response by failing governments like those in Iran and the United States—events are being cancelled faster than reporters can keep track of them, and employees in various industries are being asked to postpone all travel and work from home. Unsurprisingly, the most economically vulnerable often have no such luxury, and it's causing concern for lawmakers.
Did Elon Musk Regret Buying Twitter? | Walter Isaacson Interview
Senator Mark Warner (D-VA), specifically, today called on Uber, Postmates, Lyft, Grubhub, and Instacart—some of the largest players in gig work—urging them to take action to prevent COVID-19 from being what the so-called "sharing economy" ends up best known for sharing. "I write to urge you to publicly commit to prioritizing your workers' economic security and the broader public health," his letter reads. "Gig workers—and contingent workers more broadly—are likely the most vulnerable workers to a potential spread of the coronavirus."
Late last week, Uber and Lyft sent guidance to drivers on their platforms, reminding them to practice good hygiene and stay home if they felt ill. But for many providing on-demand courier or rideshare services full-time, staying home may not be financially feasible. All of these platforms benefit by classifying their workforces as independent contractors, so the safety net of existing employment law in the US, which would usually cushion workers against a black swan event like COVID-19, is almost entirely absent.
What does Warner propose?
One potential idea ... could be the creation of a special coronavirus health fund ... workers could tap into the fund when they need to get tested or self-quarantine. Another option would be to pay workers their regular average pay independent of whether they are able to meet their average hours worked during this time.
Money workers can draw from when they need urgent medical care? Perhaps even a pool of it across the entire workforce to dilute risk? Sounds a lot like employee-sponsored health insurance.
And don't even get me started on giving infirm laborers wages for no work at all. If I didn't know better, I'd say the senator is talking about paid sick days!
It's possible I lack the imagination to see a more innovative, disruptive way to from these sorts of policies, but if Uber wants to institute a Wellness Infusion Capital Fund and Incentivized Non-Employee Offroad Days while the legal side of the gig economy gets hammered out, I'm all for it.
Update 5:07pm ET: So far only Uber and DoorDash have responded to a request for comment, of which Uber's is by far the more promising. The ride-sharing giant claims it is "exploring compensation for drivers who have been quarantined or diagnosed with coronavirus," though it did not provide additional details.
Uber:
We appreciate Senator Warner's letter and his concern for the safety of everyone who uses the Uber platform. We have a dedicated global team, guided by the advice of a consulting public health expert and public health organizations, working to respond as needed in each market where we operate around the world. This team is also exploring compensation for drivers who have been quarantined or diagnosed with coronavirus, whether independently, through a fund, or in partnership with peer companies. We will keep the Senator updated about our plans and will respond directly to his letter.
DoorDash:
We intend to engage with Senator Warner today on innovative solutions to enhance the welfare of Dashers affected by this public health emergency. DoorDash's task force is actively working to develop and implement a comprehensive strategy to protect the safety of our entire community in response to the spread of COVID-19. We will continue to provide the latest public health guidance to consumers, Dashers, and merchants and remind our community in affected areas of the delivery instruction feature, enabling requests for food to be left at the door along with a photo of where the food should be left through the app.
Update 8:31pm ET: Postmates and Grubhub have also provided statements [reproduced below]. In the interim, labor-back contingent workers group Gig Workers Rising launched a petition to demand paid sick leave across various platforms.
Grubhub:
Our internal task force is in contact every day to continue to address the many complicated issues for platform companies arising out of the coronavirus outbreak, and we are focused on prioritizing the health and safety of our drivers, diners and restaurant partners. We share Senator Warner's concerns about the safety and welfare of our drivers and look forward to working with the Senator on these important issues.
Postmates:
Community health and safety is paramount at Postmates, and we continue to issue in-app, precautionary CDC guidance with those carrying out deliveries so that they are aware of the latest preventative measures. Postmates also announced today an option to designate drop-off of an item without contact; and we will continue to encourage employees, merchants, consumers, and all parts of our community to follow safety protocols such as washing hands and staying in if you are sick. While we are operating with business as usual, we will continue to share information with our Postmates fleet as CDC guidance evolves, and will brief Senator Warner's office with current and our upcoming steps and policy options to invest in the well being of our flexible workforce.