Solar arrays are the unsung heroes of the International Space Station, drawing power from the sun to create an oasis of warmth and safety in the vast darkness of space.
Eight wings form four matched solar arrays on the International Space Station. Image credit: NASA
Eight massive wings on the International Space Station hold 262,400 solar cells, generating 84 to 120 kiowatts of electricity. Each wing is a single mast holding a pair of retractable blankets, mounted in opposing pairs to create a solar array.

G/O Media may get a commission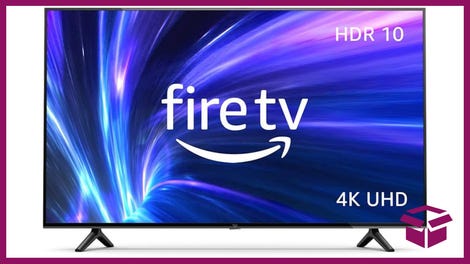 42% Off
Amazon Fire TV 50" 4K Smart TV
Each wing is a set of foldable blankets draped from a sturdy structural mast. Image credit: NASA
Each wing is 35 meters (120 feet) long and 11.6 meters (38 feet) wide, with all eight covering over 2,500 square meters (27,000 square feet), or half a football field. The panels were folded into compact accordion-fans to launch from the planet.
Astronauts Robert L. Curbeam Jr. and Christer Fuglesang ran into a kink when attempting to neatly tucked the solar array wing on the P6 truss into its blanket box during the STS-116 shuttle mission. Image credit: NASA
The arrays twist and turn to track the Sun, spinning around the alpha gimbal to follow primary rotation and around the beta gimbal to adjust for the station's angle with respect to the orbital ecliptic. The arrays can be set to different tracking modes to maximize power, or to increase or decrease drag to adjust station altitude.
Astronaut Scott Parazynski use the Canadarm to get into position to repair damage to the 4B solar array ring on truss P6. Image credit: NASA
The station faces sunset every 92 minutes, leaving the solar arrays in darkness. To keep the station powered, about 60% of all power is devoted to charging batteries.
Truss-based radiator panel and primary solar array panel seen by Expedition 38 on January 2, 2015. Image credit: NASA
Top image: A solar array seen from the space station on February 12, 2015. Credit: ESA/NASA/Samantha Cristoforetti
---
Contact the author at mika.mckinnon@io9.com or follow her at @MikaMcKinnon.