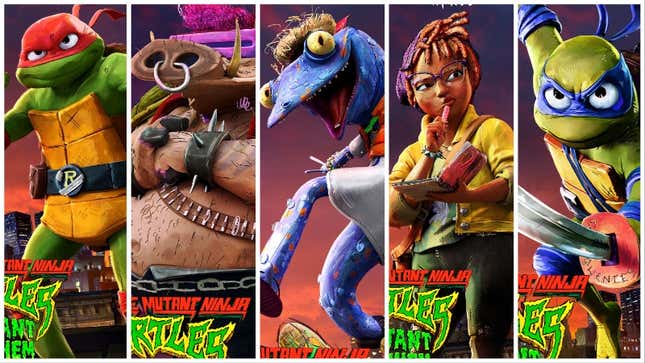 It's been quite the summer if you're a fan of amazing animation. Spider-Man: Across the Spider-Verse is still blowing minds at the box office. Nimona is ready to make your heart melt on Netflix this week—and soon after that, you truly aren't ready for the awesome that is Teenage Mutant Ninja Turtles: Mutant Mayhem.
I say that from experience. I was lucky enough to see a rough cut of the film last week and even without all the finished animation, I was blown away by how much heart and soul was put into it. It's hilarious and heartfelt and effortlessly cool, even in unfinished form.
A lot of that is due to the beyond-words voice cast that the filmmakers were able to wrangle up for the movie. With the exception of the turtles themselves (who are voiced by real teenagers, which adds a whole new level of energy and fun to the proceedings), every single character that you both know and love already (like April, Splinter, Bebop, and Rocksteady)—and some you'll come to love soon (like Mondo, Wingnut, Ray, and Superfly)—are voiced by huge, huge stars. Check out who voices who, and what they look like, in this slideshow of character posters. Teenage Mutant Ninja Turtles: Mutant Mayhem hits theaters August 2.