Rainy weather on the east coast hasn't stopped people from hitting the streets to march for science today. But the conditions in Antarctica and the Arctic Circle are currently quite a bit more extreme and protests in the name of facts are still rocking those two far-flung locations.

While climate change is a major reason that scientists and supporters are marching in over 600 cities around the world, the protests are focused on promoting the scientific process in general. The official mission of the March for Science is a "call for science that upholds the common good and for political leaders and policymakers to enact evidence-based policies in the public interest." But the changing climate is an unavoidable topic for researchers in places like Antarctica and Greenland where the effects are on display every day. "We want to inspire other people to care about the environment," Jason Box, a Denmark-based ice sheet researcher tells Climate Central. He explains, "That's our agenda, to draw attention to the natural world and why people should not neglect it."
Box is currently working in a remote area of Greenland where he's measuring snowfall which can be a major factor in slowing down ice melt. He's just one of the organizers of two separate marches taking place in Greenland. The country has lost around 3,600 gigatons of ice since 2002 and the scientists working there weren't going to be left out of today's opportunity to raise awareness.
G/O Media may get a commission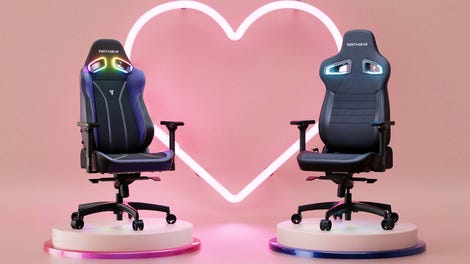 Up to $150 off
Vertagear Gaming Chairs
Mike MacFerrin, a PhD student at the University of Colorado is conducting research in a different area of Greenland and he organized a march in the tiny town of Kangerlussuaq. MacFerrin wants the world to understand the consequences of climate change will be felt in this region soon and that will have global repercussions. "What happens here in the coming decades, literally the entire world will feel," he says.
MacFerrin spoke with Gizmodo via Twitter and gave us a rundown of how the march went:
The March went very well. It was a clear brisk day in Kangerlussuaq, we walked the main road through town and back, ending with a small gathering (about 20 people) at a local shop in town. Residents and visitors smiled, waved and took photos as we passed by. Nini Frydkjær Holstebro (a local native Greenlander, business owner and community icon) spoke a few words about herself and the vital importance that science plays in the village of Kangerlussuaq. Nini said she was extremely proud of this March and to be a part of it. I and another researcher spoke a few words in town too. When the March was over we donated the signs to Nini; she intends to show the children at the local school the importance of using your voice to express and defend what you feel is important. We donated the unused sign boards and Sharpie markers to her, to give to the children for the same purpose, so they could make signs of their own to defend what they feel is important.
With an even smaller crew, the team at Neumayer Station in Antarctica ventured out into the 20°F temperatures to make their voices heard. The summer season is winding down and only a few of the researchers stick around for the brutal winter. These guys will soon be cooped up with nothing but each other and the constant bad news about climate change. But they're not letting it get them down. They sent a defiant message with their sign that reads, "Nothing in life is to be feared, it is only to be understood. Now is the time to understand more so that we may fear less."