It's Halloween week, and in addition to the spooky episodes of the usual TV shows, we've picked out some horror-themed movies you can catch on TV. Plus, LEGO Batman has a new adventure, Jake and Finn return for a haunted Adventure Time, and a Walking Dead clip hints at a major mystery.
And be sure to check out all the new horror movies you can watch on video on-demand.
Today
LEGO DC Comics: Batman Be-Leaguered (6 PM, Cartoon Network)
LEGO Batman prides himself on being a loner (forget that he has his own Bat-team), so when Superman invites him to join the Justice League, the plastic Bats declines. This causes Superman to fly off in disappointment, but Batman may have to change his mind when Superman mysteriously disappears.
Gotham (8 PM, Fox)
This week's villain is aping the Passover Angel of Death, killing the first born of Gotham's elite. And it turns out that Bullock worked on a nearly identical case a while back.
The Originals (8 PM, The CW)
Fearing that it's only a matter of time before Klaus comes after them, Davina takes Mikael to her family's cabin in the woods. Yeah, because that's always a smart way to escape from a monster. Vincent is about to turn a group of unsuspecting teenagers into his werewolf, and Hayley enlists Elijah and Marcel to rescue the kids before their puberty gets even hairier.
G/O Media may get a commission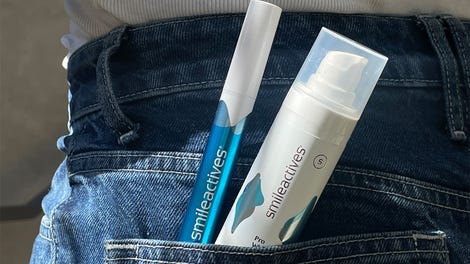 58% off
Whitening Powerhouse Pen & Gel Duo
Toy Story of Terror! (8 PM, Disney XD)
Watch an encore presentation of last year's Pixar Halloween special, in which the toys find themselves at a roadside motel where Mr. Potato Head goes missing.
Gravity Falls (8:30 PM, Disney XD)
The kids learn there's a secret society in Gravity Falls, which is probably the least surprising thing about Gravity Falls.
Scorpion (9 PM, CBS)
The genius team faces its greatest challenge yet: a mandatory psych evaluation. Plus, they help out Ralph with a Halloween party.
Sleepy Hollow (9 PM, Fox)
Sheriff Corbin's son returns from war. Happy, right? Yeah, not in Sleepy Hollow. Corbin's son's strange behavior has Abbie and Ichabod quite suspicious.
Star Wars Rebels (9 PM, Disney XD)
We finally see our first face off with the Inquisitor: "The Rebels undergo a daring rescue mission, only to find themselves facing a powerful foe."
Monday Horror Movies
31 Days of Halloween (From 11 AM on, Syfy)
Syfy is showing tons of scary movies this week. Today, we've got The Cursed (11 AM), Swamp Devil (1 PM), The Reaping (3 PM), The Fog (5 PM), The Happening (7 PM), The Crazies (9 PM), Lost Souls (11 PM), and The Cursed (1 AM).
Resident Evil (6:40 PM, Starz) and Resident Evil: Apocalypse (8:25 PM, Starz)
Milla Jovovich's Alice kicks zombie ass in this pair of apocalyptic movies.
ParaNorman (7 PM, ABC Family)
If you haven't watched the stop-motion animation tale of zombies, a witch, and a little boy who can see ghosts, check it out. Trust us.
Halloween (7 PM, AMC)
The slasher classic is on over and over and over again on AMC. You just can't stop Michael from coming back.
Cabin Fever (7:45 PM, IFC)
Eli Roth's black comedy horror film centers around a group of college graduates who fall prey to a flesh-eating virus while at a cabin in the woods.
My Babysitter's a Vampire (8 PM, Disney)
Since Ethan's parents don't feel he's trustworthy enough to babysit his sister, Jane, they hire Erica, who turns out to be a vampire. Soon, Ethan and Erica are caught up in a plot to resurrect a group of deceased vampires.
Stephen King's It (8:05 PM, Spike)
Feel like never taking a shower again? The It miniseries airs again tonight.
Casper (9 PM, ABC Family)
The friendly ghost comes with a side of weepiness in this movie.
Tuesday
Adventure Time (6 PM, Cartoon Network)
Jake and Finn are back for a special Halloween episode—one in which Jake and the treehouse are haunted by a vengeful spirit.
Uncle Grandpa (6:15 PM, Cartoon Network)
We've also got a Halloween-themed Uncle Grandpa: "Tiny Miracle allows the gang to take advantage of his generosity at the expense of his own health."
The Flash (8 PM, The CW)
The infamous Captain Cold pops up this week. Prison Break's Wentworth Miller guest stars as Leonard Snart, who gets his hand on a cold gun that Cisco built, a gun that could kill the Flash. Barry also gets a visit from Arrow's Felicity Smoak, who wants to check out Barry's new abilities for herself (and keep the two shows tied together).
Marvel's Agents of S.H.I.E.L.D. (9 PM, ABC)
Hydra impersonates S.H.I.E.L.D. in order to attack the UN, as if S.H.I.E.L.D. didn't have enough of a PR problem.
Supernatural (9 PM, The CW)
Remember Kate, the werewolf who was turned by her boyfriend's psycho roommate? Well, a new string of werewolf murders points to her. Maybe Sam and Dean shouldn't have let her go after all.
Forever (10 PM, ABC)
I know what you did in prep school? After a humanitarian doctor and son of a Wall Street billionaire turns up dead, Henry and Jo discover a secret in his past, one connected to his Hamilton School classmates. And Henry is forced with the choice of either saving a person or protecting his own secret, and not for the first time.
Person of Interest (10 PM, CBS)
While moonlighting as a fake detective, an unassuming office worker stumbles into a conspiracy and finds himself in need of Reese, Shaw, and Fusco's protection. Meanwhile, Finch's academic cover requires him to travel to Hong Kong.
Also on tonight: a marathon of Face Off (8 AM, Syfy), leading up to the 7th season finale of Face Off (9 PM, Syfy), and two new episodes of Town of the Living Dead (10 PM, Syfy).
Tuesday Horror Movies
The Exorcist (6 PM, IFC)
The classic horror film plays and replays this week.
Halloween II (7 PM, AMC) and Halloween III (9 PM, AMC) and Halloween 4 (11 PM, AMC)
You can't keep a good killer down.
Dark Skies (8 PM, TMC)
A family finds themselves targeted by a malevolent force in this science fiction thriller.
Corpse Bride (9 PM, ABC Family)
This Tim Burton co-directed film retells the fairy tale of a man who accidentally marries a dead bride.
Sinister (9:40 PM, TMC)
After a true-crime writer discovers a cash of 8mm home movies, he stumbles across the existence of a supernatural serial killer.
Doom (10 PM, Cinemax)
Karl Urban and the Rock head to Mars to shoot monsters in this adaptation of the video game series.
Army of Darkness (11:30 PM, IFC)
Because you need your regular dose of Bruce Campbell shouting, "This is my boomstick!"
Wednesday
Regular Show (6 PM, Cartoon Network)
The park guys try to keep Muscle Man awake with scary stories on a long drive so that they can meet his mom.
Arrow (8 PM, The CW)
Enter Ra's al Ghul! After Oliver learns that Malcolm Merlyn is still alive, he suspects Merlyn is responsible for Sara's death. Oliver and Nyssa both go after the Dark Archer, hoping to bring Sara's killer to justice. Meanwhile, Oliver and Roy try to repair their relationships with Thea, and Nyssa ends up chatting with her immortal father about Oliver—on camera.
The 100 (9 PM, The CW)
Will Clarke finally learn what President Wallace and the Undergrounders are up to? While she tries to find answers, Kane interrogates one of the 100. Somehow, I think the adults won't be thrilled with how the teens have been spending their time on the ground.
American Horror Story: Freak Show (10 PM, FX)
Edward Mordrake continues his search for a freak show employee to add to his ghostly collection, while Elsa tells the grisly tale of her days in Germany and Jimmy and Maggie run into the Twisted Clown.
Wednesday Horror Movies
Interview with the Vampire (6:30 PM, BBC America)
Relive the horror of a tiny Kirsten Dunst eating everyone in sight.
The Addams Family (7 PM, ABC Family) and Addams Family Values (9 PM, ABC Family)
Spend the evening with America's spookiest, kookiest, ookiest family.
Insidious (8:15 PM, IFC)
After their child becomes comatose, a couple realizes that he has become a vessel for ghosts from an astral plane.
Halloween 5: The Revenge of Michael Myers (9 PM, AMC) and Halloween: The Curse of Michael Myers (11 PM, AMC)
The franchise continues.
Thursday
Cartoons, Halloween Edition (6 PM, Cartoon Network)
On Teen Titans Go! (6 PM), the Titans insist they're over Halloween—until Raven summons a Halloween spirit to give them all a spook. Gumball receives a chain letter from a ghost on The Amazing World of Gumball (6:15 PM) and the curse starts to come true. On Clarence (6:30 PM), the kids have a sleepover, and whoever can survive the night of scares wins Belson's old Acedia game system. Steven gets caught up in Ronaldo's paranormal theories on Steven Universe (6:45 PM). On a second episode of Gumball (7 PM), Granny Jojo brings a boyfriend to dinner, much to dad's chagrin. And on the non-Halloween episode of Regular Show (7:30 PM), the guys want to help Muscle Man finish his bucket list.
The Vampire Diaries (8 PM, The CW)
How does The Vampire Diaries celebrate Halloween? With a corn maze, of course! Elena invites Liam to attend a party at the corn maze while Alaric decides to show up, only to leave with Jo to save lives. Meanwhile, Stefan enlists Carolin's help in cleaning up one of Enzo's messes—but ends up coming clean about his intention to move on from Mystic Falls. And Damon and Bonnie make an important discovery in their quest to get home.
Thursday Horror Movies
31 Days of Halloween (9 AM, Syfy)
Syfy kicks things off with Red: Werewolf Hunter (9 AM), then moves on to Battledogs (11 AM), Ghost Voyage (1 PM), Ghost Town (3 PM), and The Texas Chainsaw Massacre (1974) (5 PM). It breaks at 7 PM for two episodes of Spartacus, then starts up again with The Texas Chainsaw Massacre (2003) (9:10 PM), an encore of The Texas Chainsaw Massacre (1974) (11:10 PM), and Saw VII (1:10 AM).
Resident Evil: Afterlife (5:41 PM, Spike) and Resident Evil: Retribution (8:05 PM, Spike)
More zombies. More Milla. More ass-kicking.
The House on Haunted Hill (8 PM, TCM)
Vincent Price stars in this 1959 film about an eccentric millionaire who challenges five people to spend the night in a haunted house for a $10,000 prize, only to see them trapped inside with ghosts and murderers.
Dark Shadows (8:30 PM, AMC Family)
Johnny Depp plays the vampire Barnabas Collins in this adaptation of the gothic soap opera.
Legend of the Hell House (9:30 PM, TCM)
John Hough directed this 1973 film, based on the novel Hell House by Richard Matheson. A group of physicists and parapsychologists investigate a haunted house where the previous investigators died.
13 Ghosts (11:15 PM, TCM)
This classic haunted house film stars Margaret Hamilton, who is best known for her role as the Wicked Witch of the West in The Wizard of Oz.
Friday
Legend of Korra (Streaming, Nick.com)
Kuvira's forces reach Zaofu in an attempt to complete her unification of the Earth Empire. Will Bolin prove the key? Or will Kuvira have to unite the empire by force?
Haven (7 PM, Syfy)
Audrey isn't immune to the Troubles anymore, and she has to call on a familiar face to return Nathan to the land of the living.
Grimm (9 PM, NBC)
Nick wonders whether he should try to retrieve his Grimm abilities when he and Hank come across a series of attacks where victims are left without their memories. Trubel joins the investigation, but just ends up putting herself in danger, and Adalind learns she's more connected to Nick than ever while she's held hostage in Vienna.
Constantine (10 PM, NBC)
In the show's second episode, John Constantine deals with a Welsh spirit haunting a Western Pennsylvania mining town, and, naturally, encounters his Liv replacement, Zed.
Z Nation (10 PM, Syfy)
This week, the survivors are engulfed in a zombie tsunami. Yes, a Zunami. Apparently, undead weather is a thing here.
Friday Horror Movies
Beetlejuice (7 PM, AMC Family)
Prepare to have "The Banana Boat Song" stuck in your head all week.
The Shining (7:30 PM, Cinemax)
All work and no play makes Jack a murderous boy.
House of Wax (8:45 PM, TCM)
In the 1953 version, Vincent Price plays a disfigured sculptor who murders people and then uses their bodies for wax displays.
Shaun of the Dead (9 PM, Comedy Central)
Have a good giggle at zombies in the first installment of Edgar Wright, Simon Pegg, and Nick Frost's Coronetto Trilogy.
Zombieland (9:30 PM, TBS)
Rule 1: Cardio. Rule 2: Beware of bathrooms. Rule 3: Seatbelts. Rule 4: Doubletap. Review the rest of the rules with this zombie comedy.
Poltergeist (10:30 PM, TCM)
Remember, kids, don't build your house on sacred burial ground.
Saturday
Sailor Moon Crystal (Streaming, Neon Alley, Crunchyroll, Hulu)
We learn the true identity of Sailor Moon this week in "Serenity Princess."
Doctor Who (9 PM, BBC America)
The Cybermen return in the penultimate episode of the eighth series. But the real question is: what's going on with Clara?
Sunday
Once Upon a Time (8 PM, ABC)
This week, we're going to focus on Belle's past from before she met Rumpelstiltskin and learn what secrets she harbors.
Resurrection (9 PM, ABC)
Desperate in his illness, Bellamy turns to his shadowy government contact for help and learns something shadowy about his past (like one does). And after another returned vanishes into thin air, the living search for answers.
The Walking Dead (9 PM, AMC)
Where was Beth taken? In "Slabtown" Beth wakes up in a community of survivors, but there is something dark hidden beneath its nice, clean surface.