Never mind Captain America maybe coming back from the dead (Okay, do mind - it's worth the read) - there's plenty of other things to check out in the new comics hitting stores tomorrow, including intergalactic chefs and undercover superspies.
It's an odd week for new comic releases, with less new projects coming out than recent weeks, but the few that are coming out are all well worth your attention. Who, for example, could turn up the chance to relive their childhood with Power Pack Classic collecting the first issues of Marvel's 1980s pre-teen superteam? Or, for that matter, Batman: The Black Casebook, a collection of some of the out-there 1950s stories referenced by Grant Morrison during Batman RIP? Only those who hate fun, that's who.
If superhero single issues are your thing, Marvel's releasing a new mini-series about Spider-Man's newest bad guy, Dark Reign: Mister Negative, as well as the first (of two) issues of Ultimate Spider-Man: Requiem, hopefully answering the question of whether or not Peter is dead (My money's pretty firmly on "No," but you never can tell with Brian Bendis...). There's also X-Men Origins: Gambit, for those who've fallen for Remy LeBeau following his appearance in the Wolverine movie. Plus the X-Infernus collection for those who fell for the New Mutants back in the 1980s like I did (I can't resist...!).
DC also has the first issue of Paul Dini and Dustin Nguyen's Batman: Streets of Gotham for people who still need convincing that Dick Grayson really is Batman these days.
G/O Media may get a commission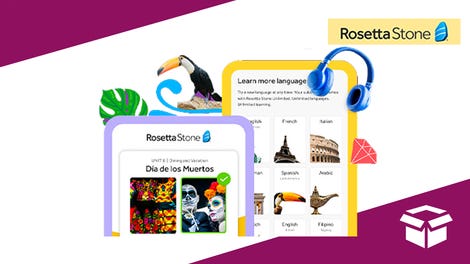 Extra 20% off
Rosetta Stone Lifetime Subscription - All Languages
Single issue of the week, though, is easily Project Superpowers: Chapter Two #0, introducing the second series of one of the most bizarre superhero franchises around, complete with Alex Ross art, for just a dollar.
For those with more money to spare, however, there's a trilogy of books vying for your attention: Brian Fies' Whatever Happened To The World Of Tomorrow uses futurism and comic books to explore a character's relationship with his father to stunning effect, while James Stokoe's Wonton Soup Vol. 2 goes entirely in the other direction, making pop art out of space truckers and cookery.
If neither of those catch your eye, the first year of Ed Brubaker and Sean Philips' superhero spy book Sleeper gets reissued tomorrow, and if you missed it the first time around, it's definitely time to fix that.
All of this week's new releases - including the already-released-in-some-stores Captain America #600 - are listed on this week's Diamond Distribution Shipping List, which is just the thing to check before heading to your local comic store to find your four color fantasies. Just remember that three of those four colors are red, white and blue. The potentially undead Steve Rogers would want it that way.