According to emails obtained by The Guardian, staff at the USDA have been informed that they should change their language when referring to climate change. Specifically, the staff at the Natural Resources Conservation Service (NRCS) were told to avoid using the phrase "climate change," and were instructed to alter various phrases that acknowledge the effects of man-made climate change.
Sam Clovis, President Trump's nominee to take over the position of chief scientist at the USDA, is not a scientist, and he's previously labeled climate change as "junk science." But it appears that actual scientists are feeling the chilling effect of the administration's public position on climate change being a "hoax" that "is done for the benefit of China." Emails sent by Bianca Moebius-Clune Ph.D., director of soil health at the NRCS, in February show her giving new guidelines for how staff should phrase their discussion of climate change-related topics.
Specifically, Moebius-Clune says to "avoid" using the term "climate change" and to instead say "weather extremes." Likewise, the preferred phrasing for "climate change adaption" is now "resilience to weather extremes." Rather than saying "reduce greenhouse gases," staff should instead say "build soil organic matter, increase nutrient use efficiency," according to the emails.
G/O Media may get a commission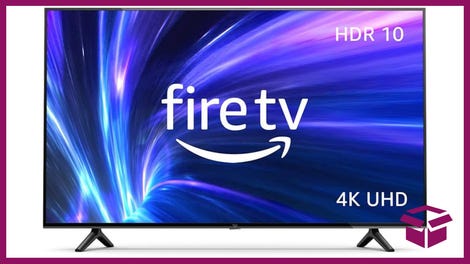 42% Off
Amazon Fire TV 50" 4K Smart TV
On February 16th, Moebius-Clune explained to staff that "we won't change the modeling, just how we talk about it–-there are a lot of benefits to putting carbon back in the [soil], climate mitigation is just one of them."
The NRCS is a small division within the USDA that lists its mission as providing "America's farmers and ranchers with financial and technical assistance to voluntarily put conservation on the ground, not only helping the environment but agricultural operations, too." In an email, Moebius-Clune explains that a colleague from USDA's public affairs team advised her to "tamp down on discretionary messaging right now."
A spokesperson for the NRCS confirmed the veracity of the emails to Gizmodo over the phone and insisted that no one from the Trump administration has put any pressure on the agency to change its approach to climate change or its acknowledgment of the real world effects of climate change. The spokesperson pointed us to a passage in one email that suggests employees "not presume to know where the administration will end up on this, but to give them time." We are told nothing has changed since then and that "the agency continuously evaluates its messaging to America's farmers, ranchers, and foresters as they work to implement voluntary conservation on their operations to improve the health of our soil, air, water, and habitat."
The spokesperson also indicated that focusing on the benefits to individuals voluntarily working with the USDA could potentially be the most effective way to get change implemented—some farmers/ranchers/foresters might not be particularly receptive to a message about climate change.
But some staff still appear to be confused by what they are and are not allowed to say. On April 5th, an employee named Suzanne Baker asked if they were "allowed to publish work from outside the USDA that use 'climate change'." And on June 5th, an employee said that "we would prefer to keep the language [referring to climate change] as is." According to the NRCS spokesperson, both of those things are currently fine under the agency's rules.
Probably the most revealing email came from Jimmy Bramblett, deputy chief for programs at the NRCS. "It has become clear one of the previous administration's priority is not consistent with that of the incoming administration," Bramblett wrote on January 24th. "Namely, that priority is climate change. Please visit with your staff and make them aware of this shift in perspective within the executive branch." This sentiment seems to be the real issue spreading across the federal government.
The administration has shown its willingness to muzzle employees or scrub information from public websites, only to reverse course when the trial balloon gets too much attention. The fact is, it's easier for the Trump brigade to make no official changes while the employees alter their approach based on assumptions. Meanwhile, they drain the staff with scientific expertise, bully scientists into changing positions, and leave advisory positions unfilled. The potential incoming chief scientist for the USDA is mostly concerned about Democrats being "liars, race traders and race 'traitors,'" whatever that means.
You can read the full emails here.