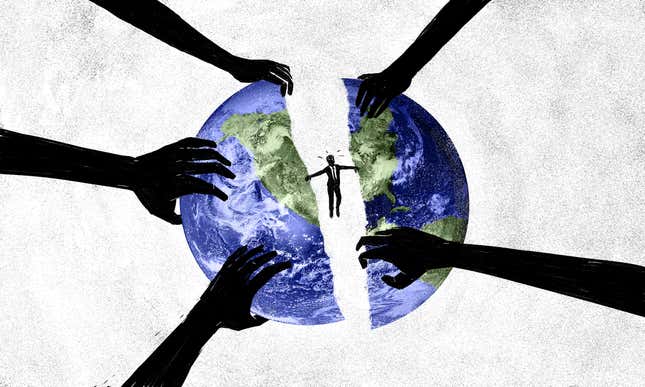 Congressional Committee tweets don't usually get much attention. But when the House Committee on Science, Space, and Technology sent out a link to a Breitbart story claiming a "plunge" in global temperatures, people took notice. The takedowns flew in, from Slate and Bernie Sanders, from plenty of scientists, and most notably from the Weather Channel, which deemed Breitbart's use of their meteorologist's face worthy of a point-by-point debunking video.

Boogeyman Star Sophie Thatcher Wrote Howl's Moving Castle Fan Fiction | io9 Interview
There is nothing particularly noteworthy about Breitbart screwing up climate science, but the House Science Committee is among the most important scientific oversight bodies in the country. Since Texas Republican Lamar Smith took over its leadership in 2012, the Committee has spiraled down an increasingly anti-science rabbit hole: absurd hearings aimed at debunking consensus on global warming, outright witch hunts using the Committee's subpoena power to intimidate scientists, and a Republican membership that includes some of the most anti-science lawmakers in the land.

The GOP's shenanigans get the headlines, but what about the other side of the aisle? What is it like to be a member of Congress and sit on a science committee that doesn't seem to understand science? What is it like to be an adult in a room full of toddlers? I asked some of the adults.

"I think it's completely embarrassing," said Marc Veasey , who represents Texas's 33rd district, including parts of Dallas and Fort Worth. "You're talking about something that 99.9 percent—if not 100 percent—of people in the legitimate science community says is a threat….To quote Breitbart over some of the most brilliant people in the world—and those are American scientists—and how they see climate change, I just think it's a total embarrassment."

Paul Tonko, who represents a chunk of upstate New York that includes Albany, has also called it embarrassing. "It is frustrating when you have the majority party of a committee pushing junk science and disproven myths to serve a political agenda," he said. "It's not just beneath the dignity of the Science Committee or Congress as a whole, it's inherently dangerous. Science and research seek the truth—they don't always fit so neatly with agendas."

Suzanne Bonamici, of Oregon's 1st District, also called it frustrating "to say the least" that the Committee "is spending time questioning climate researchers and ignoring the broad scientific consensus." California Rep. Eric Swalwell called it the "Science" Committee in an email, and made sure I noted the air quotes. He said that in Obama's first term, the Committee helped push forward on climate change and a green economy. "For the last four years, however, being on the Committee has meant defending the progress we've made."

Frustration, embarrassment, a sense of Sisyphean hopelessness—this sounds like a grim gig. And Veasey also said that he doesn't have much hope for a change in the Science Committee's direction, because that change would have to come from the chairman. Smith has received hundreds of thousands of dollars in campaign support from the oil and gas industry over the years, and somehow finds himself in even greater climate change denial than ExxonMobil.

And of course, it isn't just the leadership. The League of Conservation Voters maintains a scorecard of every legislator in Congress: for 2015, the most recent year available, the average of all the Democratic members on the science committee is 92.75 percent (with 100 being a perfect environment-friendly score). On the GOP side of the aisle, the average is just over three percent.

(I reached out to a smattering of GOP members of the Committee to get their take on its recent direction. None of them responded.)

Bill Foster, who represents a district including some suburbs of Chicago, is the only science PhD in all of Congress ("I very often feel lonely," he said, before encouraging other scientists to run for office). "Since I made the transition from science into politics not so long ago, I've become very cognizant of the difference between scientific facts, and political facts," he said. "Political facts can be established by repeating over and over something that is demonstrably false, then if it comes to be accepted by enough people it becomes a political fact." Witness the 52 percent of Republicans who currently believe Trump won the popular vote, and you get the idea.

I'm not sure "climate change isn't happening" has reached that "political fact" level, though Smith and his ilk have done their damndest. Recent polls suggest most Americans do understand the issue, and more and more they believe the government should act aggressively to tackle it.

That those in charge of our government disagree so publicly and strongly now has scientists terrified. "This has a high profile," Foster said, "because if there is any committee in Congress that should operate on the basis of scientific truth, it ought to be the Science, Space, and Technology committee—so when it goes off the rails, then people notice."
The odds of the train jumping back on the rails over the next four years appear slim. Policies that came from the Obama White House, like the Clean Power Plan, are obviously on thin ice with a Trump administration, and without any sort of check on Smith and company it is hard to say just how pro-fossil fuel, anti-climate the committee could really get.

In the face of all that, what is a sane member of Congress to do? Elizabeth Esty, who represents Connecticut's 5th district, was among several Committee members to note that in spite of the disagreements on climate, she has managed to work with GOP leadership on other scientific issues. Rep. Swalwell said he will try and focus on bits of common ground, like the jobs that come with an expanding green economy. Rep. Veasey said his best hope is that some strong conservative voices from outside of Congress might start to make themselves heard by the Party's upper echelons on climate and related issues.

An ugly and dire scenario, then, but the Democrats all seem to carry at least a glimmer of hope. "It's certainly frustrating and concerning but I'm an optimist," Esty said. "I wouldn't run for this job if I weren't."
Correction: An early version of this post misspelled Marc Veasey's first name. The text has been updated.
Dave Levitan is a science journalist, and author of the book Not A Scientist: How politicians mistake, misrepresent, and utterly mangle science. Find him on Twitter and at his website.