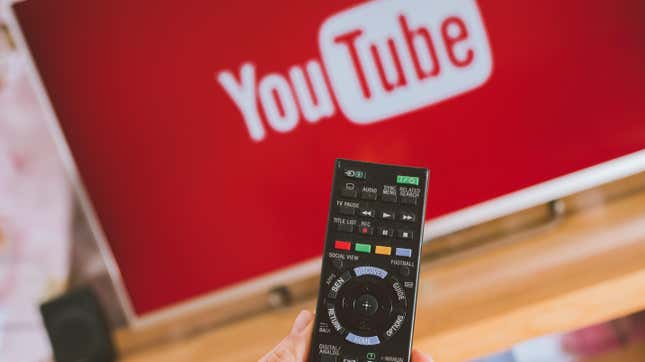 YouTube is getting a little bit of an advertising shakeup. The company announced at the YouTube Brandcast event yesterday that it would be adding unskippable 30-second ads to the YouTube platform as viewed on televisions.

Google's Antitrust Case Is the Best Thing That Ever Happened to AI
As Variety reports, the 30-second ads will run on the top 5% of its most-viewed and most-engaged videos on the platform when played on a television. YouTube will also begin testing out "Pause Experiences," during which ads will appear next to a video when that video is paused. Why the changes? Well, YouTube boasted at yesterday's event that 150 million unique viewers in the U.S. watched YouTube and YouTube TV on a television in December 2022 alone. That's a lot of untapped ad revenue for the platform, especially as YouTube videos continue to get longer.
"More and more, viewers are tuning into YouTube on the biggest screen in their home," said YouTube CEO Neal Mohan at the event, as quoted by Variety. "Viewers—especially younger viewers—no longer make a distinction between the kind of content they're watching. When they turn on the TV, they want everything they love in one place—from their favorite creators to blockbuster movies to football. And they can find it all on YouTube."
YouTube already sells ad space for two, 15-second ads that run together, so this change shouldn't be too jarring. Variety reports that the new 30-second ads will first be released in the U.S. before expanding globally this year. While ads on paused YouTube videos might seem aggressive, Hulu's already done it. Hulu began utilizing advertisements on pauses during binge-watches in 2018.
YouTube has seemingly been making a push to reinvigorate its ad strategy, and this new television ad push is the latest iteration. Common YouTube watchers may use an ad blocker when viewing content on the platform's website or on mobile—but maybe not for much longer. Earlier this week, Redditors began noticing that YouTube is prompting some users to either disable their ad blocker or subscribe to YouTube Premium.