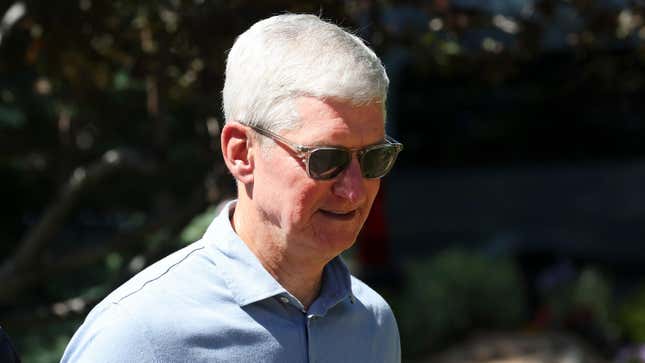 Tim Cook is hoping Apple's rumored but officially unannounced mixed reality headset featuring VR and AR capabilities will be the next step into a glowing future. Unfortunately, the device's development and its current reality are reportedly just as mixed as its feature suite, full of compromises and constraints that may end up just as confused as other major virtual reality initiatives.
How To Prep Your iPhone or iPad Before Selling
A new report from Bloomberg's Mark Gurman sheds a greater light on the "Reality" MR headset, emphasizing that the device changed a great deal from inception. According to several anonymous sources who worked with or on the Reality device, the headset was reportedly originally billed as a pair of lightweight augmented reality glasses. This eventually transformed into a virtual reality structure that facilitated AR capabilities through external passthrough cameras.
Seven years since the company first envisioned its device, it's now a pair of expensive goggles that requires an external battery pack to cut down on headset weight. That connected battery is just one example of how Apple's design changed over time, and not necessarily for the better. Since it first tested this tech back in 2015, the notoriously uncompromising Apple has had to compromise hard on this new device due to power and heat constraints. The Cupertino, California-based company originally wanted Reality to act as an external Mac monitor and allow for multi-person video calls, but it had to scale those features back.
More than 1,000 engineers and $1 billion annually have been dedicated to the device (Meta has been spending that much a month on its VR tech). Even though the upcoming headset has an expected price tag of $3,000, Apple is still expected to sell them at a loss, according to the report. Meta has already tried the loss-leader model with its own Quest headsets, but the company's cheapest headsets cost a few hundred dollars each. The Quest 2 has only gone up in price recently, while the more-expensive Quest Pro has gone from around $1,500 to just $1,000.
The device is expected to contain multiple apps found on Macs and iPhones, including Messages, Books, Camera, FaceTime, Mail, Music, Safari—you get the picture. With all the functionality of a smartphone, Apple wants the headset to be a transformative technology akin to the original release of the iPhone. The report notes that being a leader in the AR space could earn Apple $25 billion in new annual revenue, which is notable given the company's current struggles shipping existing Mac products.
Apple is expected to debut the Reality headset at this year's WWDC in June, with an anticipated first release this year. Large-scale adoption might not happen immediately, especially with an expected $3,000 price tag at launch. Prolific Apple analyst Ming-Chi Kuo wrote on Tuesday he expects the Cupertino company could launch two new versions of the headset by 2025. One could be a much cheaper version of the headset that could make it much more viable for the average user.
Despite the change in size, Apple still reportedly hopes consumers will be willing to wear the headset all day. It's a train of thought akin to Meta's hopes to bring about an eventual "Metaverse." Yet, since CEO Mark Zuckerberg first threw his company into the VR realm back in 2021, the company still hasn't created a device or software that would incentivize use for more than short sprints. Now Meta is refocusing again, but this time on AI, with Zuck claiming AI will also somehow revolutionize his shared VR worlds.
Apple CEO Tim Cook has been rather open about his antipathy toward VR devices that keep people isolated. But even though Bloomberg's report mentioned one exec hoping people would take the Reality headset to parties, few people might be inclined to party down with a large piece of plastic strapped to their head, especially a $3,000 one attached to an external battery pack. The other hope is that third party developers will create more apps to get people engaged. After all, it's the app store that really increased the iPhone's capabilities and popularity back in 2008.

---
Want more of Gizmodo's consumer electronics picks? Check out our guides to the best phones, best laptops, best cameras, best televisions, best printers, and best tablets. If you want to learn about the next big thing, see our guide to everything we know about the iPhone 15. Click here to save on the best deals of the day, courtesy of our friends at The Inventory.