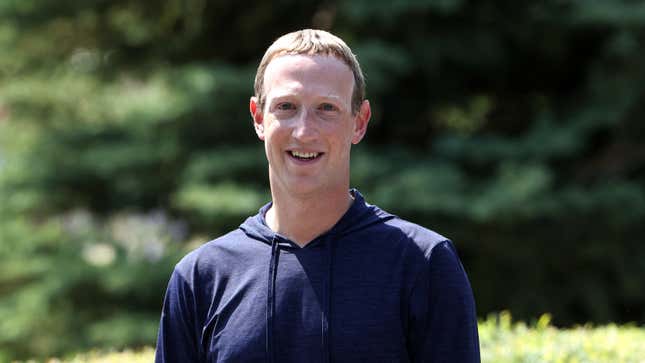 Meta's latest quarterly earnings report is hung up on the "efficiency" buzzword. In his call with investors on Wednesday, CEO Mark Zuckerberg talked up "efficiency work," more than once, all while sprinkling in talk of "monetization efficiency" and "organizational efficiency."
Asus ROG Flow Z13 Gaming Tablet Review
But he had one sticking point amid all his optimism: artificial intelligence. While he also claims AI has improved the company's own monetization, it seems AI chatbots and other generative AI models will soon be flooding into users' apps with all the efficiency of a diesel train barreling through a crowded station.
Zuckerberg said that there's an "opportunity to introduce AI agents to billions of people" and the company is exploring AI chat integrations in WhatsApp and Messenger. Not only that, but Facebook and Instagram could receive "visual creation tools for posts" that might also include video and "multi-modal experiences" as well. He also talked about the use of AI for generating ads and for business-focused users.
"I expect that these tools will be valuable for everyone from regular people to creators to businesses," Zuckerberg told investors. "For example, I expect that a lot of interest in AI agents for business messaging and customer support will come once we nail that experience. Over time, this will extend to our work on the metaverse too, where people will much more easily be able to create avatars, objects, worlds, and code to tie all them together."
While Zuck remained pretty vague about what these AI integrations would look like, Meta has already talked about adding "AI Personas" into its messaging apps as well as Instagram. His reference to AI "agents" is interesting if still incredibly nebulous. It's unclear if he's referencing AI models like Auto-GPT and BabyAGI, which are kind of AI ecosystems designed to complete more complicated tasks than a usual ChatGPT prompt. Zuck speculated that the metaverse would instead be able to "embody" AI agents, which seems to imply Meta would stick a system of AI chatbots together and give it an avatar face to talk to users who are using Meta's mixed reality or virtual reality systems.
"Building the metaverse is a long term project, but the rationale for it remains the same and we remain committed to it," he said.
Though Meta isn't the only company trying to prop up AI-generated avatars. On Wednesday, TikTok added the ability for users to generate up to 30 different avatars using AI image generation.
The Meta CEO said their "open ecosystem" approach to releasing its AI models like its LLaMA language model and open source photo segmentation tool to try and "standardize" the industry on Meta-owned tech. Of course, that's a tall order considering how much of a head start OpenAI already has with its API integration and running partnership with Microsoft.
Zuckerberg also pushed back on speculation that the company has abandoned its plans for the "metaverse" in exchange for AI. He said his company has been "focusing on both AI and the metaverse for years now, and we will continue to focus on both." Though according to a massive Reuters report released earlier this week, Meta truly only switched gears to AI tech in mid-2022 when it realized how big generative AI was becoming. The Meta CEO said "we're no longer behind in building out our AI infrastructure, and to the contrary we now have the capacity to do leading work in this space at scale."
As awkward an idea of chatbot-controlled, Silly Putty-looking avatars in Meta's Horizon Worlds seems to be, Meta isn't the only company crowing about AI to investors. Microsoft released its own earnings report Wednesday where CEO Satya Nadella talked up its $10 billion investment in OpenAI and ongoing AI integrations into its end-user products.
Nadella said the future is chatbots becoming "a new way for people to seek information" through Bing, Edge, Windows, and OpenAI's ChatGPT, all of which—of course—will help line Microsoft's pockets and take on the monopolistic dominance of Google Search.
---
Want to know more about AI, chatbots, and the future of machine learning? Check out our full coverage of artificial intelligence, or browse our guides to The Best Free AI Art Generators, The Best ChatGPT Alternatives, and Everything We Know About OpenAI's ChatGPT.