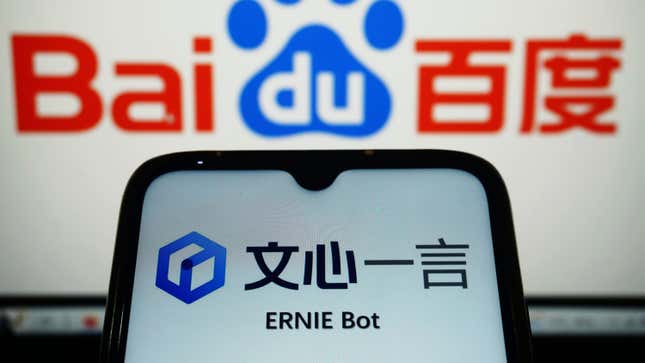 Chinese tech giant Baidu is suing Apple and several app developers, claiming the developers created fake copies of the Chinese tech giant's Ernie AI chatbot and that Apple allowed them into its tightly controlled App Store. The lawsuit, first reported by Reuters, claims Apple greenlit the counterfeit applications for users less than a month after Baidu introduced the artificial intelligence-powered chatbot.
How To Prep Your iPhone or iPad Before Selling
"At present, Ernie does not have any official app," Baidu said in a statement on its official WeChat account. The company said in its suit, filed in Beijing Haidian People's Court, "Until our company's official announcement, any Ernie app you see from App Store or other stores are fake." Apple did not immediately respond to Gizmodo's request for comment.
In the absence of an official Ernie app, the company claims counterfeits have taken over its market and allegedly creating fake copies on its app store. The company hopes to get Apple to take down similar apps and put a halt to the creation of any in the future.
Ernie Bot was released on March 16 as a rival to OpenAI's ChatGPT and is still available to only a select number of users, but Baidu co-founder and CEO Robin Li said at a press conference last month that 650 companies had already signed up for access to the bot. Ernie focuses on the Chinese market and can answer questions in varying local dialects, generate images and videos out of Chinese text, and summarize entire Chinese novels.
However, unlike ChatGPT, which was advertised during its November release as a free-to-use chatbot, Baidu's bot was only available to an initial group of users who received an invitation to test it. The closed-door meeting sent Baidu's shares plummeting, and the company still has not announced when it will create an app for the general public.

Want to know more about AI, chatbots, and the future of machine learning? Check out our full coverage of artificial intelligence, or browse our guides to The Best Free AI Art Generators and Everything We Know About OpenAI's ChatGPT.