For a few weeks you've been hearing about the Gizmodo Gallery in NYC, catching plenty of teasers for the cool stuff—contemporary marvels, homemade wundergear and pieces of history—we're showing down at the Reed Annex on Orchard St. from today 12 noon through Sunday 4pm. Now, for the first time, we're revealing the whole list. And it's annotated, for your pleasure.
Stuff You'll Never Own
Panasonic 103-Inch TV
The biggest production HDTV in the world, this 103-inch diagonal plasma is coincidentally the largest set we could fit into Reed Annex.
Sony 11-Inch OLED TV
OLED technology will power all flat-screen TVs in the future, but the beautiful, high-contrast wafer-thin screens are still excruciatingly expensive—in this case $230 per diagonal inch, or $2500 for the set.
G/O Media may get a commission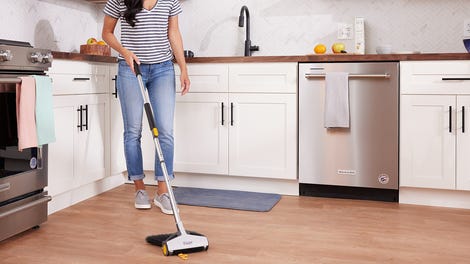 BOGO 50% Off
Flippr - BOGO 50% Off
Draganfly X6 RC Helicopter
A carbon-fiber remote-controlled helicopter designed to be stable in 18mph winds or even if some of its motors die. It's GPS enabled and can be armed with a high definition camcorder or night vision. And it looks like a Terminator.
Optimus Maximus Keyboard
A keyboard with little OLED screens under each key, which can be programmed to display whatever character, picture or animation and trigger any keystrokes you want.
Carbon Butterfly RC Plane
This remote-controlled airplane is lighter than a piece of notebook paper because of lightweight balsa, carbon fiber and Swiss-made gears.
Au Infobar2
Despite it lacking a lengthy feature list, the Infobar2 is the most beautiful phone from Japan's AU company and I think maybe the most beautiful in the world. On Loan from Gizmodo Japan and Au.
Red One Movie Camera
A digital movie-making revolution and a future-proof modular platform, the 10-lb. digital video camera shoots pristine 4K-resolution movies with its 12-million-pixel "ultra high def" sensor.
Stuff You Might Convince Your Mom To Buy You
Yamaha YSP-4000 Surround Sound Bar
This soundbar is a 5 channel surround sound system that uses cold war submarine sonar tech to bounce beams of audio against walls and to your ears from different angles.
Amazon Kindle Ebook Reader
The first wireless E-Ink ebook reader with a cellular connection, so you can buy and download books without the need for a computer. It bests the paperback but can't be safely read in the bathtub.
Pentax W60 Waterproof Camera
I've had many happy times in Hawaii with this camera. It's my favorite because it works to 30 feet and yet is small enough to pocket without causing a bulge.
Yamaha Tenori-On Music Maker
A revolutionary rethinking of the music keyboard, this 16x16 pad of light-up keys interprets a player's finger strokes and performs a light and sound show in response.
USB Heated Gloves
Thanko's Gloves use the power from a computer's USB ports to warm your fingers on cold winter mornings.
USB Neck Tie
Thanko's USB powered neck ties have a built in fan for hot office afternoons.
USB Wrist Charger
If it has a plug, Thanko's battery-loaded bracelet will charge it.
Gundam Robot Slippers
They make giant robot stomping noises when you walk. Only in Japan, in more ways than one.
Wicked Lasers Torch
Currently pending Guinness records for being the most powerful flashlight of its kind, the 4100 lumen Torch can easily set paper on fire.
Blendtec Blender
We don't know if Blendtec makes the best blenders, but if they can shred bananas the way they can shred gadgets on their famous YouTube videos, we're sold.
Casio Exilim EX-F1 Super-Slow-Motion Camera
The first consumer-grade camera to deliver 1200-frames-per-second slow-mo, it can also shoot 60 full-resolution stills per second.
Chumby
It's an internet machine disguised as a pillow. I use it to check the snow report, play internet radio, tell the time, check the surf and read the news, but it can run hundreds of additional widgets.
Aiptek V10 PMP Pico Projector
Battery-powered mini projector plays movies from an SD card, using an LED to project a picture up to 50" on the wall without burning your hand. One day, all cellphones will have these.
WildCharge Charging Station
A charging matt that uses nubs on a matt instead of wires to charge your devices.
Philips LivingColors Lighting System
These lamps can display 16 million unique colors, controlled by a remote with a color wheel. What can we say? We love pretty lights.
The Original LED Watches
These Tokyo LED watches were the original inspiration for all other Japan streetwear timepieces.
Tenmetsu Tokyo Flash Watch
Tokyoflash's Tenmetsu watch is one of the cleanest designed of their collection, and has never been seen before the Gizmodo Gallery.
Lego Death Star
This Lego diorama includes 3800 pieces, 21 minifigs and is one of the biggest sets ever made. It's also the only one that can destroy entire brick planets at will.
Godzilla Beer Pourer
This Japanese gadget looses a Godzilla roar when you lock in a can and serve beer from its mouth.
Stuff You'd Have To Make Yourself
Ben Heck Custom Atari VCSp
Almost a decade ago, Ben Heckendorn sparked an entire underground scene of custom, hand-built game consoles when he deconstructed the classic Atari 2600, transforming it into the Atari VCSp, complete with built-in screen, sound amplifier, battery power, and aluminum frame. On loan via Ryan Block, gdgt.
Jonah's Slot Machine
This web 1.0 bubble art project checked for short URLs and if you land on an available address, you've hit the jackpot.
Make's Phil Torrone and His Laser Etcher
Yes, our friend Phil from MAKE Magazine is showing up with his laser etching device to brand custom images onto any and every surface.
Back To the Future-Modded DeLorean
Roads? Where we're going, we don't need roads. Oh wait, yeah we do—this mod is pre-Mr. Fusion.
NES Bong
A Nintendo controller modified into a contraption for smoking tobacco and only tobacco. On loan from some stoner.
PC Running Mac OS X Using Hackintosh
We're partial to Macs at Gizmodo, but there's plenty of nice PC hardware that we'd love to run Mac OS on, like this MSI Wind Nettop that uses Hackintosh to get it done. On Loan from Brian X. Chen of WIRED.com
Limor's Wave Bubble Radio Jammer
An open source radio wave jammer that will disable connections like those from Wi-Fi, GPS, cellular and RF. Illegal. Small enough to hide in a pack of cigarettes.
TV B Gone
This pocket sized remote spams IR power codes of common TVs to shut off different makes and models. Not recommended for trade shows. Trust me.
The Stuff of History
Apple Phone Prototype
In the early 80's, Frog Design and Apple collaborated on this phone prototype with electronic check payment and a stylus for use on the monochrome screen.
Apple Tablet Prototype
From Frog and Apple's "Snow White" design language comes this tablet, looking very much like a cousin of the IIc.
Apple 20th Anniversary MacintoshUnveiled at MacWorld on Jan. 7, 1997, Apple called it "the most beautiful thing we've ever built." Both historical and ahead of its time, you can see the Mac's past, present and possibly future.
Sony's First Walkman
The TPS-L2 Walkman did not record and was panned by the press before its release in Japan in 1979. Right before becoming a huge success. On loan from Sony Tokyo Archives.
First Sony Digital Mavica Cam
This 1988 electronic camera paved the way for modern digital cameras. It wrote to a floppy disk and had a TV output cable.
Blickensderfer Portable Typewriter
George Blickensderfer's portable typewriters, introduced around 1892, were advertised as "The Five-Pound Secretary." The Model 6, first sold in 1906, offered an aluminum framework, at that time a relatively expensive and rare metal. On loan from Christopher Bonanos.
Polaroid Land Camera, Model 95
In the fall of 1947, the chemist Edwin Land brought a few dozen new cameras and a pile of film to Boston's Jordan Marsh department store, to demonstrate the instant-photography system he'd developed.
Bell Labs Briefcase Phone
First used in 1984 as an early example of a transportable cell phone (most other cell phones were car only phones). On Loan from the AT&T Archives and History Center.
Bell Labs Picturephone
The first Picturephone test system, built in 1956, was crude—it transmitted an image only once every two seconds. But by 1964 a complete experimental system, the "Mod 1," had been developed and was
displayed at the New York World's Fair, paired to a model at Disneyland. On Loan from the AT&T Archives and History Center.
Dyson G-Force Bagless Vacuum
James Dyson invented a bagless vacuum, which no one would manufacture because it would kill bag sales. It was picked up in Japan in 1983, though, and James used the proceeds to launch a company that today builds the world's suckiest vacs.
Sony Aibo ERS-111
Sony's first revision of their 1st generation robot pet was able to learn and grow from having puppy-like logic to dog-like logic. They were too unsophisticated to run or seem very lifelike, but they paved the way for true robotic toys like the Pleo dinosaur.
First Cameraphone Prototype
Philippe Kahn built the first cameraphone in 1997 out of a digital camera, a laptop and a Motorola handset with some clever software. To date, well over a billion cameraphones have been sold. You do the math.
[Links above wrangled by intern Erica—Thanks Erica!!! And thanks to our host REED ANNEX and our benefactor gizmine.com]
Gizmodo Gallery
Reed Annex
151 Orchard Street
New York, NY 10002
Gizmodo Gallery Reader Meetup
The reader meetup takes place across the street from the Gallery, at a place called The Annex (not to be confused with REED ANNEX where the gallery is hosted.) The address is 152 Orchard Street and we'll be there at 9 PM SHARP on Friday December 5th.
Gallery Dates:
December 4th-7th
Times:
12/4 Thursday
12-8
12/5 Friday
12-8
12/6 Saturday
11-8
12/7 Sunday
11-4
[Read more about our Gizmodo Gallery here and see what else we'll be playing with at the event.]