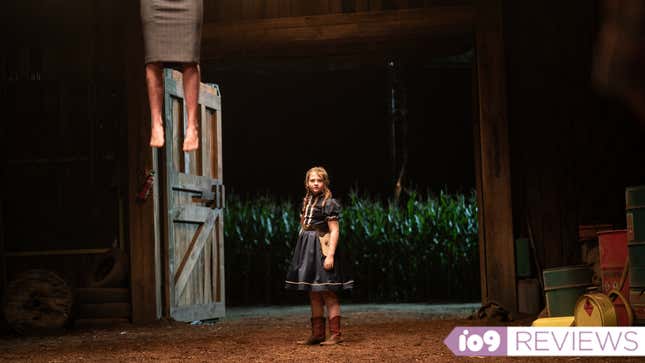 Children of the Corn is the 11th film inspired by Stephen King's 1977 story. It sticks to the rural Nebraska setting, but it tries mightily to bring some fresh elements to the table—and as far as creepy-kid tales go, it's actually not terrible. But it never quite overcomes the question of why it exists in the first place.
Rylstone is a shriveling town; its main street is full of empty storefronts, and the vast cornfields that once sustained its economy are now just brittle rows. This is all thanks to local farmers who put their trust in a chemical fertilizer called "Synth" (just one example of this movie's staunch stance against subtlety) without researching its dangerous effects, preferring instead to pocket the money they were paid to use it. It's the "Happiest Corn in Nebraska," a roadside sign informs us, but Rylstone's full of icky vibes—hair-trigger tempers, cheating spouses, abusive parents, handsy preachers, a sheriff who thinks it's OK to use animal sedative gas on a room full of orphans. Are they all just really bad people, or does their behavior have something to do with the mood- and mind-altering toxins seeping off all that fungus-riddled rotten corn?
Children of the Corn, which was written and directed by Kurt Wimmer (Ultraviolet; he also wrote Spell and the remakes of Point Break and Total Recall) floats this idea as part of its ambitions to dip a toe into the eco-horror genre, but its most urgent environmental revenge comes from a different source. You already know what it is: the town's younger generation, led by a sort of psychotic Pippi Longstocking figure named Eden (Station Eleven's Kate Moyer, easily the best thing in the movie). She's the self-styled queen of this "creepy and dying place," as one of the other kids dubs it, drawing her power from preternatural self-confidence... and from "He Who Walks," the supernatural force she claims lurks in Rylstone's crumbling fields.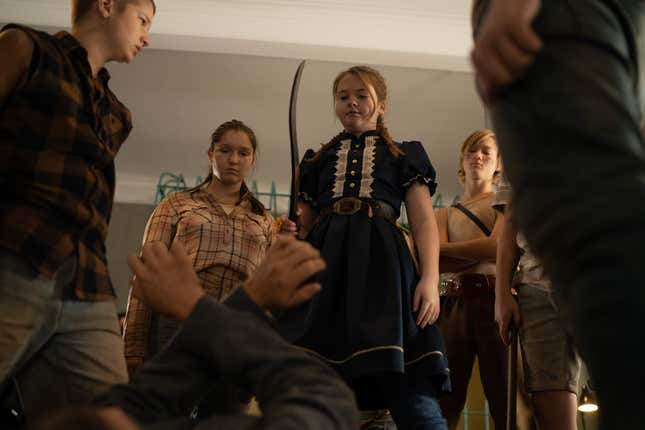 Honestly, you can't help but root for Eden and her merry band of weapon-wielding middle-schoolers; the adults that are supposed to look after them are unbelievably mocking and cruel. They outright cackle at the kids who express concern over the town's plan to quickly dig itself out of ruin: accepting government subsidies to plow up their crops and get out of the farming biz altogether, rather than putting the time into repairing the damaged soil. It's a heavy-handed set-up—and you don't have to see that Eden really does have a monstrous corn buddy to comfort her (which of course she does, thanks to some snort-inducing CG) to know this is the last bad decision the grown-ups of Rylstone will ever make.

There's a third voice in this melee, and it's the movie's actual protagonist: Bo (Elena Kampouris), who's 17 and is therefore straddling the generation gap. She has her ticket stamped to escape Rylstone—we're told she's leaving for college the next week—but she feels enough loyalty to her hometown, including her own frankly disappointing parents, to try and prevent the age-slanted mass slaughter that every Children of the Corn fan knows is coming. For extra emphasis, the movie makes sure we see her watching "It's a Good Life," the classic Twilight Zone episode in which an entire town obeys the orders of an evil kid who banishes anyone he doesn't like to a malevolent cornfield, from which they never emerge. Bo's determined to not be like those people, and to stand and fight instead, especially when she realizes Eden's plan to spread her corn cult nationwide.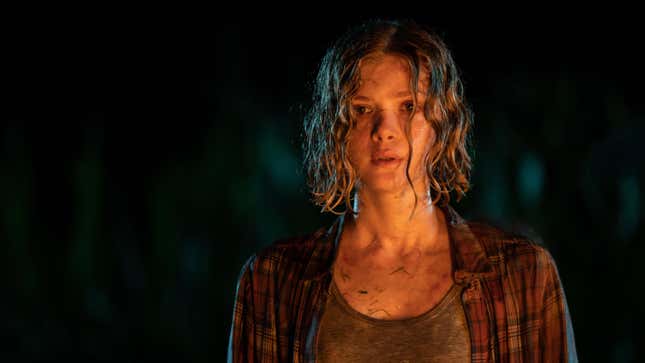 As a horror movie, Children of the Corn is barely scary but it does dare to include some legitimately disturbing imagery; there are numerous acts of squishy kid-on-adult violence, including one pretty great eye-gouging scene. Otherwise, there's not much in the way of suspense—mostly, you're just waiting for the carnage to start and then for a glimpse of He Who Walks, as well as a finale that's heavily telegraphed early in the film and then telegraphed again at the start of act three, just in case you missed it the first time.
Children of the Corn arrives in theaters on March 3; it hits on demand and digital March 21.
---
Want more io9 news? Check out when to expect the latest Marvel, Star Wars, and Star Trek releases, what's next for the DC Universe on film and TV, and everything you need to know about the future of Doctor Who.