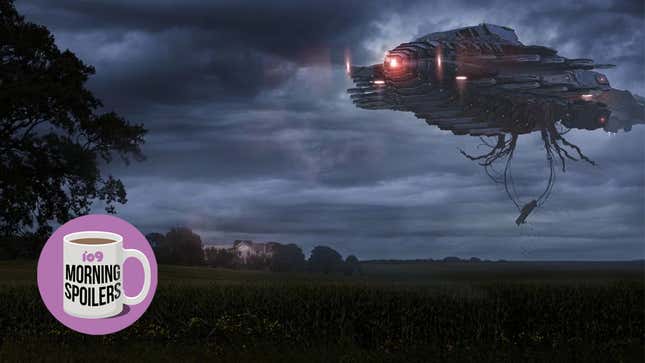 Danny Elfman talks returning to the world of Beetlejuice. More footage from the Flash movie teases Michael Keaton's Batman. Jon Favreau talks balancing different tones in Star Wars: Skeleton Crew. Plus, what's coming in the world of the *other* Flash. Spoilers, away!

Chris Pratt and Bryce Dallas Howard Nerd Out About Jurassic Park's Returning Heroes

Guardians of the Galaxy, Vol. 3
According to a new report from Comic Book Movie, Tara Strong has replaced Miley Cyrus as the voice of Mainframe in Guardians of the Galaxy, Vol. 3.
---
Cloverfield
The Cloverfield franchise's viral tie-in website promoting Slusho, a fictional frozen beverage, is once again active. Naturally, this discovery has caused several outlets to speculate a new film set within the continuity of Cloverfield, 10 Cloverfield Lane and The Cloverfield Paradox could be on the way.
---
Beetlejuice 2
Danny Elfman also suggested he's returning to score Beetlejuice 2 during a recent interview with Deadline.
I love being a fly on the wall when he's shooting. I'll be doing that in a couple of months, as you may know, on another Tim Burton project. That is very exciting, to return to that world.
---
Asteroid City
Following an appeal, the MPAA has rescinded its initial "R" rating for Wes Anderson's Asteroid City. The film is now rated "PG-13" for "brief graphic nudity, smoking and some suggestive material."
---
Justice League: Warworld
Bloody-Disgusting also reports Justice League: Warworld, the latest DC animated feature, has been rated "R" for "some bloody violence." The cast includes Jensen Ackles as Batman, Stana Katic as Wonder Woman, Darren Criss as Superman, Ike Amadi as Martian Manhunter, Troy Baker as Jonah Hex, Matt Bomer as "Old Man," Roger C. Cross as Machiste, Brett Dalton as Bat Lash, Trevor Devall as Drifter, John DiMaggio as Lobo, Robin Atkin Downes as Mongul, Frank Grillo as Agent Faraday, Rachel Kimsey as Mariah Romanova, David Lodge as "Sheriff," Damian O'Hare as Deimos and Teddy Sears as Warlord.
---
Justice League/Avengers
Meanwhile, James Gunn suggested a potential crossover film between Marvel and DC could happen "in about 10 years" during another recent interview with Deadline.
I think that it would look like something that would be happening in about 10 years. Not today, because we have a whole bunch of other DC movies we need to tell. But yeah, I think it could be cool.
---
The Angry Black Girl and Her Monster
Bloody-Disgusting also has a new poster for The Angry Black Girl and Her Monster, still on track for a VOD release this June 9.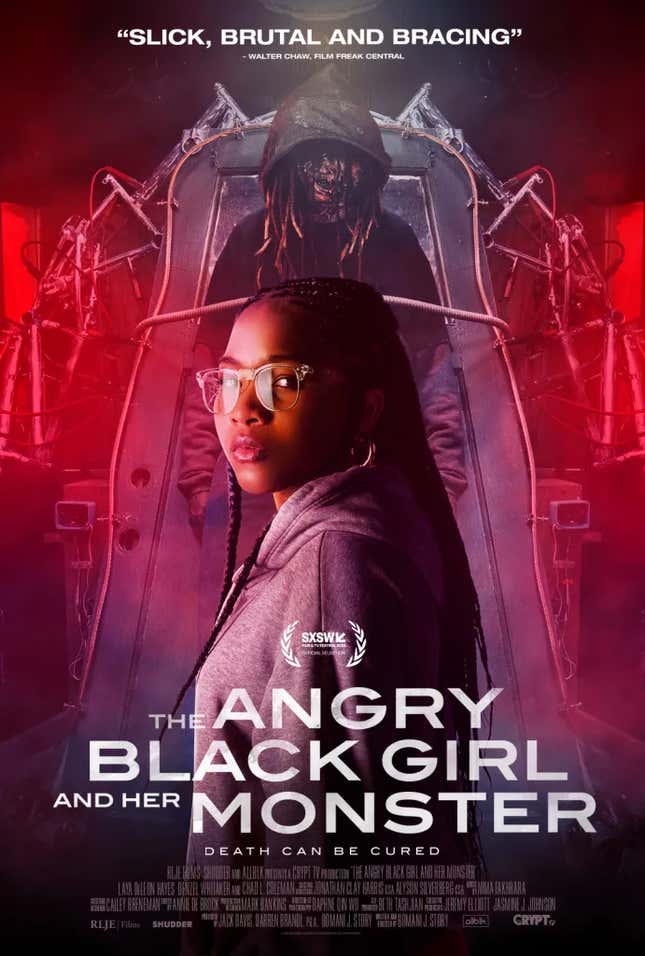 ---
The Flash
Two more TV spots for The Flash remain focused on Michael Keaton's return as Batman.
---
Sweet Tooth
According to TV Line, Sweet Tooth has been renewed for an already-filmed third and final season at Netflix.
---
Star Wars: Skeleton Crew
Appearing as a guest on Entertainment Weekly's Dagobah Dispatch podcast (via Comic Book), Jon Favreau discussed the "different tones" Skeleton Crew's stable of directors will bring to the Star Wars franchise.
One of the things we really like about what the shows that we've been working on have turned into is that it the tone of each episode — and in certain cases each series — really reflects the storyteller of the filmmaker. So in The Mandalorian you could have many different tones. Even though the writing is consistent across them, different filmmakers will bring different perspectives. And so each episode hopefully feels different, though they should sit alongside one another. With Skeleton Crew, I would go even further there because it's [Jon] Watts and [Chris] Ford and a whole array of wonderful directors — some have worked with us before, some who haven't. And so each episode has its own feel to it.

As long as you adhere to a certain aesthetic, and we all agree that it feels like it's Star Wars, there's a lot of room for how you can move around. It's interesting too, as you see at the [Star Wars Celebration] panel and these great trailers, how different they all are. But they all sit together. You would never group them together, but thanks to the world that George created, they all feel like they share a common underlying aesthetic.
---
The Flash
Finally, the team searches time and space for Barry's location in the trailer for "A New World, Part Two" — next week's episode of The Flash.
---



Want more io9 news? Check out when to expect the latest Marvel, Star Wars, and Star Trek releases, what's next for the DC Universe on film and TV, and everything you need to know about the future of Doctor Who.