Egyptian authorities are not very happy with a video taken by Danish photographer Andreas Hvid, who climbed what appeared to be the Great Pyramid of Giza, took footage of himself and a female friend in what was euphemistically termed a "naked embrace," and then uploaded it to YouTube in the past week, CNN reported on Saturday.

While some Egyptian officials denounced the nudity in particular, others are simply displeased that the video may have been taken in disregard of laws prohibiting most people from climbing on ancient monuments without a valid reason for doing so.

Per CNN, Egyptian officials are alternately describing Hvid's shoot as a violation of public morality—which the U.S. State Department describes as one of the many ways visitors can attract the very undesirable attention of Egyptian law enforcement—or the product of fakery, since security around the monuments is allegedly too tight:
Minister of Antiquities Khaled al-Anani called it a violation of public morality, and said the incident and the video will be investigated by the attorney general.

Ashraf Mohi, director general of the Giza Plateau, told Ahram Online the video is fake, since there is heavy security and the area around appears too brightly lighted.
"The pyramids are the most important historical landmarks in the world," Mohi said. "People have different ambitions and passions when it comes to expressing their love for them."
G/O Media may get a commission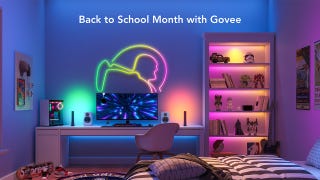 Back to School
Back to School Month with Govee Sale
Officials are still trying to determine whether Hvid actually climbed the Great Pyramid or the shoot is faked, according to NBC News.
"One hundred percent it is photoshopped," archaeologist, former Egyptian Minister of Antiquities, and former Giza Plateau director Zahi Hawass told NBC News. "There is no way any one can enter the Pyramids area at night... Those are not the stones of the big Pyramid. They're too small."
The incident also caused a small furor among Egyptian social media users, CNN added, with one individual named Waleed Ghanem tweeting: "We should suspend travel for these two until we see what we can do with them."
While climbing the pyramids is illegal in Egypt and there is security present on the site, the Los Angeles Times wrote in September that renewal projects including a "state-of-the-art security system" have been repeatedly delayed and that security remains "lax compared with Rome's Colosseum or Jerusalem's Western Wall, where visitors' movements are tightly controlled."
In 2016, German teen Andrej Ciesielski managed to climb the entirety of the structure and took a (non-nude) video, claiming the ascent took about eight minutes. He said police did not notice he was on the structure until he had already completed part of the climb, and was released after questioning. Egyptian blog Egyptian Streets later reported that Mamdouh Eldamaty, who was then serving as minister of antiquities, had released a statement saying Ciesielski was banned from entering the country for life. Others to ignore the prohibition on climbing have included a group of Russian tourists in 2013 (one of whom later apologized).
It's obvious why officials would be touchy. Not only are the Great Pyramids an important historical site that should be protected from possible damage, authorities charged with keeping care of them have long faced accusations of neglect, and the site has reportedly suffered further since the nation's 2011 revolution. Per the LA Times piece:
A decade-long effort to renovate the site of the pyramids had halted abruptly after the 2011 political revolution as tourism revenue across Egypt plunged. Members of Egypt's new government said in 2016 that work had resumed, overseen by Queen, a security and hospitality services company with ties to the armed forces. Officials have said they will contract with private companies to maintain, secure and clean the area, an idea that has been mostly applauded by archaeologists and tourism operators, many of whom have lost faith in the state's ability to run the site.

"They will do a better job," said former antiquities minister Zahi Hawass, who has long criticized the Giza Plateau as an "open zoo" filled with garbage and free-roaming, unlicensed vendors and pack animals. "You cannot experience the magic of the pyramids when someone is bothering you to buy a scarf."
Ascending the structures is also very dangerous; an AP article in 1989 claimed that over 1,600 people had died in the past 200 years while climbing Egyptian pyramids.

As CNN noted, Hvid seems to have taken down the video, though one of the photos from the shoot remains on his website. (Hvid did not immediately respond to a request for comment from Gizmodo, and we'll update this post if we hear back.) In an interview with Danish tabloid Ekstra Bladet, he said that this was the second time he had attempted to climb the pyramid, with a prior attempt resulting in capture by guards and an interview with police at a local station.
Hvid added that he was "sad that so many people have become so angry," but that no actual sex occurred. Because he risks being prosecuted in Egypt, Hvid concluded, it would not be wise for him to return to the country.
Correction: Ekstra Bladet is Danish, not Dutch. We regret the error.
[CNN]