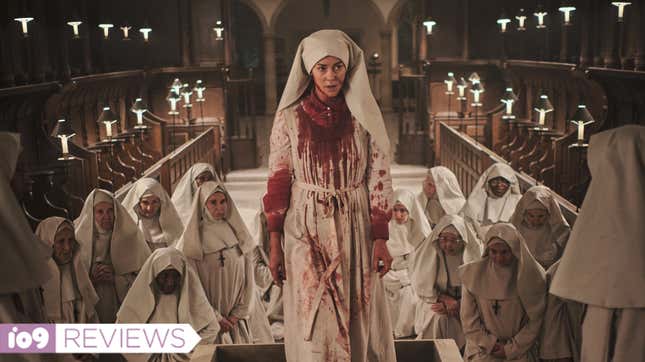 One of the first images in Consecration is a nun pointing a gun—an immediate indication of the film's spooky religious themes, as well as its tendency to not be subtle about them. Fortunately, stunning Scottish scenery, a strong performance by Jena Malone, and a fairly intriguing mystery help balance that out.
Is David Harbour Worried About Typecasting as Santa?
"I used to believe in nothing. Now I'm not so sure," Grace (Malone) tells us at the beginning. Considering Grace proves to be an unreliable narrator, it's best to approach what she says and sees with a dose of skepticism, since her point of view includes hallucinations and disconcerting flashbacks. Harshly real, however, is the fact that her brother Michael, a priest, has died at an isolated convent in Scotland under disturbing circumstances. He's the only family that matters to her—Grace was adopted and doesn't know anything about her background—so she travels from London to investigate.
The local detective (Thoren Ferguson) is surprisingly accommodating, as is Father Romero (Danny Huston), who's been sent from the Vatican to re-consecrate the church. Less friendly are the resident nuns and their Mother Superior (Janet Suzman), who are part of what the cop calls an "extreme sect" and who blame Father Michael's death on "a demon." Mount Saviour Convent itself is a picturesque but ominous place, marked by an earthquake-damaged cliffside chapel that dates back to the Crusades.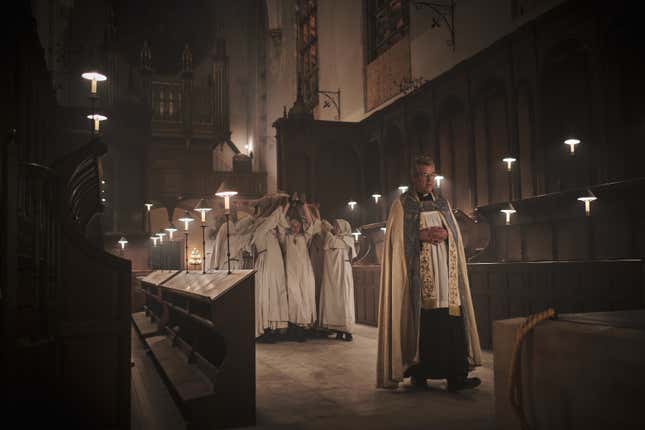 Grace is immediately affected both physically and mentally; after a fainting spell sends her tumbling into the sea, she's left without a cell phone and nothing to wear except a loaner nun's habit. Reading Michael's journals helps bring back memories of their troubled childhood, as well as feed her growing suspicion that there's a cover-up afoot regarding his death. All the while, she's plagued by violent visions of the past and future that guide the audience to patchwork together the real reason Michael was drawn to Mount Saviour in the first place... and why everyone is seemingly acting so strangely around Grace.
Directed and co-written by Christopher Smith (The Banishing), Consecration hits a turning point where All Is Revealed, which means the audience gets out of thinking too much about whether or not its pieces actually fit together. If Grace's journey feels a bit obvious in the end—this is a movie where a character who can "see" things also happens to be an eye doctor—at least Malone, who does a convincing British accent, makes it a reasonably enthralling one. And if you dig gothic horror, wind-swept ruins, and religious skulduggery, Consecration has all three in droves.
Consecration arrives in theaters Friday, February 10.
---
Want more io9 news? Check out when to expect the latest Marvel, Star Wars, and Star Trek releases, what's next for the DC Universe on film and TV, and everything you need to know about the future of Doctor Who.