We've got a grab bag of crazy for you this week at Cult. Spike Jonze is back and ladling out the hipster love in his new short I'm Here. Plus, meet a tire named Robert who wants to murder you.
I'm Here
Spike Jonze is back on the big screen with the Sundance premiere of his sweet little robot film titled I'm Here. The 30-minute short film follows Andrew Garfield, the adorable street urchin from Dr. Parnassus and Sienna Guillory, both suited up in strikingly human-like robot costumes, as two young machines in love. Entertainment Weekly calls the film "a modern-day retelling of Shel Silverstein's The Giving Tree, with two crudely constructed robots serving as the protagonists," and now claims that, because of the Sundance buzz, IFC has made a deal to air the short. We hope that's the case, because we can't wait to check it out based on this amazing trailer.
Solatrium
Taking a page from Duncan Jones' Moon, Chris Bower's new flick, shows the life of a tortured space clone. According to Filmmaker Magazine's interview with the director, the movie is the "story of Bria Living, a female astronaut who attempts to cure her regret and ennui by abusing her medication Solatrium. Little does she know she is a test subject for the Nevco Corporation who is developing the experimental drug." While the trailer makes heavy use of noise music, we're still hooked on the premise. Check out the trailer thanks to Wired:
G/O Media may get a commission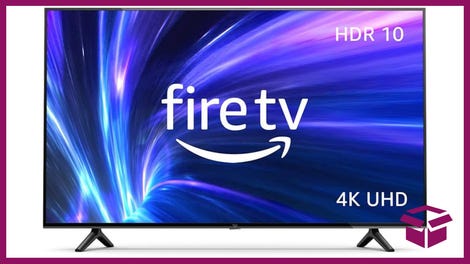 42% Off
Amazon Fire TV 50" 4K Smart TV
Rubber
Forget evil Christine cars, what if just a lone tire was evil? That's what director Quentin Dupieux asks, to which we say, "Okay, sure. It's got to be better then Chun-Li movie... we hope." Rubber is about a little tire named Robert (Yes it has a name, don't call him Bob dammit) that decides that it wants to kill people and bugs... with his brain. Yes, Robert the Tire has telepathic gifts, so maybe you'll think twice before you kick him. Or maybe not. We don't know; the whole premise is fucking bananas. Here's the synopsis:
A group of spectators is watching a mock-projection in the middle of the desert. They make comments on the scenes of the "film" as it is occurring before their eyes: Robert, a tire that has been abandoned in the desert, suddenly comes to life, for no reason. He learns how to get around, explores the desert and discovers in himself a passion for destroying insects and various lost items. Robert soon develops a telepathic gift, which gives him the ability to destroy anything he wants, without moving...
Here are a few stills of the carnage Robert caused:


For more images check out the full story over at Twitch.
Sherlock Holmes
Not to let a slightly successful film pass by with out churning out a crappy shadow film remake, Asylum is cranking Robert Downey Jr's little steampunk film up to 11, with mother f-ing dinosaurs! Rarrrrrrh, Watson.
Mad that the dinosaur's aren't "really" in cannon with the Sherlock books? Well they've got you covered: It says, in the trailer, that Watson purposely kept the dinosaurs out because Sherlock wanted it that way. I dunno know about you, but if I found a dinosaur, I'd spend the rest of my life trying to break its will and be my horse. And write about it ALL THE TIME. But that's just me. Please do enjoy this crazy trailer.
Eaters
Finally here's a little film called Eaters, which is being produced by the world's greatest film artist, Uwe Boll (What you wanna fight about it?). It's your basic PA zombie fare, two survivors pair up at the end of the world and kill zombies. Anyone else wishing Uwe Boll had directed the Sherlock Holmes dinosaur film?
Synopsis:
Eaters is a road movie with an extreme zombie theme. It tells a two-day journey of two men in search of survivors...

This will be a difficult journey during which our (anti) heroes meet the characters as varied as they are alive or dead. Between neo-Nazis unscrupulous, a deranged painter, priests, murderers and so on and so forth, they will discover that maybe is not really the end of the world. Behind all this freak show is the true idea of the movie, the clash of an evil is an (almost) well in a world decimated by a terrible female infertility (first) and the Great Infection (then) derived from his hope of to stem the problem of births zero.
Synopsis discovered via Quiet Earth.