Joss Whedon explains how he's approached editing The Avengers. There are tons more set photos from Doctor Who's Western episode. Bruce Boxleitner gives a Tron 3 update. Plus the first look at Kristen Stewart as a vampire in Breaking Dawn!
Spoilers from here on out!
Top image from Prometheus.
The Avengers
Director Joss Whedon says the movie's running time should be around 135 minutes:
"My first cut was three hours long and it's now down to 2 hours and 15 minutes, and I'm extremely proud of that. I had always intended to go over two, under two and a half. There was no way a movie with this many great actors and this much epic scope was gonna clock in under two and not feel a little anemic, somebody wasn't gonna get their moment if that happened. But at the same time, I get very angry that romantic comedies run over two hours long, it's like 'Guys, that's not okay.' More isn't more. I don't want anything in the movie that shouldn't be."
He also suggests that he prioritized the Avengers-related stuff over the stuff that's more uniquely Whedonesque, which I think sounds like the right decision under the circumstances:
"There's a lot of me that got cut out, but I think part of the process in a situation like this is you make the movie, you make your movie, then you remove yourself out of the equation. At some point you stop looking beyond The Avengers movie at your own stuff, you don't look at that horizon you look at this movie and you go, 'You know what, The Avengers are more important than I am so these things that I'm obsessed with aren't necessarily moving the story forward, and therefore they are baggage.' You can do that in a TV show, you can bring your baggage and sort of lay it out because you have a season to do it, but in a movie you actually have to remove yourself from the equation a bit and when I was finally able to do that, I saw a much clearer road to how to get the best experience for the audience."
G/O Media may get a commission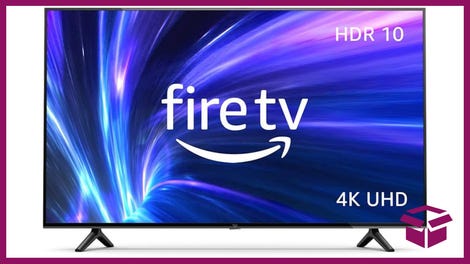 42% Off
Amazon Fire TV 50" 4K Smart TV
Finally, he promises that there will be a few shout-outs to the wider Marvel world:
"There are a couple of mentions of things; we were preserving the continuity and I threw in one or two things where I'm like, 'Well this is something one of them would say because it's part of the Marvel universe even if it's not a part of this movie necessarily.' I had such a job just making the thing coherent that I didn't have time to play a lot of games, and I'm not really a fan of that. I do think fanboys will see more in certain bits than everybody else, but ultimately I want them all to have the same experience."
There's some more at the link. [Collider]
Elsewhere, Whedon explains why he didn't want an unlimited budget:
"When you can have everything, everybody wants to give you everything, and then it's very hard to make things feel real. To make things feel lived in. So we had to work hard at taking the big budget out of the movie. Too much Scrooge is not a good thing. We have to think more creatively about cutting the budget and limiting ourselves."
[EW]
Here are some cool new character posters. [Collider]
---
Tron 3
Bruce Boxleitner, who plays the title character Tron, gives a general update on where the follow-up to Tron Legacy stands:
"The last movie didn't end. It actually started the next movie and then went to black. It's in the works. Anything could happen, but all I can say is, it's in its formative stages. [Director Joseph] Kosinski, who is slated for it, he's shooting another movie now, and then they'll get around to doing that. I think somewhere around 2014, maybe. I'm talking way out of school here, but they can't shoot me because I'm Tron."
---
Paladin
Disney has reportedly hired Max Borenstein, the writer of the upcoming supernatural movie The Seventh Son, to write "a space-set sci-fi adventure" that is reportedly based on an original idea instead of an adaptation of an existing property. [Heat Vision]
---
The 5th Wave
GK Films has reportedly acquired the rights to an as yet unpublished trilogy by young adult author Rick Yancey, which Tobey Maguire's Material Pictures is set to help produce. Here's a brief description of the books:
Series follows a teenager who survives an alien invasion only to search for her brother, who may have been abducted by human-looking extraterrestrials. There's also a romantic angle, as the heroine is helped by a boy who may also be an alien in disguise.
[Variety]
---
Jack the Giant Killer
Ewan McGregor, who plays the elite giant-fighter Elmont in Bryan Singer's gritty fairy tale adaptation, gives a fairly noncommittal update on the film, which recently had its release date pushed back to 2013:
No, I haven't seen any of it. I don't know. I was told that it was pushed back by my agent, but I have no communication with the director or anything. I have no idea why. I assume it wasn't good enough yet? (Laughs) So they're tying to make it better. That's usually what that means, but I don't know. I might be speaking out of school there, I'm not sure. I think it's a very complicated film to make with an enormous amount of computer generated… Obviously all of the giants are motion captured and then animated somehow, so I suppose that's a lot of work and maybe they just got behind themselves, I don't know.
[/Film]
---
Doctor Who
Here are some more set photos for the show's Western episode, which is currently filming in the Almeria region of Spain, the same area used by Sergio Leone for many of his most iconic westerns. [SpoilerTV]
Another guest star has been confirmed for this particular episode, which was written by Being Human creator and "The God Complex" writer Toby Whithouse. Garrick Hagon, who is best known for playing Biggs Darklighter in the original Star Wars and also appeared alongside Jon Pertwee in the 1972 serial "The Mutants", will appear in the episode, according to multiple sources. [Doctor Who News]
---
Game of Thrones
Here's another promo for season two, which focuses on what to expect in terms of romance in season two — using the term "romance" as loosely as humanly possible, of course. [EW]

Here are some more videos previewing what to expect from various characters in season two. This time around, it's Kit Harrington's Jon Snow, Joffrey Baratheon, and Gethin Anthony's Renly Baratheon.

---
The Walking Dead
Here's a promo and two sneak peeks for this Sunday's season finale, "Beside The Dying Fire."

Here's a couple promo photos for the episode. [SpoilerTV]
You probably will still want to take this with a grain of salt, but there's an absurdly complete synopsis of the finale. Here's the beginning, which is still only like 10% of the whole thing:
Shot opens in Atlanta: a group of walkers are feasting on what looks like Rick's horse, or what's left of it, when they're startled by the sound of a helicopter flying overhead. The horde migrates over several days, weeks, a great distance, and eventually comes to a fence. The fence bows and breaks under the relentless forward motion of the walkers. The herd presses on. Wandering aimlessly in the forest, the walkers turn as a gunshot goes off like a beacon, leading them to dinner. Soon they are closing in on Rick and Carl, as they leave the scene of Shane's murder.

Daryl and Glenn arrive back at the farmhouse. They explain that they heard a gunshot, and share their confounding findings about Randall. As they walk back to the house, Carl asks Rick about what happened to Shane. Soon after, they notice the walkers bearing down on them, and it's not long before they are overtaken and have to make a run for the barn. Back at the house, the rest of the survivors are just figuring out that Carl is missing and walkers are approaching. Lori is panicking. Hershel passes out the guns.
There's plenty more at the link. [SpoilerTV]
Comics creator Robert Kirkman says it's possible that Dale, Shane, and the other dead characters might return in flashbacks:
Possibly. There's nothing like that planned. But we love Jeffrey DeMunn and we love Jon Bernthal and it's an unfortunate thing the story dictated that they had to be taken out of the show. But we miss those guys and we'll be dying to figure out a way to work them back into the show in some kind of flashback-y kind of nature. Same with Emma Bell and all the other actors we've lost in the show. It's always cool to bring people back for fun stuff like that.
There's more at the link, mostly focused on breaking down the show's decision to kill Shane. [KSiteTV]
Here are some promo photos for episode seventeen, "Hat Trick", which airs March 25 and guest stars Captain America actor Sebastian Stan as the Mad Hatter and the Who frontman Roger Daltrey as the voice of a talking caterpillar, which is still going strong as my favorite casting ever. There's also a synopsis below. [KSiteTV]
While searching for a missing Mary Margaret, Emma is kidnapped by a man whose affinity for hats has him teetering on the edge of madness. Meanwhile, viewers will be transported outside of the fairytale land that was for the first time when the Evil Queen persuades a skillful man of magic to come work for her one last time and travel to Wonderland in order to help steal something from the Queen of Hearts.
Here's the full description for episode eighteen, "Stable Boy", which airs April 1 and guest stars Black Swan's Barbara Hershey as the Evil Queen's mother:
EMMA CONTINUES HER SEARCH FOR EVIDENCE TO PROVE MARY MARGARET'S INNOCENCE IN KATHRYN'S MURDER, AND REGINA MUST CHOOSE BETWEEN BETROTHVING A ROYAL OR BETRAYING HER MOTHER AND MARRYING A COMMONER — Emma continues her exhaustive search for evidence that will prove Mary Margaret's innocence in the murder of David's wife, Kathryn. Meanwhile, in the fairytale land that was and before evil blackened her soul, Regina must choose between betraying her mother, Cora (Barbara Hershey), and marrying for true love, or betrothing royalty and living a regal - but loveless - life; and the event that caused the Evil Queen to loathe Snow White is revealed.
Here are some set photos featuring Robert Carlyle (Mr. Gold/Rumpelstiltskin), Eion Bailey (August Booth), and Tony Amendola (Marco/Gepetto). [TV Equals]
ABC has announced the show's first season finale will be May 13. [TV Guide]
---
Supernatural
Here's a sneak peek for this Friday's episode, "Out With The Old." [KSiteTV]

Here are some promo photos for episode seventeen, "The Born-Again Identity", which airs March 23 and features the return of Misha Collins as Castiel. There's also a short description below. [BuddyTV]
Lucifer drives Sam to the breaking point and Sam ends up in a mental hospital. Desperate to save his brother, Dean calls every hunter he knows for help. One of the hunters gives him the name of a healer who turns out to have a very familiar face.
---
Archer
Here's a pair of photos and short descriptions for the show's two-part third season finale, which features a trip to the International Space Station and Breaking Bad acting god Bryan Cranston as the voice of ISS Commander Anthony Drake.
Episode 9 – "Space Race: Part I" (Airs March 15) – Archer and his colleagues at ISIS voyage to the final frontier in an effort to prevent a catastrophe on the International Space Station. Written and voice directed by Adam Reed.

Episode 10 – "Space Race: Part II" (Airs March 22) – Archer and his colleagues at ISIS wish they had never voyaged to the final frontier in an effort to prevent a catastrophe on the International Space Station. Written and voice directed by Adam Reed.
---
Being Human (UK)
Here's a promo for this Sunday's seventh episode, "Making History."

---
The Secret Circle
Here are some promo photos for episode eighteen, "Sacrifice", which airs March 29. [SpoilerTV]
---
Arrow
Annie Ilonzeh, one of the stars of ABC's recent ill-fated Charlie's Angels reboot, has reportedly been cast in an unspecified role in the CW's Green Arrow pilot. [BET]
---
Beauty and the Beast (CW)
MI-5 actor Max Brown has been added to the CW's pilot, in which Smallville's Kristin Kreuk plays an NYPD homicide detective in this update of the 1980s show. Brown reportedly plays Evan, a medical examiner and frequent ally of Kreuk's character. [Deadline]
---
Additional reporting by Ben Vrignon and Charlie Jane Anders.