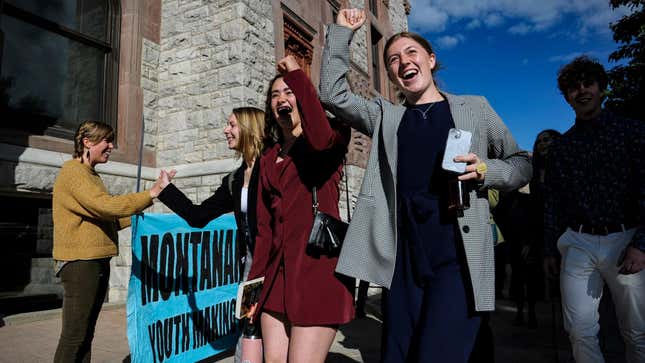 The Montana judge who heard the United States' first constitutional climate trial has officially ruled in favor of the young plaintiffs who argued that the state's officials had violated their rights in favor of fossil fuel interests.
Meet Microsoft's New Surface Laptops
In a 103-page decision, Judge Kathy Seeley agreed that additional greenhouse gasses will further strengthen the negative impacts of climate change. Her ruling found that laws intended to prevent regulators from considering how permitting fossil fuel activities will affect the climate crisis are indeed unconstitutional.
Today's decision specifically targets an adjustment in the Montana Environmental Policy Act, also known as MEPA, that stops the state from considering how fossil fuel activities affect climate change. This year, lawmakers in Montana changed the provision to ban the state from considering emissions in its environmental reviews for future energy projects, The Guardian reported.
"The MEPA limitation violates plaintiffs' right to a clean and healthful environment," today's ruling said.
The trial for Held v Montana ran from June 12 to June 20 and included testimony from 10 expert witnesses on behalf of the plaintiffs. They testified that greenhouse gases from human activity are negatively affecting environmental and public health. Witnesses discussed how emissions contributed to extreme weather, more wildfires, and even interfered with Indigenous traditions, the Guardian reported this past June. The trial ended a few days earlier than scheduled after the defendants declined to call two of its expert witnesses, according to Our Children's Trust.
State officials now have 60 days to appeal today's decision to the Montana Supreme Court.
Julia Olson, the chief legal counsel for the court case and the executive director of Our Children's Trust, expressed her excitement for today's ruling in an online statement:
Today, for the first time in U.S. history, a court ruled on the merits of a case that the government violated the constitutional rights of children through laws and actions that promote fossil fuels, ignore climate change, and disproportionately imperil young people," said Julia Olson, Chief Legal Counsel and Executive Director with Our Children's Trust "In a sweeping win for our clients, the Honorable Judge Kathy Seeley declared Montana's fossil fuel-promoting laws unconstitutional and enjoined their implementation. As fires rage in the West, fueled by fossil fuel pollution, today's ruling in Montana is a game-changer that marks a turning point in this generation's efforts to save the planet from the devastating effects of human-caused climate chaos. This is a huge win for Montana, for youth, for democracy, and for our climate. More rulings like this will certainly come.
"I'm so speechless right now. I'm really just excited and elated and thrilled. I cannot believe the ruling. I'm just so relieved," Eva, one of the young plaintiffs said in a statement through Our Children's Trust. "Together [we] have done this amazing thing and it's just so wonderful."
Our Children's Trust, the nonprofit that assisted with the Montana lawsuit, has several other pending lawsuits. One includes a group of Hawaiian teens suing the state's Department of Transportation for failing to lower emissions in order to mitigate the effects of climate change on the Hawaiian islands. The court date for Navahine F. v. HDOT is set for June 2024. Another trial, Juliana v United States, is also waiting to be heard by a judge.
Want more climate and environment stories? Check out Earther's guides to decarbonizing your home, divesting from fossil fuels, packing a disaster go bag, and overcoming climate dread. And don't miss our coverage of the latest IPCC climate report, the future of carbon dioxide removal, and the invasive plants you should rip to shreds.