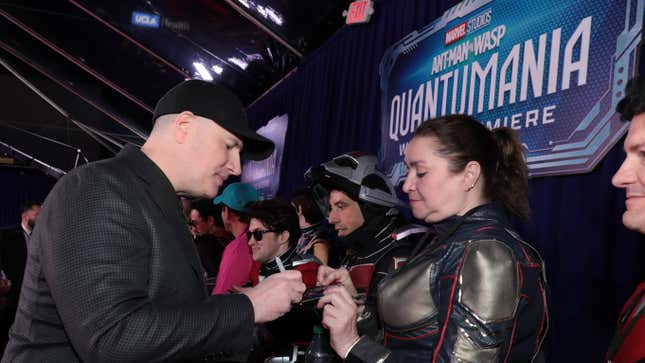 When Kevin Feige speaks, news about the Marvel Cinematic Universe is going to be made, and it just happened again. In a new interview, the president of Marvel Studios said that there are ideas of how to continue the story of Tom Holland's Spider-Man and that writers are getting to work now. He also thinks Marvel streaming shows should come out less frequently and revealed that Harrison Ford will play the President of the United States in Captain America: New World Order.
That's just some of what Feige told Entertainment Weekly in an excellent interview which you can read in full at that link. But we're gonna pull out a few highlights below.
One of the biggest questions Marvel fans have is: what's up with Spider-Man? Spider-Man: No Way Home was one of the franchise's biggest hits yet and it left the character in a very new place story-wise. However, despite its huge success, there hasn't been news about a new film yet—but Feige did say this: "All I will say is that we have the story. We have big ideas for that, and our writers are just putting pen to paper now."
That's very exciting. Also exciting is the news that, while we knew Harrison Ford would be playing Thaddeus Ross in Captain America: New World Order (which starts filming next month), Ross is now the President of the United States, a role Ford is familiar with. "Thaddeus Ross... is the president of the United States in the film," Feige said. "And with Harrison, you think about Air Force One, and you think about some of his confrontations with the president in Clear and Present Danger. There's a dynamic between President Ross and Sam Wilson. They have a history together, but in this film, we'll be seeing the dynamic between Captain America and the president of the United States in a way that is just incredible."
Feige also talked about how, in the future, Marvel's Disney+ streaming shows won't be as frequent as they were over the past two years and that they might even be less serialized. "We want Marvel Studios and the MCU projects to really stand out and stand above," he said. "So, people will see that as we get further into Phase Five and Six. The pace at which we're putting out the Disney+ shows will change so they can each get a chance to shine."
"We want to do shows that can only be shows," Feige said later in the interview. "I want to continue to make them even more episodic, which may seem counterintuitive. But I do think there is something fun about leaning back and watching an episode that can be relatively self-contained."
He also talked about his excitement over Kamala Khan in The Marvels ("I'm very proud of the Ms. Marvel show. I also know—and this is a spoiler—she essentially steals The Marvels") and teased the importance of the Fantastic Four moving ahead: "There's certainly been versions of [Fantastic Four], but never inhabiting the storytelling of the MCU. And that's something that is really exciting for us. People will start to hear more about that soon. We plan on that being a big pillar of the MCU going forward, just the way they've been in the comics for 50 or 60 years."
Oh and of course, Feige did offer up the smallest tease ever about the mutants of the X-Men finally becoming a part of the party. "Part of the fun is that I've been at this company for half my life, and we're just now tapping into arguably one of the biggest aspects of the publishing history," Feige said, referring to the X-Men. "It's pretty remarkable, and it's a testament to the house of ideas and what Marvel publishing has done these 80 years. The question is how to do it and when to do it, and that's something we've been working on for years. Now we know. But we're not going to talk about it."
The interview covers even more over at Entertainment Weekly, so go ahead and check that out.
---
Want more io9 news? Check out when to expect the latest Marvel, Star Wars, and Star Trek releases, what's next for the DC Universe on film and TV, and everything you need to know about the future of Doctor Who.