How many people has climate lured to the Southland? Idyllic images of a sun-drenched region—packaged into travel narratives, citrus crate labels, and surf-rock songs—attracted millions to the Los Angeles area. As early as the 1870s, tubercular invalids were moving to the region for its dry air and mild temperatures. Weather has been an essential part of the booster message ever since.
And yet, reality seems to confirm the promotional claims. Ocean breezes temper the heat of summer and the cold of winter. Imposing inland mountains shelter the region from the extreme weather patterns of the continental interior. And a high-pressure ridge that reliably parks itself above the Pacific each spring keeps the Southland sunny and dry in summer.
How good is L.A.'s weather? Consider that Dodger Stadium last endured a rainout on April 17, 2000—and rain has never canceled a game there during the months of June and July, when dark clouds often menace East Coast ballparks.
Yes, L.A.'s weather is nearly perfect—except when it isn't.
Santa Ana winds blow hot in the fall. In winter sporadic yet intense Pacific storms threaten to overwhelm the Southland's colossal flood control system. And tornados form over Los Angeles with same frequency seen in the Great Plains; Mike Davis devoted an entire chapter of his book Ecology of Fear to "Our Secret Kansas."
G/O Media may get a commission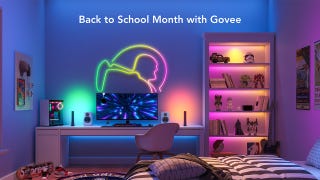 Back to School
Back to School Month with Govee Sale
But the most disruptive or destructive weather phenomena may be the ones Southern California's don't expect.
Snow
Thanks to the Pacific's moderating influence, temperatures rarely drop below freezing in the region's lowlands. Though most precipitation there begins its descent from the clouds as snow, as it falls it will almost inevitably encounter air warmed by 55-degree ocean waters, melting into drops of liquid rain.
But when the right atmospheric conditions prevail, snow can blanket the Southland—wreaking havoc in a region unprepared for winter conditions. Measurable snow fell on L.A.'s official downtown weather station in 1882, 1932, and 1949. Trace amounts have been observed there several times more, though not once since 1962. (A 2007 storm coated parts of the San Fernando Valley and Malibu in snow and dropped hail-like graupel on L.A.'s Westside.)
No storm has incited as much wintry chaos as a 1949 system that lingered for three days and dropped several inches of snow on the lowlands. Icy conditions forced the CHP to close the Pacific Coast Highway. White powder dusted the tops of palm trees from Santa Monica to Laguna Beach. The Southern California Gas Company reported record demand as nighttime lows dipped into the 20s and furnaces blazed around the clock.
A 1932 storm blanketed UCLA's Westwood campus in fresh powder. [Security-Pacific National Bank Collection - Los Angeles Public Library.]
Freshly fallen snow—or possibly graupel—created hazardous driving conditions along the Hollywood Freeway in 1948. [USC Libraries - Los Angeles Examiner Collection]
The Charlie Chaplin Studios in Hollywood, dusted with snow in 1921. [Photo Collection - Los Angeles Public Library]
North Hollywood after a rare snowfall in 1948. [Photo Collection - Los Angeles Public Library]
Skiing on the UCLA campus during the 1949 snowstorm. [USC Libraries - Los Angeles Examiner Collection]
Residents at Basilone Homes in the San Fernando Valley suburb of Sun Valley make the most of the 1949 snowstorm. [Southern California Library for Social Studies and Research]
The 1949 storm even brought snow to Palm Springs. [USC Libraries - Los Angeles Examiner Collection]
The 1949 storm's aftermath in San Fernando Valley community of Canoga Park. [USC Libraries - Los Angeles Examiner Collection]
Tropical Cyclones
Even more rare than snow are tropical storms, which usually lose their punch when they encounter the cool coastal waters of the California Current. Occasionally the moist remnants of a storm will sneak through Arizona or the Gulf of California. But if it moves fast enough, and if the sea surface temperatures reach a threshold of about 75 degrees Fahrenheit, a tropical cyclone can theoretically bring its fury to the Southland.
On September 25, 1939, one such perfect storm passed over Catalina Island and collided with the coast of Long Beach. 72-mph gusts tore through the region as the storm dumped a record 5.62 inches of rain on downtown Los Angeles, flooding large parts of the region and causing $2 million in property damage.
The storm's impact was worsened by the fact that it followed the more predictable weather conditions associated with the offshore Santa Ana winds. Caught off guard by the gale-force winds and heavy seas, 45 boaters perished at sea, many of them fleeing Catalina for the mainland. Dozens more died on land, bringing the death toll close to 100.
Classed as a mere tropical storm, the 1939 system was the only cyclone to make landfall in California in the twentieth century. For a time, meteorologists doubted that a true hurricane (a cyclone with sustained winds of at least 64 knots) could ever reach the Southland. But recently, researchers at the National Oceanic and Atmospheric Administration reached into the historical record and showed that such storms are a real (if statistically unlikely) threat.
Consulting folk accounts, military weather readings, and historical newspaper accounts, Michael Chenoweth and Christopher Landsea rediscovered a hurricane that ravaged the Southern California coast on October 2, 1858.
In an age before satellite images or even weather balloons, the storm took the Southland by surprise. The keeper of San Diego's tide gauge was the first to notice it when his barometer plummeted several degrees below the record low. Then, hurricane-force winds of up to 75 mph sprang up from the southeast.
"The whole heavens seemed closing in with bank upon bank of dark, heavy, ominous-looking clouds," reported the Daily Alta California.
Ships dragged their anchors in the heavy seas and beached themselves on shore. Powerful gusts blew down houses and uprooted trees.
The hurricane skirted San Diego and followed the coast north to Los Angeles, where it dumped torrential rains and ravaged the city's harbor at San Pedro. But the tempest was already dying; it dissipated shortly after reaching Los Angeles, the relatively cool coastal waters soothing its rage.
This edition of the Los Angeles Star helped researchers rediscover a rare Southland hurricane that time had forgotten. [USC Libraries - Los Angeles Star Collection]
Violent waves crash against a seawall in Long Beach during a 1939 storm. [Herald-Examiner Collection - Los Angeles Public Library]
Damage from the 1939 tropical storm along Orange County's Sunset Beach. [Orange County Archives]
The 1939 tropical storm brought record rainfall to Los Angeles. Here, storm waters flood the intersection of Figueroa and Wilshire in downtown L.A. [Herald-Examiner Collection - Los Angeles Public Library]
Top: A San Bernardino snowman in 1953. [USC Libraries - Los Angeles Examiner Collection]
---
Southland is made possible by a partnership between Gizmodo, the USC Libraries, and the member collections of L.A. as Subject. Written by Nathan Masters, the series explores the urban past of Los Angeles, including the lost landscapes and forgotten infrastructures that continue to influence the city we know today. This post previously appeared in a different version on KCET.org as "Snow in the Basin: Documenting the Extremes of SoCal Weather."